The rural villages making it easier to spot the Big Five in Tsholotsho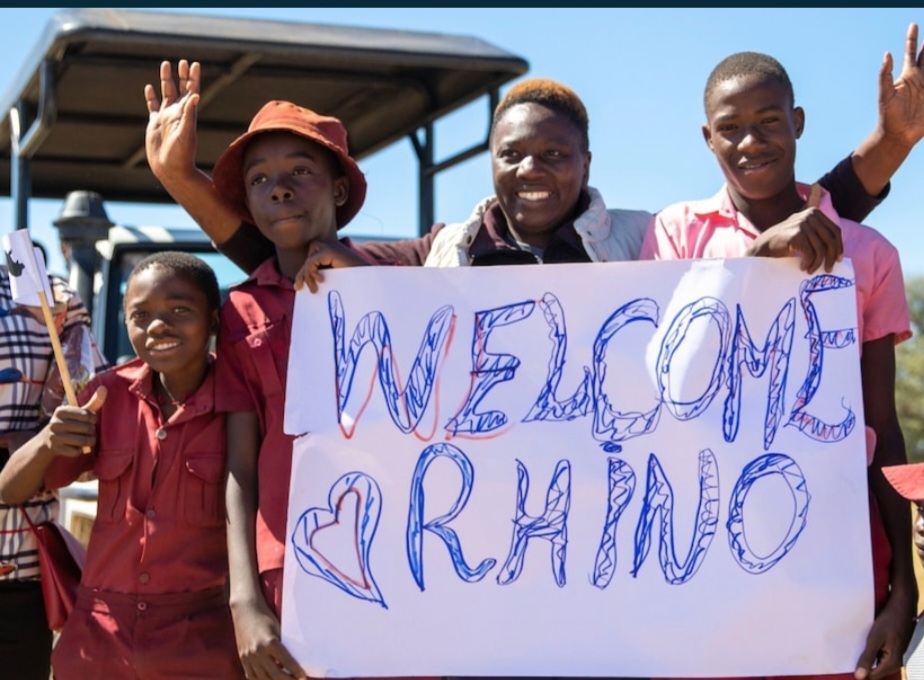 BY SUE WATT
It was a long and arduous journey that finally brought Thuza and Kusasa home.
Two weeks ago, we had driven 500 miles through the night right across Zimbabwe, from Malilangwe in the southeast to Hwange in the northwest.
As our convoy approached its final destination, crowds lined the route, school children in pristine uniforms waved their flags, and local VIPs waited in safari Land Cruisers in the midday heat, all excited and eager to see their new neighbours.
Eventually, the two boys walked out of their crates and into their boma within the pioneering Imvelo Ngamo Wildlife Sanctuary, oblivious to the historic steps they were taking.
Not only were they the first white rhinos in the Hwange area for nearly 20 years, but they were the first in the entire country to live on communal land, with scouts from local villages trained to British military standards as their protectors.
Breaking new ground
Something of an unsung hero in conservation, Zimbabwe has the fourth highest rhino population in Africa, with more than 1,000 in national parks or private reserves.
But this small sanctuary measuring one mile square is breaking new ground as the pilot project of the Community Rhino Conservation Initiative (CRCI).
The CRCI is the dream child of Mark Butcher (known as Butch), MD of local operator Imvelo Safari Lodges and a former ranger in Hwange National Park.
"In the eighties, white rhinos were part of the scenery on the sand country of southern Hwange," he said.
"The northern area still has a few black rhinos.
"But my heart has always been in the south and the grassy open plains, always involving white rhino.
"We lost them all because of poaching and Hwange has never been the same since."
Benefits for all in one fell swoop
Butch's plan is to gradually form a patchwork of mini-sanctuaries on current cattle-grazing pastures in the Tsholotsho communal lands around Hwange.
These would eventually become one conservancy with a viable breeding population of 30 to 50 rhinos roaming around 100 to 200 square miles along the southern border of the park.
The plan isn't set in stone: it depends entirely on what local people want, but the benefits would be huge.
Crucially, the conservancy would act as a fenced buffer zone to benefit farmers who endure crop-raiding elephants and lions killing their livestock.
In one fell swoop, it will decrease human wildlife conflict, draw more visitors to Hwange to see the famous Big Five, and support local people through sanctuary entrance fees and employment.
Worth up to US$60,000 per kilo, rhino horn is erroneously believed to heal ailments ranging from cancers to hangovers, fuelling the illegal wildlife trade to Vietnam and China.
Having such vulnerable animals on communal land with the communities as custodians was initially deemed too high-risk, making it hard to raise donor funding.
An estimated $250,000 (just over £203,000) was needed for the sanctuary HQ and training camp with electric fencing, solar power, salaries for the 30 scouts of the new Cobras Community Wildlife Protection Unit, their unforms, rations, and top-of-the-range field equipment.
Butch took on a philanthropic soft loan to get the ball rolling, hoping donors would be more forthcoming in the future.
"This should have been a one-year project, but it took five years to move two rhinos from A to B," he told me.
"Along with delays, there were naysayers and doubters, and countless bureaucratic obstacles.
"Imagine trying to import military firearms into Zimbabwe, the hoops we had to jump through…"
Butch emphasises the role of others in this complex initiative. Without stakeholders and local people onside, the project would never get off the ground.
He credits Njabulo Zondo, Imvelo's director of community relations, and Sambulo Moyo, its communities projects officer, for "doing the donkey work" in liaising with government departments and communities.
A legacy for the people
Villages in the Tsholotsho area – particularly Ngamo, which lies closest to the park boundary – had already benefited from tourism at Imvelo's four camps for several years, enjoying improved schools, access to boreholes and healthcare.
But asking them to invest in rhino conservation by giving up prime grazing land was new to everyone.
Baba Mlevu, the influential 89-year-old headman of Mlevu Ward, helped persuade local farmers.
"When I was small, I always used to see rhinos in Hwange," he told me.
"And I want to see them again before I die. I want this to be my legacy for my people."
The new rhinos will inevitably be prime targets for poachers, but Imvelo guide Vusa Ncube believes they will be protected in an area where 95 percent of locals support the project.
"The communities won't let anyone take these rhinos from them," he said, resolutely.
"And with all the security in place, it would be seriously difficult for poachers."
That was the deal-breaker for the team at Malilangwe, from where the two bulls were translocated.
They wouldn't move their precious animals without knowing they would be safe.
"These bulls will be guarded like the president," Butch told me as we watched CRCI's Cobra scouts, all from local villages, on a training drill for a breach of the boma fence.
High security
A piercing siren rang out as the team ran from their barracks, firearms in hand, magazines clicking hurriedly into place.
In just over one minute, their job was done, having checked inside the boma and all around its perimeter fence.
Their four years of rigorous training has clearly paid off under the leadership of Daniel Terblanche, ex-British Army with tours of Afghanistan and Iraq under his belt.
His second in command, Cedric Moyo, who had formerly trained at Malilangwe, comes from nearby Ziga village.
The rhinos will be protected by 24/7 close-quarters guarding.
"Within 100 metres of our rhinos, there will be six scouts at any point, night and day, rain, snow, whatever.
"Wherever they move, we will move," Daniel explained. "We've been conducting a series of drills to iron out any issues using donkeys and pretending they are rhinos.
"Every night, I've tried to enter the boma to simulate poachers coming in. I couldn't get within 80 metres of my target."
The scouts themselves have a real sense of ownership towards the rhinos, and a rock-solid commitment to their protection.
"It's fantastic that they're finally here," Wisdom Mdlongwa told me.
"These rhinos are for the whole community, and the Cobras will protect them."
Bokani Mpofu was even more emphatic: "I would kill any poacher who tries to take my rhinos," he said.
In January, Butch received the invitation he had been striving for: to present his ambitious plans for CRCI to the National Rhino Committee coordinated by Zimbabwe's Parks and Wildlife Management Authority (ZimParks).
It was the final hurdle in this marathon conservation challenge, and with the full support of Malilangwe Wildlife Reserve, he was granted permission for the rhino movement permits.
Two special rhinos
Much of Zimbabwe's success in rhino conservation is down to Malilangwe and its non-profit Malilangwe Trust, supported among others by the UK conservation organisation Tusk, the US-based African Community Conservation Foundation, and the high-end ecotourism company Singita.
The reserve welcomed its first translocated rhinos in the late 1990s.
Thanks to its ideal habitat, excellent security practices and extensive monitoring, Malilangwe has grown its population to the extent that it can now translocate rhinos to other appropriate destinations.
Having been captured by the dedicated rhino team two weeks earlier, Kusasa and Thuza, aged seven and eight respectively, were kept in a holding boma awaiting their translocation to Ngamo.
They had been carefully selected by ecologist Sarah Clegg, who records meticulous data on all individuals in the reserve.
She knew these two had been friends for years, and better still, were unrelated, an important factor for future breeding when females join the project.
"Being together will help them adjust to their new home," she told me. "It's rare for unrelated bulls to spend so much time together. They're very special."
With the rhinos sedated and loaded into crates on a 20-tonne truck, we finally set off in the convoy of Malilangwe's experts, with ZimParks and police personnel.
There were multiple stops en route, with vets checking the rhinos' temperatures, drugs, and positions in the crates.
Secretly, emotions and fears among the crew ran high but were kept in check by their calmness and professionalism.
"Every translocation is a potential catastrophe," Sarah said.
Near a small town called Lupane two hours from Ngamo, the Cobras were waiting to take over security of their rhinos, with the flags of Zimbabwe, Tsholotsho and their own Cobras insignia flying high from their trucks.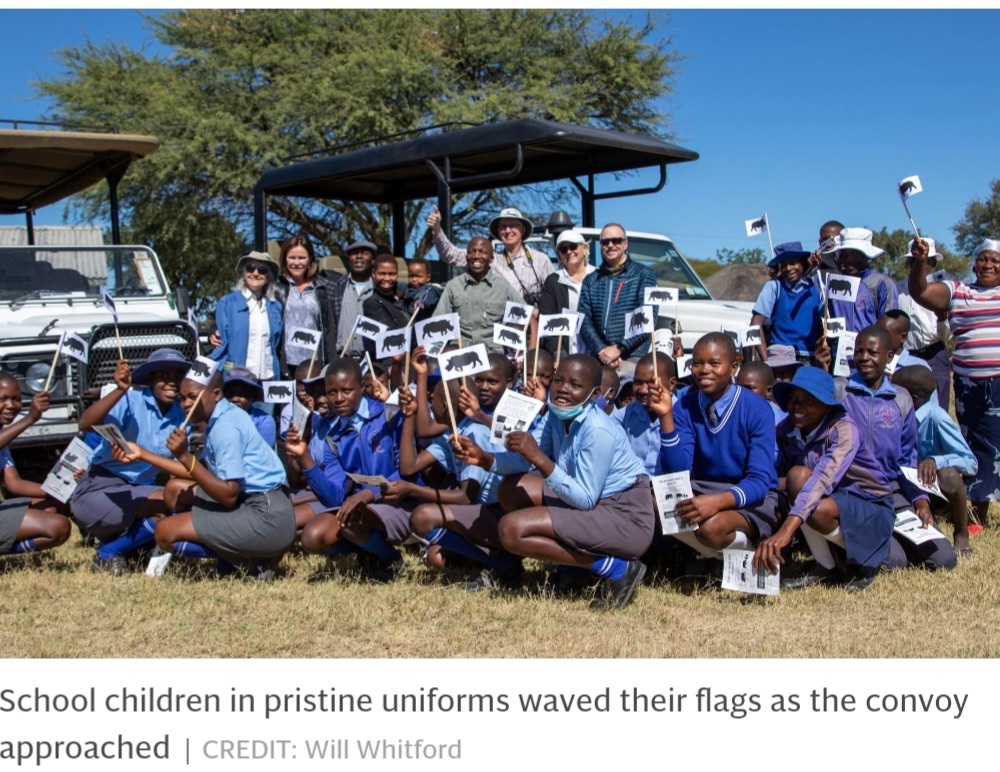 Guest visits to the sanctuary
Cars full of VIPs including Baba Mlevu joined the convoy as it progressed through Tsholotsho's villages.
On reaching the sanctuary, the crates were lowered to ground level, and the rhinos eventually released.
Thuza, appropriately meaning "to charge" in Ndebele, rushed into the boma, relieved to be out of his crate, while Kusasa, meaning "tomorrow", walked in quietly.
Every day since, the two bulls have stayed together and have been settling in well, closely watched by vets and scouts.
Soon, guests will be able to visit the sanctuary, spending time with the rhinos and Cobras.
Vusa is excited about that.
"Now I can take people from all over the world to see these beautiful animals on my own land, on the plains where I grew up herding cattle.
"That's special," he told me. "Our rhinos will change these villages forever."
How to do it
The Luxury Safari Company (01666 880 111; theluxurysafaricompany.com) is offering a tailor-made trip from £5,221 per person, with one night at the Ilala Lodge in Victoria Falls and four nights at Imvelo Safaris Camelthorn Lodge all-inclusive, plus return rail car transfers on the Elephant Express, the new Rhino Sanctuary experience, and all safari activities.
Also included are two nights at Victoria Falls River Lodge and return flights with British Airways to Victoria Falls via Johannesburg.  – The Telegraph
Historic 25 year, US$50m boost for Hwange National Park conservation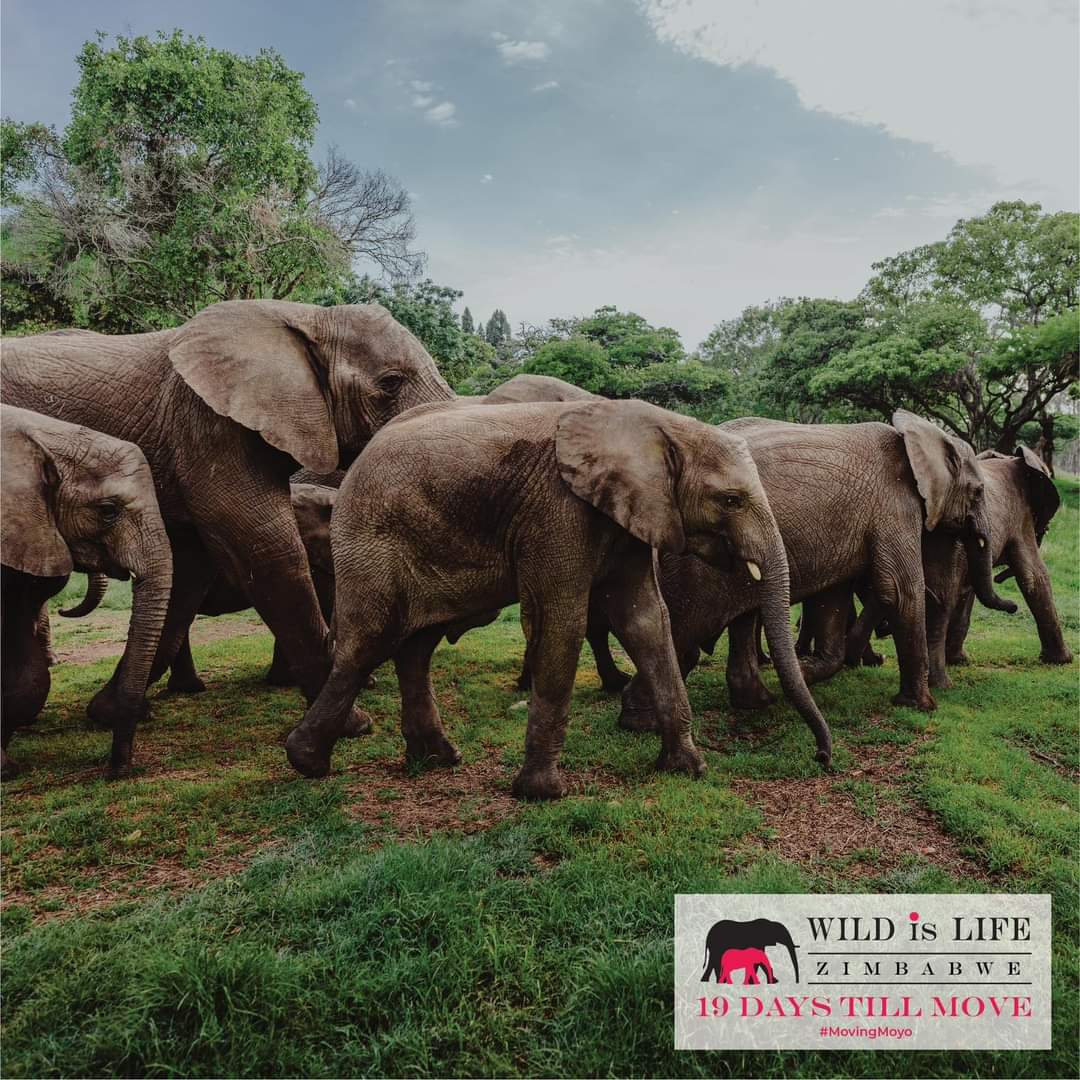 BY OWN CORRESPONDENT
The Zimbabwe National Parks and Wildlife Management Authority (ZimParks) has signed a historic 25-year agreement to secure a US$50 million partnership to support wildlife conservation in Hwange National Park.
The agreement builds on the successes of the existing five-year partnership between International Fund for Animal Welfare (IFAW) and ZimParks, mainly focussed on Hwange NP—at 14,651 kilometres² Hwange is Zimbabwe's largest national park
"The revised agreement begins immediately and commits our partnership to a further 25 years with an expected investment of about US$50M million over that time," says Jimmiel Mandima, IFAW VP for global programmes & institutional giving.
"It's a vote of confidence in our joint achievements and extends our vital work to secure Hwange NP by significantly increasing IFAW's investment in wildlife security, conservation, management, community development and tourism development."
"We are excited about this long term partnership with IFAW as it sets us for lasting impact to turnaround Hwange National Park and its environs to earn back the 'go to tourism destination' status where local communities and wildlife thrive together, " says Fulton U. Mangwanya, director general of ZimParks.
Hwange NP is a key part of the Kavango-Zambezi-Transfrontier Conservation Area (KAZA TFCA), forming an integral part of IFAW's Room to Roam initiative to secure landscapes and maintain connectivity for elephants and other wildlife.
Uniquely, the conservation and investment partnership goes one step further by including both IFAW and ZimParks officials on a six-person steering committee—three from each partner—to direct activities.
Mandima said this development in the private/public partnership will benefit both parties, enabling each to learn from the expertise and experiences of the other.
The new agreement starts immediately and will be focused on the Main Camp Management Area of Hwange NP, which at 10,765 kilometres² represents 70% of the park.
IFAW first entered its first conservation partnership with ZimParks in late 2019 shortly before Covid- 19 struck.
IFAW immediately shifted focus to support ranger welfare enabling key staff to remain at their posts with not a single incident of elephant poaching recorded in Hwange NP in the past three years.
Among other activities, the partnership has also built a full-service ranger base in the Makona section of the national park including an operations centre and staff housing for the 25 rangers and their families who will live there permanently to protect the park and wildlife, and to provide a swift response to incidents of human-wildlife conflict in bordering community areas.
BY NOKUTHABA DLAMINI 
Victoria Falls Safari Lodge has  embarked on a project of getting a fresh new look, with new furniture, soft furnishings and décor across its 72 rooms and central area, which includes the Buffalo Bar and MaKuwa-Kuwa Restaurant.
Africa Albida Tourism (AAT) chief executive Ross Kennedy said the refurbishment, which should be completed by the end of June, was part of the hospitality group's continual reinvestment in its properties and products to ensure its offerings remained world class.
"We are constantly enhancing our offerings, and this refurbishment exercise comes just six months after we opened Victoria Falls Safari Spa, the destination's largest and first purpose-built spa," Kennedy said. 
"In a very competitive destination in an equally competitive market and region, it is important to listen to your trade partners and your guests, and keep the offerings and products fresh, alive and vibrant.
"At the same time, we watch and listen to trends and tastes and always seek to not only keep pace with, but ahead of our competition. Innovation, review, upgrades and new products such as our Victoria Falls Safari Spa, all support these plans for growth."
To minimise disruption to guests, much of the "messy" work in central areas, such as painting, is being done at night, so guests will wake up to new colours, pictures and baskets on walls, and new chairs in MaKuwa-Kuwa Restaurant over the coming weeks, he added.
Interior designer Belinda Jones said she wanted to do justice to the key elements of this iconic thatched structure which soars seven levels, such as the rough textures, grass, gum poles, timber, woven basketry and leather.
"The main theme has always been Ndebele. We will be reintroducing those vibrant colours and traditional elements," Mrs Jones said. "Large canvases will pick out elements of theNdebele art and traditions."
She has drawn her inspiration for Victoria Falls Safari Lodge's new palette from the changing 
colours of the sky, which, along with the wilds of the Zambezi National Park, including a waterhole frequented by elephant, buffalo, and a variety of other game, make up its spectacular panoramic vista.
"The hotel is westward facing with views of the bush and the vast sky stretching into the horizon. We can celebrate all of the hues of the sky from the deep morning blues to the extraordinary sunset colours," she said.
"With views over the waterhole, and small game on the property, we are spoiled with so many animals around. They too will be celebrated in the hotel, photographically and in the  artifacts."
Victoria Falls Safari Lodge's new look will also feature furniture and fixtures in rich and 
contrasting pale timbers with repurposed woven details and vibrant fabrics, while decorations and lighting would be traditional utilitarian basketry and objects, she said.
Victoria Falls Safari Lodge is AAT's flagship accommodation offering, while the hospitality group's portfolio also includes Victoria Falls Safari Club, Victoria Falls Safari Suites, Lokuthula Lodges and The Boma – Dinner & Drum Show.
Rhinos return to Zimbabwe and a new kind of safari starts to take shape in Tsholotsho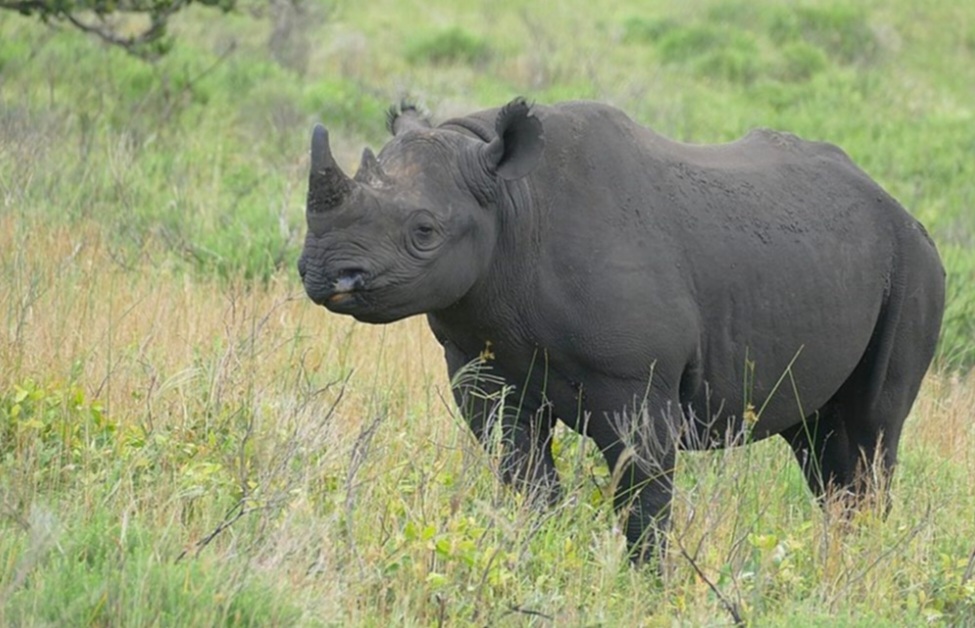 BY KEVIN RUSHBY
Near the Hwange national park, a reintroduction project protects animals, attracts tourists and ensures locals aren't neglected
Inside a stockade of tall wooden stakes, cattle are waiting to be let out for the day.
Golden sunlight stutters through the acacia trees and lights up the homestead beyond, a large, bare-earth courtyard containing five neatly thatched mud-walled buildings.
Hygiene Moyo (75) and her teenage granddaughter Lucricia live here, just outside one of Zimbabwe's largest and most important national parks, Hwange.
They take me to greet their favourite animal, Booster the bull, who comes trotting across the enclosure when called, pushing his nose forward to be scratched.
Ten new calves mill around in a separate inner stockade, eagerly waiting to be reunited with their mothers.
Not all of the herd, however, are present. Since the start of the year three cows have been killed by hyenas.
"They attack during the day," says Hygiene.
"The dogs sometimes drive them away, but there are so many of them now."
It isn't the only danger: lions and elephants stroll through the isolated village of Ziga at night, and the latter regularly raid Hygiene's maize crop, her main source of food.
These are the perils of living in an area called Tsholotsho, community land that is alongside the national park.
It is a vast region of open woodland, about 70 miles north-west of the city of Bulawayo, and which is home to lots of hyenas, as well as about 45,000 elephants.
Surprisingly, however, the community land on which Hygiene lives is now the setting for an ambitious rhino reintroduction project and – even rarer than the rhino itself – the programme has been instigated and welcomed by local people.
The day before I visited Hygiene's homestead, I accompanied Kusasa and Thuza, two male rhinos, on an epic journey across Africa to be released into a fenced reserve.
With this duo, Tsholotsho and Hwange become home to all of the continent's "big five" animals (lion, leopard, buffalo and elephant are the others).
In terms of preserving African wildlife, Hwange is vital.
This is not only because the elephant population is one of the largest in Africa but because the 14,600 km2 park is critical in what is known as Kaza, the Kavango Zambezi Conservation Area.
It is an area twice the size of the UK, connecting the lush low veld on the Mozambique-Zimbabwe border across the continent to the deserts of Namibia.
Without it, the long-term future of large mammals like elephants and lions would be bleak: restricted to increasingly isolated pockets of land, unable to migrate during droughts or access the genetic diversity of other areas.
But without community cooperation none of this is going to be possible, and Tsholotsho holds a vital geographic position.
In Ziga tourists are rarely seen, though the advantages of their presence are easy to find.
I walk with the cows to the solar pump that provides water – a pump installed and maintained by tourist money.
All around, cattle are streaming in, running in some cases, eager to get a drink.
The water pump is only one benefit tourism has brought: the school has books, dinners and accommodation, all provided through cooperation with a local safari company.
"If the rhino brings benefits," village headman Andrew Ncube says, "they can stay.
" That kind of attitude represents a major shift in local opinion, a shift that has not happened by accident.
This change is a story that begins in 1996 when game ranger Mark "Butch" Butcher and social worker Njabulo Zondo decided to combine their efforts.
Butch had a successful safari business, but could see that community cooperation was essential to preserving wildlife; Zondo had spent years in rural development and wanted to use tourism to boost local services in an area with overwhelming unemployment and social problems.
Since then, their achievements are staggering: dozens of school classrooms and teachers' houses built, clean water brought to more than 100,000 people and their animals, 28,000 books shipped in, as well as life-changing dental and eye treatment through mobile clinics.
They built Camelthorn Lodge, a safari lodge on community land, run by locals, and have trained dozens of guides, hotel staff, logistical support crew – even sending several to university (the first from the area).
All this work has also enriched the tourist experience and led to school visits, cookery and weaving classes, and plans for a homestay programme.
The rhino reintroduction, however, is a huge leap in the dark. Until about two decades ago, tourists were seen by most villagers in a similar light to colonial hunters: an unfortunate blight that visited the region, demanding that wild animals were solely theirs while giving back almost nothing.
Subsistence farmers saw elephants merely as a pest that trampled crops, a plague that could kick you to the brink of starvation.
Poachers, on the other hand, were Robin Hood heroes.
Butch and Zondo's scheme, though, has eroded those deeply held beliefs.
There was also a new generation coming up, less obsessed with cattle herd size as the sole measure of success in life, and able to see a bigger picture.
Then, in 2016, an elderly village headman, Baba Mvelo, dropped a bombshell.
He wanted rhinos to return before he died. White rhinos had been wiped out by hunters before the first world war, then again by poachers in 2004.
But Baba Mvelo was adamant: he wanted them back.
With his support, the idea gained momentum. – The Guardian