Commission of inquiry findings fail to be tabled as Victoria Falls councillors fight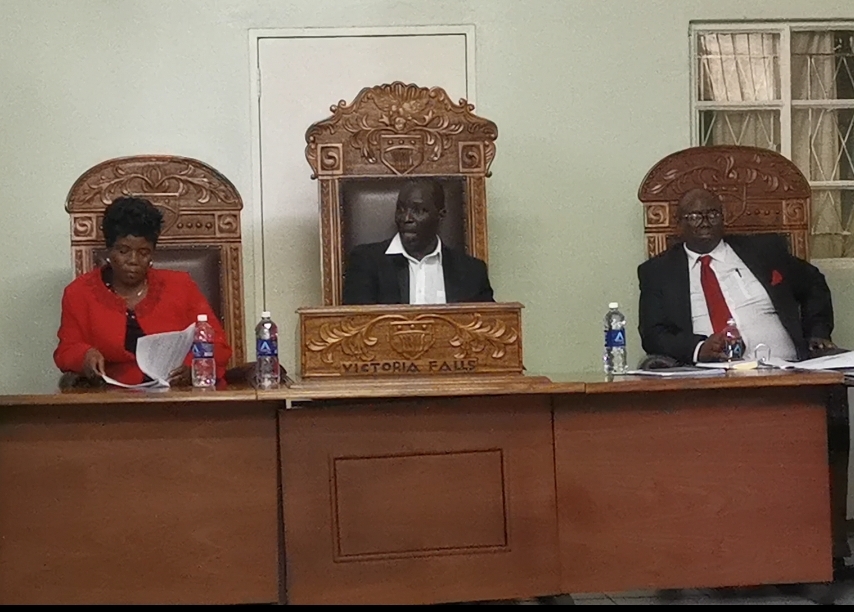 BY NOKUTHABA DLAMINI 
A special full council meeting meant to present the findings of a commission of inquiry set by the Ministry of Local Government and Public Works to investigate claims of corruption against Victoria Falls City town clerk Ronnie Dube failed to take off on Tuesday after the city's mayor and councillors came to a standoff over who should preside over the discussions. 
Minister July Moyo set up the probe team late last year after resident's activists and the mayor Somvelo Dhlamini levelled corruption allegations against the local authority's management head.
Earlier this month, the ministry brought the findings of the report for adoption which was meant to be tabled to a full council, but failed after Dhlamini was confronted by ward various councillors accusing him of breaching the law. 
"You can't chair the meeting when you are an interested party," ward three councillor Lungile Nyoni charged first.
This was after Dhlamini had asked his deputy mayor Patricia Mwale to pray ahead of the meeting. 
"You are misleading the council and you can not chair also because of your court case," he added.
"You are supposed to sit there as the residents because you are an interested party because that's what was said by the minister regarding this matter. " 
The two exchanged some harsh words as the mayor demanded to be provided with an act that prohibits him from chairing the meeting despite being the complainant into Dube's allegations. 
"Which law?"Dhlamini quizzed. 
"I said come with the law and if it's there, I will listen to your reasons…
"I am supposed to chair this and discuss it with the chamber secretary's office because I have to know what we are talking about."
Moments after, the argument was paused after Nyoni suggested that he  should call the minister to give him a go ahead to chair. 
Dhlamini and Dube then stepped out of the board room to call Moyo, but came back to report that he was not answering his mobile phones. 
Dhlamini then insisted to go ahead with his decision to chair or temporarily adjourn, but again was interjected by ward one councillor Tonderai Mutasa who advised him that it was against the law as he was an interested party. 
Mutasa's sentiments were also echoed by ward 11 councillor  Edmore Zhou. 
"So if we are saying we are adjouning the meeting because the mayor said we have to and at the same time you are saying he is not supposed to chair the meeting, surely for me it doesn't balance,"Zhou said. 
"We are here with the residents, we need to do the correct things and if we are saying the mayor is not supposed to chair, he doesn't have the power to adjourn the meeting so that's why residents can not take us serious because we won't be doing the right thing and in accordance with our the law, so he should do the right thing. "
"I will not step down," Dhlamini charged. 
"I will never. " he added. 
Zhou then went on to quiz why Dhlamini had stopped attending some committee meetings that have nothing to do with the report's findings. 
However, other councillors wanted the meeting to proceed with Dhlamini chairing, on condition that he signs down as they were worried about wasting the resident's time and council expenditure to host such meetings. 
Following the back and fourth which led to some resident's activists to get agitated, Dhlamini announced that the meeting will be adjourned to allow the minister to respond together with a supporting act on why he should not chair. 
Dube and Dhlamini have been in the eye of a storm since the arrest of Dhlamini in October on allegations of fraud emanating from the acquisition of a housing stand from the local authority.
Dhlamini was arrested shortly after a group of war veterans and members of the Hwange Residents Association raided the town clerk's office and force marched him out
The group said they wanted Dube to step aside to allow for investigations into allegations of corruption levelled against him to be concluded first.
Few days after, war veterans from Matabeleland North convened a meeting that was attended by over 300 residents to discuss the corruption allegations against the local authority. 
Victoria Falls Combined Residents Association (Vifacora) executive member Trymore Ndolo told the meeting that they had information allegedly showing how Dube and some councillors 'corruptly' sold commercial prime land known as Stand Number 8300 which was earmarked for a water, hygiene and sanitation project, was sold for US$4 million instead of US$14 million that was agreed to by a full council meeting.
The report was meant to address its findings on such allegations among others. 
After the meeting, Vifacora chairperson Kelvin Moyo expressed disappointment in the capacity of some officers and councillors.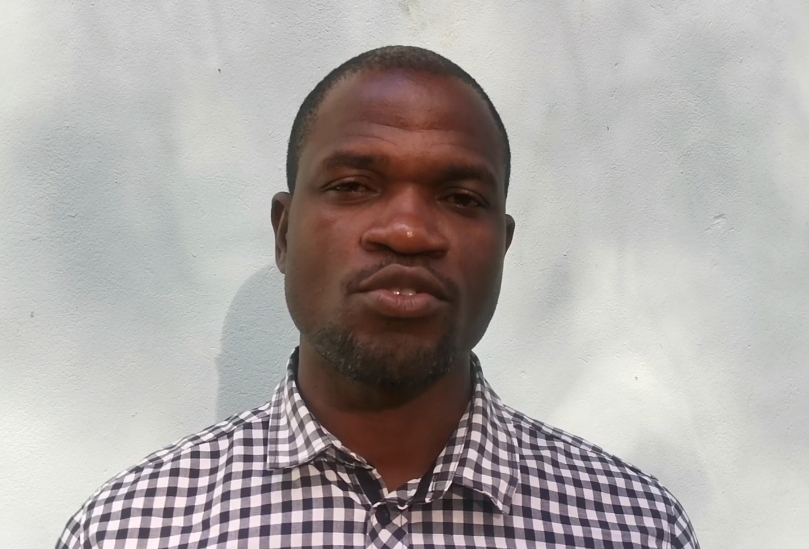 "We are very much disappointed in what ended up happening, I think all counsillors when they are getting to council they know what they are expected to do, the rules and procedures of the law, but it wasn't so because there was unparalleled ignorance that was displayed by some of the officers and counsillors,"he said. 
"As residents, we feel that we are shortchanged in terms of the rate of which the service delivery in concerned because we were hoping that the findings were going to be presented at the end of the day so as residents, we should look at the capacity in understanding issues and adjudication so much so that it can all come to the benefits of the residents."
The town clerk also called on the minister's intervention.
"This stems from the fact that the moyor has a pending case in court and the minister (Moyo) issued a circular in February 2022 directive which stated that all council officials with pending cases should remain barred from council and this is the same interpretation which we have,"he said. 
Dube revealed that the authority has written three letters to the minister seeking clarity on the matter, but none has been responded to. 
"Going forward, we are going to consult again this time indicating that this scenario will render council dysfunctional." 
Chinese-funded power plant expansion project in Zimbabwe set for commissioning
BY XINHUA
Zimbabwean Energy and Power Development Minister Soda Zhemu said here on Monday that prolonged power cuts are "now a thing of the past" in Zimbabwe following the completion of Hwange Thermal Power Station Unit 7 and 8 expansion project.
Chinese firm Sinohydro undertook the project, adding 600 MW to Hwange Thermal Power Station, the country's largest coal-fired power plant.
The project will be commissioned by President Emmerson Mnangagwa on Thursday.
Zhemu said at a press conference that recent media reports predicting a return to prolonged power cuts after August were false, as Zimbabwe is now guaranteed adequate power supplies in the short-to-medium term.
He said Unit 7 is already feeding into the grid after the successful completion of tests in June and is now commercially available for operation. Unit 8 is also undergoing a similar test and is expected to be available commercially by August or September this year.
"So there is no way that we are going back to the past where we used to experience long hours of load shedding," Zhemu added.
Five die in Binga traffic accident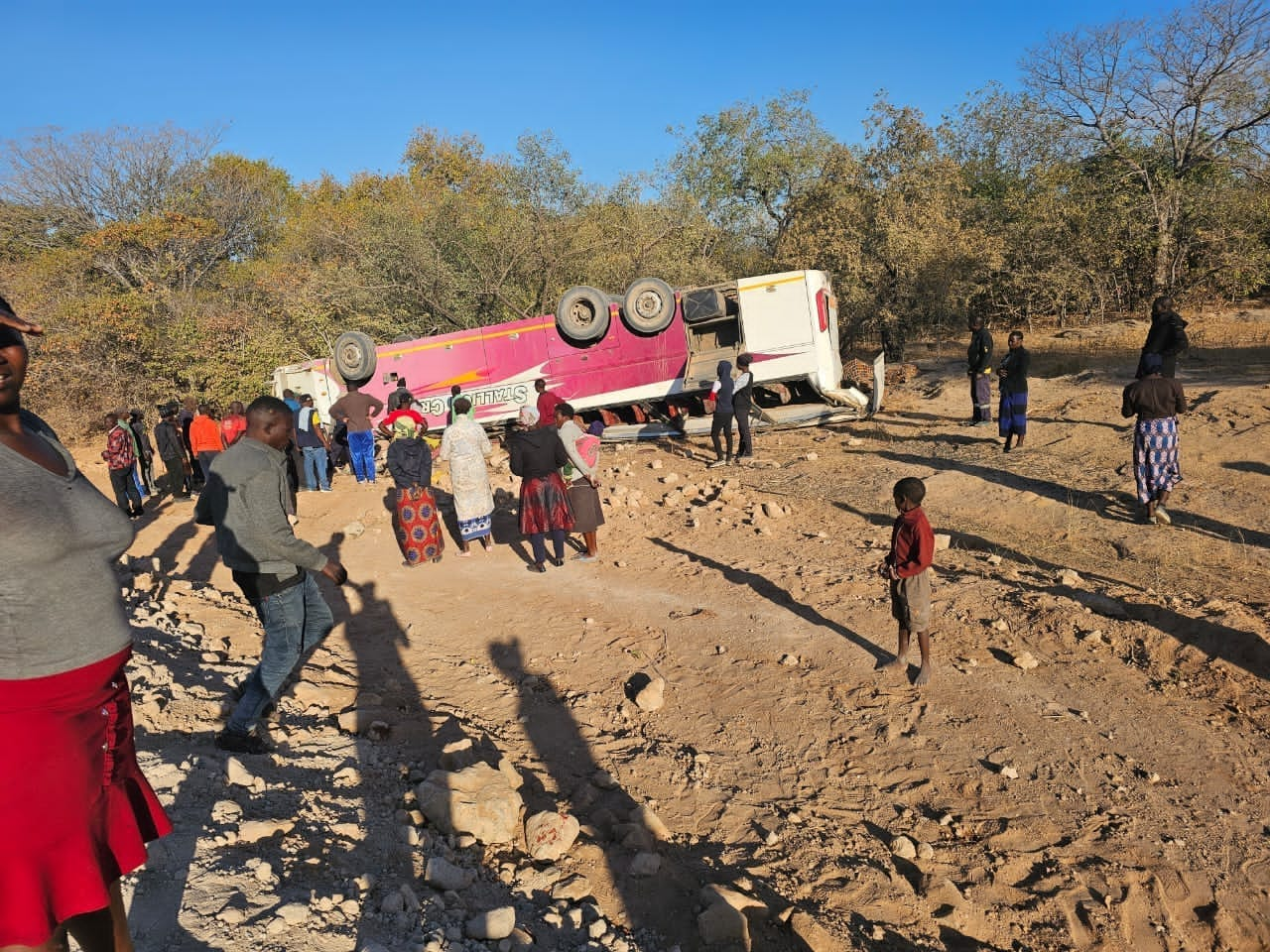 BY NOKUTHABA DLAMINI
A Stallion Cruise bus overturned in Binga on Sunday morning killing five passengers on board, police have revealed.
According to witnesses, the bus which was travelling to Bulawayo was reportedly speeding when the accident happened.
National police spokesman Assistant Commissioner Paul Nyathi said the bus overturned and landed on its roof in the Sikalenge area between Siabuwa and Binga centre.
"The ZRP confirms a fatal road traffic accident which occurred on 16/07/23 in the morning near Masumo Bridge, Samende area, Binga in which a Stallion Cruise bus travelling from Siabuwa to Binga overturned," Nyathi said.
"The ZRP confirms that five people were killed whilst the number of injured is yet to be ascertained."
The bus reportedly veered off the road at a sharp curve near the Masumu River bridge at around 7AM.
The accident comes barely a week after the same bus caught fire in Mutare on July 11 and all passengers escaped unharmed.
Zimbabwe declares its own load shedding over, but locals are sceptical
BY AFP
Zimbabwe's government on Tuesday announced a sudden end of blackouts that have crippled businesses and left millions of households without electricity for up to 19 hours a day.
The information ministry said a cabinet meeting had "noted with satisfaction" that the power utility "has announced the end to load shedding as a result of the interventions implemented" by the government.
The statement did not give details of the steps taken to end the load shedding.
The southern African country has for years been reeling under severe power shortages.
They worsened late last year when the main electricity supply, a hydro plant at the giant Kariba Dam in the north, suffered very low water levels caused by recurring droughts.
In March the power utility company said it had launched a new 300MW coal-fired unit with Chinese finance in a bid to ease repeated power outages.
But Zimbabweans greeted the news of the end of outages with scepticism, as some said they were sitting in the dark as the announcement was made.
One Zimbabwean @sammie541 tweeted "funny (be)cause we actually don't have…(electricity) now", adding her Harare neighbourhood had been without power since Monday.
Other Zimbabweans questioned on Twitter if the announcement was not strategically timed ahead of national elections due next month.
The country goes to the polls on August 23 to elect a president and legislature.
Eighty-year-old President Emmerson Mnangagwa, who replaced strongman ruler Robert Mugabe in 2017 after a military-led coup, is seeking re-election.
But he faces a disaffected population that is battling hyperinflation, poverty and high unemployment.
Official figures placed inflation at 175.8% in June, up from 86.5% in May, but Johns Hopkins University professor of applied economics Steve Hanke believes real inflation in Zimbabwe is more than 1 000%.