In perched rural Matabeleland North, renewable energy is vital
BY FARAI SHAWN MATIASHE
Under partly cloudy skies, Lydia Mlilo, 56, fetches water from a communal tap in the sparsely populated village of Singeni.
Any clouds are unusual in winter in this semi-arid land with nothing but teak forests, and to Mlilo they are not a sign of rain.
The water in this Nkayi district village in Matebeleland North province, 168km northeast of Zimbabwe's second-largest city of Bulawayo, is pumped from underground using solar energy and stored in huge tanks.
It is then carried by pipeline in the village, supplying water to villagers as well as a nearby school.
Mlilo uses this water for all her domestic needs.
The mother of six still recalls the predicament of not having clean and safe water in the 2000s and early 2010s.
"It used to rain [so] that I could get water in the wells at my household, but that changed almost two decades back," Mlilo said.
"The water tables are now so low that we cannot even access water. We used to get water at about 12m, but now maybe at more than 50m.
"I had to fetch water from open wells on the shores of a nearby river.
"It was dirty but we had no choice, we had to drink it. We could, however, get stranded in summer when the river runs dry."
German charity Welthungerhilfe installed solar stations in Mlilo's village and the village of Ngabayide as part of its Matabeleland Enhanced Livelihoods Agriculture and Nutrition Adaptation (Melana) project, which is running in four districts in Matabeleland.
The project started in 2016 and ends in 2022, and is part of the wider Zimbabwe Resilience Building Fund (ZRBF) programme.
These water sources benefit more than 350 households, as well as the owners of more than 4 000 head of cattle, who use them for drinking water and to dip their livestock, according to ZRBF-Melana project head Kudzai Nyengerai.
Singeni village head Nathaniel Ncube (66), says there were outbreaks of waterborne diseases such as cholera and typhoid in the village in the early 2010s.
"Most of the households do not have toilets. Open defecation is common here," Ncube said.
"With water being a menace in the village, we lost a number of our villagers from the outbreak of diseases."
Mlilo is a smallholder who grows drought-resilient crops such as millet and sorghum.
She also rears cattle and has 10 that she dips at a community dip tank. They drink water there, too.
Villagers in Nkayi district are limited in terms of how they can earn a living because climate change has made agriculture unviable.
Some survive on remittances from the diaspora, as family members were forced to cross the border to neighbouring South Africa or Botswana to search for work during Zimbabwe's economic crisis in the mid to late 2000s.
The roads are rugged and the villages difficult to access.
There is a lack of infrastructure such as electricity, internet, television and radio signals.
Rachel Dube (29), from Singeni village, says she did not believe it was possible for a community deep in the thick forests to have a tap.
"I thought tap water was only for people in the cities," Dube said.
" I did not know it was possible for us. This solar technology has done wonders."
The mother of three says she can now practise the maximum levels of hygiene recommended by nurses when looking after her children.
Nyengerai said the solar stations ensure that villagers have a perennial source of water.
"The two communities in question here have since established nutrition gardens. Even the nearby schools have benefitted by establishing their own gardens, and issues like livestock poverty deaths and time poverty have been reduced."
Sukokuhle Khabo, 30, from Indibe village in Gwanda, is among the 2 100 households that benefit from the solar-powered irrigation schemes in this district in Matabeleland South province.
"I am growing onions, tomatoes and carrots for family consumption as well as for sale in Gwanda town and Bulawayo. We have been using the flash irrigation method to water the garden but we have since changed to drip irrigation, which saves water," she says.
The mother of three says she uses the proceeds from her garden to buy other essentials for her family and pay her children's school fees.
Like Nkayi, the Gwanda district is semi-arid and poorly developed.
"Drip irrigation has less labour and is critical in conserving water," says smallholder Musa Moyo (75) from Indibe.
"Drip irrigation uses less water on a large piece of land. We rotate our crops [and use] mulch to conserve the much-needed water."
Melody Makumbe is the project coordinator for Resilience Enhanced through Agricultural Productivity, run by development agency Practical Action.
"We use green energy to pump water as [opposed] to dirty fuels," Makumbe said.
" We facilitate access to markets, increasing access to finance, rehabilitation and support with infrastructure for irrigation as well as capacity-building for management structures of the irrigation schemes."
In Nkayi, residents have established asset management committees that oversee any operational or maintenance issues with the solar stations.
Nyengerai says villagers have set up a revolving fund to pay for any issues that arise with the equipment.
"Singeni village went on to have fundraising initiatives that fund the maintenance of the scheme, for instance, cattle sales.
"These two projects have been run by the community since 2018 without any problem," she added.
Mlilo hopes the initiative will expand to support other schools nearby."Some schools in this village do not have clean and safe water," she said.
"We are not yet safe from outbreaks if some nearby places such as schools have no water." – New Frame
This story was published with the support of the British Council as part of COP26, the United Nations Climate Change Conference in Glasgow, Scotland.
Binga by-elections called off: ZEC
BY STAFF REPORTER 
The Zimbabwe Electoral Commission (ZEC) has suspended the by-elections for wards 6, 8, 10, 15, and 23 of Binga Rural District Council in Matabeleland North Province which were scheduled for Saturday. 
ZEC chief elections officer Utloile Silaigwana made the announcement on Friday following a High Court order after  Collen Mudenda challenged the nomination of the five councillors who were recalled in October by the MDC-T party. 
"The Zimbabwe Electoral Commission would like to inform members of the public that the High Court has ordered the suspension of by-elections for wards 6, 8, 10, 15, and 23 of Binga Rural District Council scheduled for Saturday 03 December 2022," Silaigwana said. 
"This follows urgent chamber applications by Collen Mudenda who challenged the nominations of John Simunene Sikabotu, Kingson Mpofu, Mathias Mudenda, Joseph Mwembe, and Wilson Siampolomba on the grounds that they were disqualified from contesting as candidates in terms of Section 119 (2) (h) of the Electoral Act.
"The Section states that a person shall be disqualified from being nominated as a candidate on the nomination day or the day of an election when he or she is in default with the payment of any levy, rate, charge, or tax due and payable to the council concerned for more than 120 days."
Silaigwana said the High Court ordered that the Commission should not proceed with the by-elections for the five wards pending the hearing of thr cases which was postponed to  January 4, next year. 
He, however said  despite the Binga order, by-elections for ward 20 of Binga Rural District Council, wards 4, 5, and 18 of Gweru Municipality, and ward 28 of Mberengwa Rural District Council will go ahead ahead as scheduled on Saturday. 
Armed robber storms Victoria Falls bank, walks away with US$12K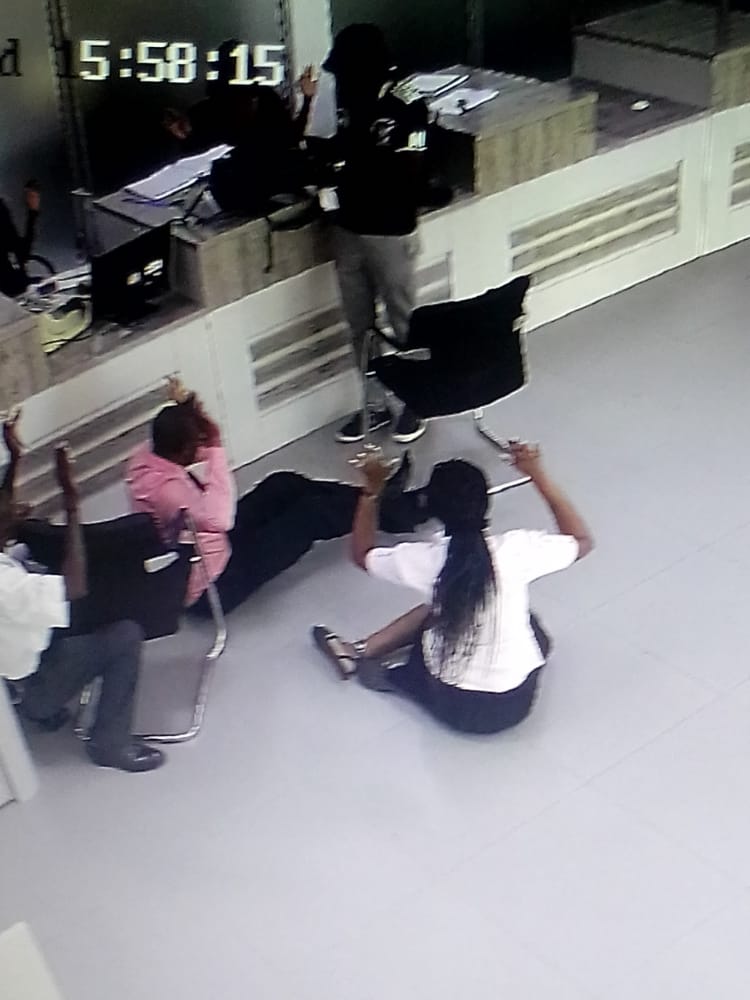 BY NOKUTHABA DLAMINI 
Zimbabwe Republic Police have revealed that the robber who held at ransom ZB bank workers on Wednesday after pretending to be applying for a bank loan got away with US$12 000 cash. 
The man dressed in black and white jersey, a hat and khaki as captured hours later through bank cameras pointing a shotgun towards workers while loading the money in his satchel that he was holding.
"The ZRP confirms that a robbery occurred at ZB Bank, Victoria Falls, on 30/11/22 at around 15.55 pm hours where an unknown suspect, armed with an unidentified pistol, posed as a genuine customer who wanted to enquire on the requirements to apply for a bank loan, "police said in a statement. 
"As the bank was about to close for the day, the suspect remained behind while other customers were leaving. After all the other customers had left, he produced a pistol and ordered the bank tellers to surrender cash in their tills. 
"The suspect stole US$12 000 before fleeing through the back exit door. Investigations are underway to account for the suspect."
According to sources, the man was seen walking away until he disappeared. 
Meanwhile, police said they were also investigating an armed robbery case which occurred at a college in Chitunguza's Seke residency on Monday, where three unknown suspects, armed with three unidentified pistols, attacked a security guard who was on duty at the premises and stole US$3 094 fuel coupons, US$8 076, and $43 100 cash after vandalising a safe. 
July Moyo pressures Victoria Falls City Council to give prime land to gold baron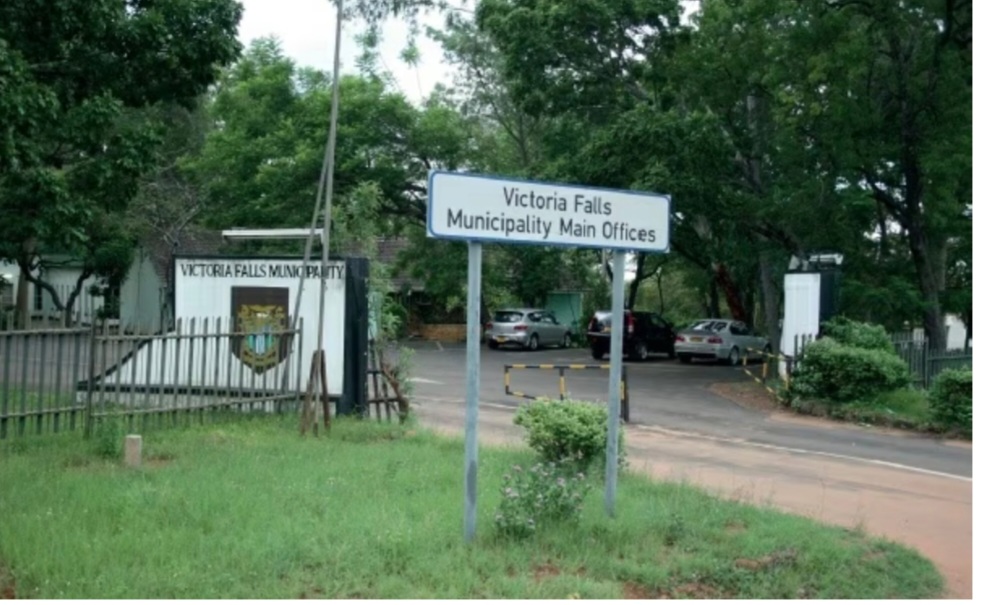 BRENNA MATENDERE
LOCAL Government minister July Moyo, who is entangled in Victoria Falls land scandals — with his ally mayor Somveli Dlamini currently out of jail on bail after he was arrested for a fraudulent land deal — is pressuring Zimbabwe's tourism mecca to give prime land next to the luxurious A'Zambezi River Lodge to a company owned by gold baron Pedzisayi "Scott" Sakupwanya BetterBrands Investments.a
This comes as Moyo, together with Arosume Property Development, have been reported to the Zimbabwe Anti-Corruption Commission (Zacc) for allegedly corruptly cancelling a title deed belonging to Borrowdale resident Taruvinga Hamura.
The dossier on Moyo's land activities was also sent to the Office of the President and Cabinet for President Emmerson Mnangagwa's attention, his deputy Constantino Chiwenga, police Commissioner-General Godwin Matanga, the National Prosecuting Authority and Judicial Service Commission.
 Moyo is pressing Victoria Falls city council to give the 7 000-square metres land to Sakupwanya's company using political pressure and in violation to good governance tenets.
The pressure borders on corruption as the minister should not be lobbying for land for private companies and individuals for personal gain.
The piece of land at stake borders A'Zambezi River Lodge, the Zambezi River and Victoria Falls Boat Club. A'Zambezi River Lodge is nestled on the banks of Africa's 4th longest river on the periphery of the Zambezi National Park. It occupies the finest location that gives its guests an ambiance of pristine wildlife, nature, riverine frontage and jetty site.
However, Moyo's wish has not been granted. Council has told BetterBrands that it is unable to avail the land because it was being leased by another company, Wild Horizons, which has paid its rentals in advance. Investigations show that Moyo travelled to Victoria Falls on 20 September in a bid to bring political pressure to bear on the city council, currently led by town clerk Ronny Dube in Dlamini's absence, to give the land to Sakupwanya's company for private development.
Dlamini is out on bail on corruption charges relating to a residential stand which he allegedly bought fraudulently. Sources said Moyo slept at The Palm River Hotel, formerly known as Palm River Lodge, a four-star luxury facility located on the banks of the Zambezi River, when he visited the resort city to make a case for BetterBrands before Dlamini was arrested.
Dlamini, who is close to the minister, was arrested on 6 October. BetterBrands deals in gold and jewellery, but has a diversified portfolio which includes transport, energy, security services and real estate.
What makes the situation more complicated is that the land is currently occupied by tourism operator Wild Horizon, which owns and operates whitewater rafting, Zambezi boat cruises, Chobe day trips, helicopter flights and other adventure activities.
It provides tours, transfers and activities in Victoria Falls, Livingstone and Chobe. Its properties include The Elephant Camp, one of the most luxurious lodges in Victoria Falls, Old Drift Lodge, a new luxury tented lodge on the banks of the Zambezi River not far from the waterfall and Imbabala Zambezi Safari Lodge on the border to Chobe.
"BetterBrands wants that land, so Moyo has been pressuring Victoria Falls city council to give the company the property. Moyo came to town on 20 September to push for the deal," a Local Government ministry official said.
"He slept at The Palm River Hotel and the following day he had meetings with Dlamini and Dube. After that, Moyo and Dlamini left, claiming to be going for a funeral without Dube. It later transpired that they had gone to mobilise war veterans and thugs to hound Dube out of office. Subsequently, the war veterans came to lock Dube out of his office. They even defied police who had told them that what they were doing was illegal.
"Three days before that, Dlamini had reported Dube to Zacc, accusing him of a number of alleged corrupt ac tivities regarding allocation of land and a deal with council for him to buy a car.
 "The same letter was used to illegally suspend Dube for a short while before he was reinstated by councillors."
 In an unexpected turn of events, when Zacc went on to investigate Dube — who was reported by the mayor — they actually found it was Dlamini instead with a case to answer, not the town clerk. On 27 September, Moyo moved to quickly appoint a team from his ministry to investigate Dube who has been a stumbling block to his land deals with Dlamini.
Moyo appointed the team to probe Dube on various charges ranging from unprocedural allocation of land, withdrawing council money without authority, misleading council and incompetence, but a preliminary report did not find the town clerk guilty of any criminal offence.
The probe team was chaired by the director of local authorities Mike Mazai and included director of local governance Tapera Mugoriya, chief financial officer Alpha Nhamo, a legal adviser only identified as C. Tshuma and Land Siansole Kabome, the district development coordinator of Binga.
Officials in the ministry said Moyo was so unhappy with the findings to an extent that he summoned the team for a meeting on 14 November and ordered them to rewrite the report, implicating Dube as he desperately wants him removed from his position.
 Moyo appointed the team following a chain of controversial activities and clashes between the mayor and the town clerk, including a demonstration by war veterans in Matabeleland North and members of the Victoria Falls Combined Residents' Association against Dube for alleged corruption in the sale of land.
Dlamini, Dube's opponent, had met war veterans ahead of the demonstration. The war veterans then locked Dube out of his office, demanding an investigation. The demonstration resulted in the police and Zacc descending on council while Moyo assembled a probe team to investigate allegations against the town clerk.
 In a spectacular boomerang, Zacc officials, however, arrested Dlamini for corruption after the investigation, while Dube was set free.
The ministry of Local Government however continued its probe, looking into five allegations: allocation of brewery stands to Jackleberry Investment without council authority; allocation of land in the dumpsite/landfill site and sewage pond area without council resolution; withdrawal of US$84 000 from a council account; misleading council in awarding the tender for sale of stand number 8300 to Zambezi Properties; and incompetence, dereliction of duty and failure to supervise staff.
The minister's investigation team produced a preliminary report which did not find Dube guilty, although it highlighted administrative lapses.
The report was submitted to the minister, but he was unhappy as it did not nail Dube. As a result, the minister ordered his investigation team to doctor the report to suit his design — finding Dube guilty — to remove him and pave way for his land deals-The Newshawks