How indigenous traditions are saving Zimbabwe's endangered wildlife
BY ANDREW MAMBONDIYANI
A hill with an imposing protruding rock stands on the outskirts of Village F, a small farming community in Zimbabwe, about 50 kilometres south of the eastern border city of Mutare.
A small perennial river, Nyadziye, meanders leisurely around the hill, which is known locally as Buwesunike.
Dense trees surround Buwesunike Hill, and a plethora of bird species chirp excitedly in the undergrowth.
For years, this hill has been a nesting place for a small group of southern ground hornbills.
In this part of the country, southern ground hornbills—identified by their unique jet-black feathers, bright-red throats, and large black beaks—are considered sacred.
Farmers in this area say the birds bring in the rains and herald the start of the farming season.
In the local Jindwi dialect, farmers call these giant birds mariti; in other dialects, they are known as matendera.
Killing them would anger their ancestors, the farmers believe, resulting in droughts for the whole community and bringing serious misfortune to the offender.
A mix of beliefs like these, taboos and myths, passed orally from generation to generation, has been at the centre of wildlife conservation in many parts of the Zimbabwe.
While these taboos are not grounded in scientific explanation, they have helped to protect and preserve some of country's endangered wild animals and birds from poachers—including the southern ground hornbill.
Poaching and destruction of habitats of animals and birds by farming and other activities are growing issues in the country.
Tensions around conservation have risen particularly in communities living near wildlife conservancies and game parks.
However, Indigenous groups under traditional chiefs, including Zimunya and Marange in eastern Zimbabwe, have found other ways to limit hunting and activities that harm the animals.
Local traditional leaders—village heads, headmen, and chiefs—strictly enforce the limits and taboos and impose heavy fines on whoever is caught breaking them.
On the rare occasion a villager breaks the taboos, they are brought before the traditional leaders' courts and forced to pay for the violation in the form of livestock: cattle, goats, sheep, or chickens, as well as grain. In some cases, the fines are used for the revered rainmaking and thanksgiving ceremonies or wildlife conservation projects in the area.
David Mutambirwa, executive director and founder of Mhakwe Heritage Foundation Trust, a Zimbabwe-based foundation advocating for heritage and culture preservation, says Indigenous knowledge systems are critical to wildlife protection.
"Indigenous knowledge systems have been used and are still being used to preserve and conserve wild animals," he says.
"There are certain trees which cannot be cut down.
These knowledge systems involve taboos, values, and norms which are followed in many rural communities."
Following White colonial rule in Zimbabwe, which ended in 1980, he says some communities discarded their traditional ways of wildlife conservation.
"The advent of the so-called Western civilisation in our country affected our cultures in many ways," he says.
"But we are working hard to sensitize these communities through a multifaceted approach."
In Village F, though, residents held on to their reverence for the southern ground hornbills.
"We jealously protect this nesting place," says Nicholas Mukundidza, a farmer and beekeeper at Village F.
"As you can see, we don't cut down trees here. Instead, I have put my beehives to protect these trees," he says, pointing to several wooden beehives scattered on trees in the thick forest.
Mukundidza took me on a short hike through a heavily wooded path to the edge of Buwesunike Hill.
But on this particular hot afternoon, the southern ground hornbills could not be found.
"I'm sure they have flown out to forage for food. They can spend a couple of days out before they come back," he says.
A recent study reveals that southern ground hornbills have now disappeared from some parts of Africa as a result of human activities, including habitat destruction, indirect poisoning, and electrocution, as well as trade in live birds and use in traditional cultural practices.
But for over 40 years, Mukundidza has been farming close to Buwesunike Hill.
He says he has never seen or heard of anyone trying to harm or kill the birds.
There is no proper research done on traditional methods of conservation in this part of the country.
However, a study done at Zimbabwe's Nharira community of Chikomba district reveals that conventional strategies of conserving wildlife and forest resources through fencing the protected areas or imposing fines on trespassers usually creates disputes between locals and the forest and wildlife management authorities.
"When compared to conventional strategies, the [Indigenous knowledge] approach is better as it avoids such conflicts and requires less state resources for enforcing laws to protect wildlife and forest resources," the study says.
In Chikomba district, local people believe poachers in the sacred Chirozva and Daramombe hills can be chased away by bees, wild animals, or snakes, the study documented.
"In other instances, mishaps such as prolonged dry spells and reduction in crop yields may befall the entire community," the study adds.
"Key informants further reported that the convicted individuals [for breaking the taboos] are forced to pay fines in form of a livestock or buckets of grain to the traditional leaders."
However, Sharon Mushure, one of the researchers involved in the study, cautioned that there are weaknesses too: Fires started by villagers can threaten habitat, and the lack of documentation of traditional beliefs makes them vulnerable to disappearing.
Elsewhere in the Mutare district, leaders rely on traditional beliefs to protect pangolins, known here as harakabvuka or haka.
Geofrey Rugohwo, a traditional leader in Chitora, says it is a serious offense for anyone to be caught with a pangolin, let alone kill or eat it.
"This animal is important for us. It's a highly respected animal and cannot be killed by anyone in this area.
If a person kills or eat it, that person will face the wrath of our traditional leaders or the spirits of the land," Rugohwo says.
Experts say very little is known about the status of pangolins in Zimbabwe, but they are thought to be in decline.
More than four decades ago, the pangolins were placed on Zimbabwe's Specially Protected Animals list.
A recent report by Earth.org reveals that worldwide, more than a million pangolins have been poached for commercial use over the past decade.
Although the forests in this part of country are still home to a number of pangolins, Rugohwo says it is uncommon to find these reclusive and nocturnal mammals.
A sighting signifies a long life or a chance for greatness, says Mutambirwa.
"We don't know how many pangolins are in this area, but we still have many.
"It's our duty to protect them for future generations," Rugohwo says.
"We have very few cases of outsiders coming to poach the animals here."
Rugohwo says if a person kills a pangolin in middle of the forest without being caught, that person will ultimately be punished by the spirits of the land.
"The offending person will suffer from various curses or misfortunes, which will only be broken if the person surrenders himself or herself and confess to the traditional leaders and pay a heavy fine," Rugohwo explains.
A local story tells of two men believed to be from Zimbabwe's capital, Harare, who tried to smuggle a pangolin from the area.
They had to abandon it after it started making weird noises as the duo were driving toward a police traffic checkpoint.
This story amplifies the mysteries and trepidations surrounding pangolins.
The Zimbabwean government supports efforts like those in Village F and Chitora.
Any person convicted of the unlawful killing, possession of, or trading in any protected animals gets a mandatory jail term of nine years, or more for second offenders.
"Our common agenda is to protect wild animals, and we work with the communities to protect the animals," says Tinashe Farawo, a spokesperson for the Zimbabwe Parks and Wildlife Management Authority.
"Our relations with these communities is like that of the fish and the water.
"We rely on them for information on what is happening and what needs to be done.
"As long we are working well with the communities, the cases of poaching will go down."
Ultimately, Farawo says local communities are the ones responsible for wildlife day to day.
"They're the ones who stay with the birds, and they are the ones sharing boundaries with these animals.
"They're the custodians of the wild animals." – yes!
The well-heeled mini state that is bucking the trend in Zimbabwe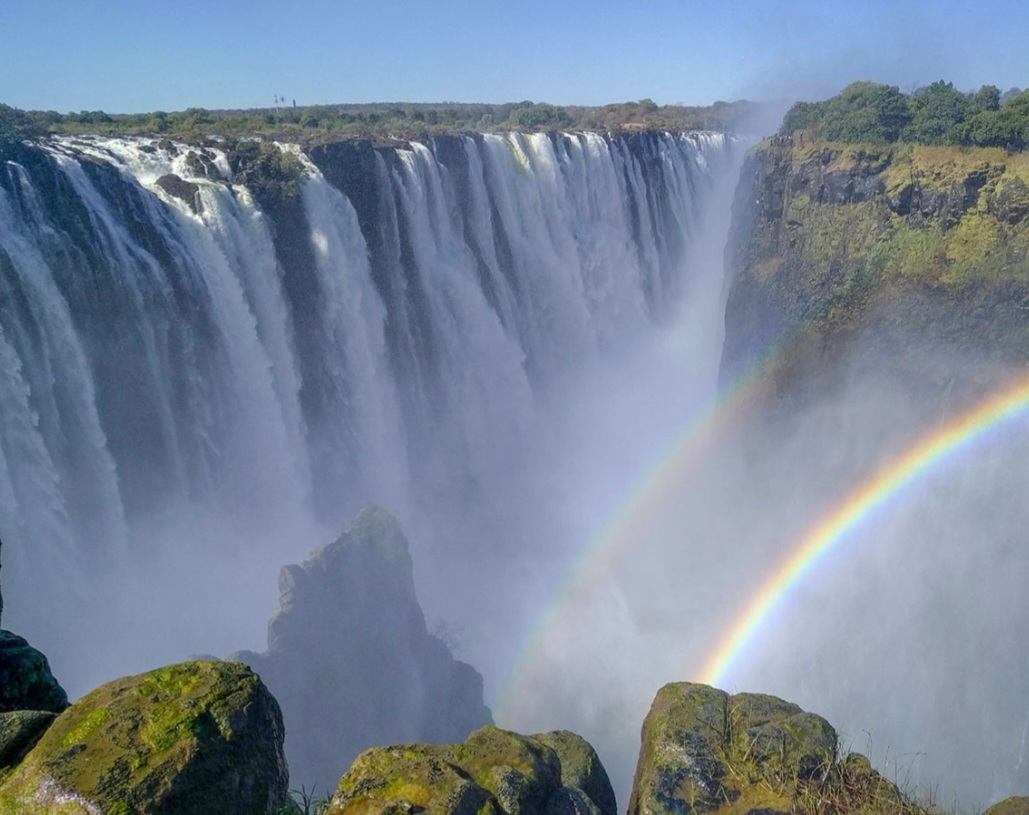 BY DOUGLAS ROGERS
One writer returns to the country of his birth to discover how a 'Wonder of the World' is transforming tourism in troubled times.
It was 4pm in Zambezi National Park, a few miles from the majestic Victoria Falls in Zimbabwe, and the watering hole was quiet. A fireball sun dipped over the borderlands to the west. From our timber-built hide, my son Whitaker, aged 12, panned his binoculars across the landscape and saw a cloud of dust on the horizon. "There's something coming," he said.
Steve Taylor, our Zimbabwe-born guide, took a look. "Good spot, Whitaker," he said. "Buffalo. Hundreds of them!" He checked his watch. "They'll be here in 45 minutes. Anyone fancy a sundowner?"
Sure enough, exactly 45 minutes later, 300 Cape buffalo stood drinking at the pan and, like a post-work stampede for happy hour, other animals began to appear – antelope, warthog, a dozen elephants, a lone giraffe. Somewhere nearby, hyenas howled.
"Ten years ago, you wouldn't have seen game like this here," said Taylor, founder and owner of Askari Safari, who splits his time between the United States and a new home in Victoria Falls. "The area was in trouble, and there were few animals because of poaching and mismanagement. Now, all that is changing."
The reason is the establishment, in 2011, of the Kavango-Zambezi Transfrontier Conservation Area (Kaza), or Five Nations Peace Park. Kaza is the joining together of 36 national parks and three World Heritage Sites on the borders of five countries – Angola, Namibia, Botswana, Zambia and Zimbabwe – making it the largest transboundary wildlife system in the world. The size of France, and home to half of Africa's elephants, Kaza has shown how cross-border cooperation on wildlife management, anti-poaching and community conservation can transform animal populations
Tourism is making a comeback, too, and Victoria Falls – Zimbabwe's spray- drenched colonial river town, a Wonder of the World within Kaza – is booming. Helicopters buzz the cataracts, white-water rafters and luxury river boats ply the Zambezi and people like Taylor, who left Zimbabwe in the bad old days, are buying property there or moving back permanently.
This was my first post-Covid trip to the country of my birth, from my home in the United States. Part of the reason was to attend a memorial service for my late father in eastern Zimbabwe, where I grew up, but it was also a chance to spend a week's holiday with my extended family in the Falls, on the opposite side of the country.
I love coming "home", but Zim is a mess. Inflation is rampant, prices are exorbitant, roads and other infrastructure are crumbling. The exception is Victoria Falls, which might as well be another country. My first glimpse of it was at the impressive airport built by the Chinese in 2015. International flights arrive from seven countries and the energy and excitement at arrivals far exceeds what you feel when landing in Harare, the capital. "We have a saying here: 'Turn left for Victoria Falls, turn right for Zimbabwe'," said our transfer driver as he turned left out of the airport on to a smooth, newly built road towards the regenerated town.We had booked a thatched four-bedroom Airbnb named Acacia, in a leafy suburb, and that afternoon did what every self-respecting visitor to the Falls does: have high tea at the Victoria Falls Hotel. I confess, I was braced for disappointment. Built in 1904, the grandest of southern Africa's grandes dames offers spectacular views of the steel railway bridge across the Zambezi Gorge, but my last visit there 15 years ago had been a complete disaster. With political turmoil and hyper-inflation at their height, there was no electricity, my room was full of cobwebs and I paid my bill with a backpack full of Zimbabwean dollars.
This time around, much to my surprise, the hotel was undergoing a multi-million-dollar renovation – and it looked immaculate. We were swiftly ushered to the Stanley Terrace, fronting lush green lawns where cucumber sandwiches, scones and a dozen types of cake were being delivered in style on three-tiered silver platters.
Far from rejecting its colonial past, the hotel honours it with an entire hallway of framed photographs of British Royalty. All around us, well-heeled Americans and Europeans were enjoying their afternoon teas and quaffing their pink gins.
But it isn't just tourists who are coming back to this trend-bucking corner of Zim. An estimated five million Zimbabweans have fled the country since 2000, and most of them continue to live abroad. Of those returning, many choose to settle in the Falls. To get a glimpse of this local scene, Stephen Taylor suggested I visit Loretta's Coffee Caravan, just around the corner from our Airbnb.Five years ago, the cafe's owner "TK" Musungwa was running a driving school in Stockport, England, his family having fled Zimbabwe for Manchester in the early 2000s. On a visit to Harare, he met his now wife Loretta – a barista – and on a trip to the Falls, they discovered that they couldn't find a decent cup of coffee anywhere. TK said farewell to England and Loretta's Coffee Caravan was born, serving a chocolate-rich blend of Zimbabwean, Rwandan and Tanzanian beans as well as fruit smoothies.
"Vic Falls feels like an island far removed from the madness of Zim," TK told me, "a small town where people can reinvent themselves. England is an easier place [to live], but this is the home I love."
I certainly loved Loretta's – a bustling coffee shop with tables set under a mahogany tree, frequented not by commuters seeking their caffeine fix but by khaki-clad game guides, armed park rangers, dashing river rafters and real-estate agents cashing in on the property boom.
On our third day, we hit the rapids. The Zambezi below the Falls arguably offers the greatest white-water rafting in the world, so I booked a trip with local outfit Shockwave.Its river outings are not for the faint-hearted. First comes an hour-long trek into the boiling belly of the gorge with the unsettling knowledge that an even steeper climb (up) awaits you down river. Tackling Grade 5 rapids with names such as Jaws of Death and Washing Machine is both terrifying and exhilarating. We were lucky to have as our guide Pilani Moyo, the owner of Shockwave and the first black Zimbabwean to own a rafting business on the Zambezi. He spends the off-season guiding on the greatest rivers in the world and has a home in Colorado, in the United States.
More sedate by far was the four-hour dinner cruise we took on the lush upper reaches of the river, a mile or two upstream from the Falls. I recall taking a "booze cruise" here years ago – on a rusty junk of a vessel filled with rowdy passengers drinking warm beer. This was very different. Our boat, Pure Africa's Zambezi Explorer, was a sumptuous three-deck vessel with designer sofas, hand-woven Ndebele-patterned chairs and a staff of mixologists, waiters and chefs in addition to the boat captain.Dinner was served at sunset as we cruised past long-tusked elephants grazing on the riverbanks, with hippos snorting in the shallows and a fiery sun setting over towering palm trees upriver. To our immediate right was Zambia, with Botswana, Namibia and Angola beyond. My all-American children were wide-eyed with wonder, and I thought of all the fellow Zimbabweans I had met who had opted to return home. As I write this, I am looking at properties online and thinking seriously about following them. Something must come up.
Essentials
Douglas Rogers was a guest of Askari Safari (askarisafari.com), which offers a five-night Victoria Falls tour taking in Zambezi National Park from £4,000pp. It includes a guided visit to the Falls, three adrenaline activities, a river cruise plus all breakfasts and dinners, but not flights. In 2025, he and Askari's owner, Steve Taylor, will lead Storyteller 2025 – a two-week literary safari with talks by game guides, writers and artists.
Five reasons to visit Victoria Falls
Wildlife wonders
The Falls themselves are wild – but the resurgent animal population is another reason to visit. The region comprises two national parks and is on the edge of the great Hwange game reserve. For the best viewing close to town, take a guided or self-drive trip to Chamabonda Vlei, a narrow plain dotted with watering holes within Zambezi National Park. While you are in town, book a visit to the Victoria Falls Wildlife Trust (vicfallswildlifetrust.org), a non-profit organisation that rescues animals wounded by poachers.
Luxurious lodgings
The refurbished Victoria Falls Hotel offers the ultimate in Edwardian era refinement (victoriafallshotel.com; doubles from £420 per night). Ilala, with its gardens and thatched roofs, has a timeless, classic safari lodge feel (ilalalodge.com; doubles from £380). Newly opened Drift Inn is a budget nine-room B&B offering great breakfasts, artisanal coffee, a swimming pool and a yoga, massage and reflexology studio (driftinnvicfalls.com; doubles from £75).
Glorious food
Chef, restaurateur and cookbook author Sarah Lilford serves up Zimbabwe's most exciting culinary offering at Dusty Road (dustyroad.africa). The daughter of white farmers who lost their land in the early 2000s, she set up her restaurant in working-class Chinotimba township offering authentic Zim dishes – beef stew, chicken in peanut butter, grilled bream – cooked on wood fires. Enjoy them on the veranda or under trees in the backyard. Don't miss the dried mopani worm snack or the vodka cocktail made with baobab powder. In town, the Three Monkeys (3monkeyszw.com) serves a great tomahawk steak. Next morning, order a flat white at Loretta's Coffee and Smoothie Caravan on Reynard Road.
4. Thrills and spills
Victoria Falls is Africa's adventure sports capital. Shockwave (shockwavevictoriafalls.com) offers exhilarating white-water rafting trips, while Wild Horizons (wildhorizons.co.za) operates the heart-in-mouth gorge swing and zip-line right in front of its uber-stylish Lookout Café (thelookoutcafe.com). Shearwater (shearwaterbungee.com) pioneered bungee jumping off the Vic Falls bridge. For more leisurely river adventures, Pure Africa (pure.africa/experiences) offers elegant sunrise, sunset and dinner cruises on the Zambezi in a fleet of luxury vessels.
Art and history
Renowned artist and conservationist Larry Norton has a gallery at the Victoria Falls Hotel (larrynorton.co.za), showcasing his giant, hyper-realistic wildlife paintings. The hotel's open-air Stone Dynamics Gallery (stonedynamicsgallery.com) displays and sells the work of some of Zimbabwe's leading sculptors, including Dominic Benhura. Meanwhile, historian Chris Worden from Footsteps of Livingstone (footstepsoflivingstone.com) gives a mesmerising one-hour talk on the life of David Livingstone that could almost be a one-man play in London's West End. The Telegraph 
African Sun Hotels donates US$21K to a conservation organisation in Victoria Falls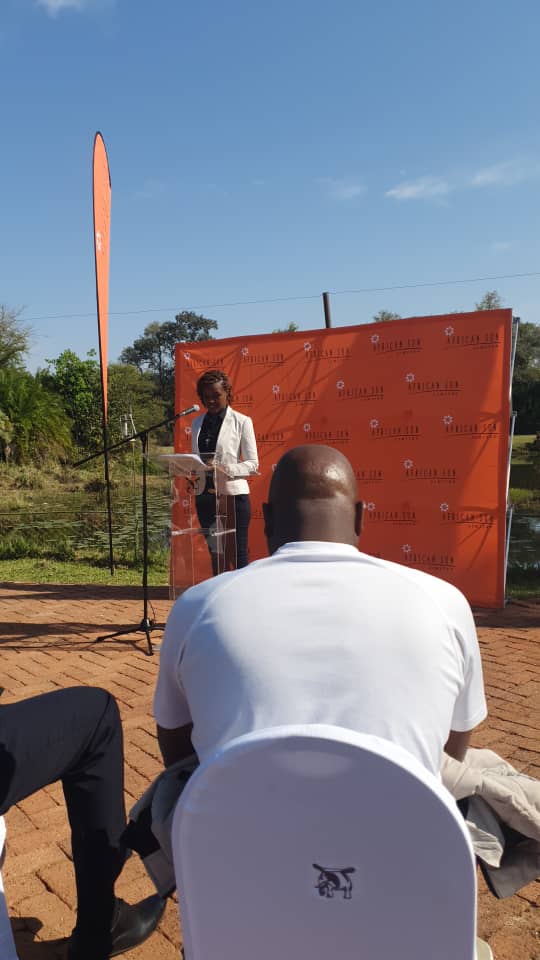 BY NOKUTHABA DLAMINI 
The African Sun Hotels group has donated US$21 000 to The Victoria Falls Anti- Poaching Unit, a non-profit wildlife organisation to cover salaries and medical aid for game scouts.
During the handover ceremony held in Victoria Falls today, African Sun Hotels' head Marketing, Public Relations and Innovation Charleen Mtezo said this is part of their Corporate Social Responsibility in order to fulfill and meaningfully impact the communities in which they operate, as well as contribute towards the achievement of the United Nations agenda 2030 for strategic development goals.
"The town of Victoria Falls is located in one of the most beautiful environments," she said.
"However, the beauty of the location comes with some heavy burden of human and wildlife conflict. The Victoria Falls Anti Poaching Unit tries to ease some of the burdens by protecting the wildlife and habitat from poachers, as well as rescuing and rehabilitating injured animals.
Additionally, they train ex- poachers in new skills so they find alternative avenues of revenue creation to give them a sustainable income without doing harm to flora and fauna. It is against this background that the African Sun Limited, we saw fit for us to assist the Victoria Falls Anti Poaching Unit, so that they are able to carry out the challenging tasks at hand."
She said the donation of will cover salaries, medical aid for scouts for a period of 12 months.
"l wish to invite other corporations to join us safeguard our precious environment and transform the lives of our communities. Lastly, I applaud those who are already on the ground doing the same."
Wild Is Life Trust, ZEN rescues a newly-born abandoned calf in Kazuma
BY NOKUTHABA DLAMINI 
Wild Is Life Trust organisation have rescued a newly-born elephant calf near Victoria Falls which was abandoned by its mother and family herd.
In a statement, the organisation, working in collaboration with Zimbabwe Elephant Nursery on a mission to rescue, rehabilitate and rewild orphaned elephants said the calf has been taken to their facility in Harare after fruitless efforts to unite it with its mother.
The calf has been named Kazuma as it was rescued from Kazuma National Park.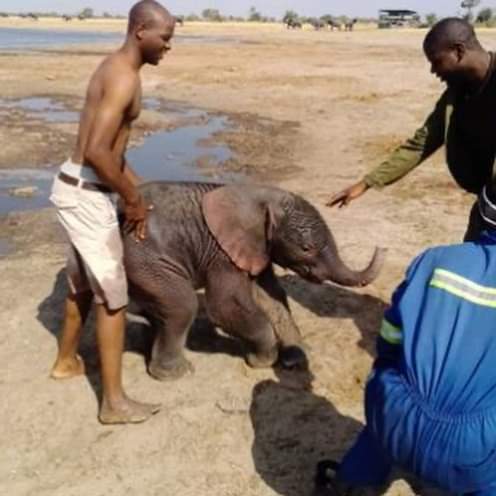 "Last week we received a call from Zimparks to say an elephant calf had been abandoned by his herd and stuck in a water trough in Kazuma National Park. Zim Parks had valiantly tried to reunite this calf, but sadly, no mother was found," Wild Is Life Trust said.
"We immediately sent a team led by Jos Danckwerts, Paradzai Mutize and Tom Ranjisi and they brought him to Panda Masuie near Victoria Falls where the medical team and Roxy Danckwerts assessed the calf…
"It was ascertained that Kazuma was under a week old despite his 169kgs which is a record weight for a neonate! He has very pink ears and wrinkled skin and long hair all over his body as he is so young. His umbilicus was infected and he had a few scrapes from trying to get out of his watery prison – but all was treated immediately."
The next day, the two organisations jumped into action to collect the calf, alongside some medical practitioners and following the rescue, they reported that Kazuma has been adapting well,with the love from other orphaned elephants.
" Kazuma has been settling in beautifully so far… Kadiki fell in love with him at first sight and has taken him under his ear along with Elliot.
" Yesterday he was introduced to Beatrix, Elliot, Limpopo, Splat, and Skellum and it was absolutely wonderful to see them all fuss around little Kazuma who is about the same size as Elliot.
We have a way to go with this little bull, but with round-the-clock care, we are feeling positive he will go from strength to strength. Kazuma needs lots of milk, love from his Carers and ellies alike at this time – and that we vow to give him."