British colonialist Cecil Rhodes's grave haunts Zimbabweans
BY GARSENDE RAMBOURG
MATOPOS – It's a sacred hill where for centuries Zimbabweans would go to consult their ancestors.
It's also where the notorious British coloniser Cecil John Rhodes chose to be his final resting place.
The white supremacist died more than 120 years ago in South Africa aged 48 after carving out swathes of territory for the British empire.
Part of the land grab, later named Rhodesia in his honour, included modern Zambia and Zimbabwe.
Nestled in the Matobo National Park, his grave is simple, with "Here lie the remains of Cecil John Rhodes" engraved on it.
Part of the younger generation wants his remains removed to rid the country of the last vestiges of colonialism.
But the grave attracts tourists who bring much-needed income for surrounding villages — and many local people oppose any exhumation.
Located atop a steep hill immersed in lush vegetation, a short climb is necessary to reach the grave, which is surrounded by imposing rocks rounded by erosion.
The stones are covered in light green aniseed and orange lichens that brighten at the slightest touch of the sun.
From the hilltop, visitors gaze at the vast expanse of trees around, where antelopes and warthogs roam.
Clouds roll across the tranquil horizon while birds chirp in the silence.
In neighbouring South Africa, students at the University of Cape Town launched a "Rhodes-Must-Fall" protest in 2015, initially to pull down Rhodes's statue at the campus.
It later morphed into a global campaign, which saw Oxford University resisting calls to remove a statue of the politician — placing an explanatory panel next to it instead.
Often described as a philanthropist but also an arch-racist, Rhodes dreamt of a British Africa from Cape Town to Cairo, with the blessings of Queen Victoria.
Cynthia Marangwanda (37), from Harare, is enraged by the presence of Rhodes grave.
She believes he chose that site because he knew its spiritual significance to the local people.
It was his "final display of power, a deliberate and calculated act… of domination," said the activist.
Zimbabwe's ex-strongman Robert Mugabe, who took the reins from independence from Britain in 1980, saw no reason to remove Rhodes's remains.
But Marangwanda has been energised by the current president, Emmerson Mnangagwa, who "understands the significance, the heritage aspect of the debate".
Even so, more than five years after Mnangagwa came to power, there is no indication of movement on the issue — or consensus on where the remains would go.
The economic benefits accruing from the tourism, do not hold water for Marangwanda.
"Matobo is such a beautiful landscape, it doesn't need this colonial grave," to attract foreign visitors, she stressed.
The presence of the grave in Zimbabwe is an "insult to our very existence as a people," said historian and co-founder of Rhodes-Must-Fall campaign Tafadzwa Gwini (33).
Exhuming the remains "is a form of reclaiming our identity as a people", insists Gwini.
Yet some visitors simply don't understand the outrage around the grave.
"I brought my kids.
"I also came here as a kid," said a 45-year-old white Zimbabwean, Nicky Johnson.
"History shouldn't be tampered with. He wanted to be buried here, that's how it should be".
Akhil Maugi (28) who lives from nearby city of Bulawayo, shares similar sentiments.
"You can't erase what happened. No one would come here if this grave was gone," he said.
Pathisa Nyathi, a 71-year-old local historian, points out that it was "the grandeur of the rocks" that made it a "holy site" that once attracted pilgrims from neighbouring countries.
The "pre-eminent shrine" in the region "was sacred to Africans" but not to Rhodes, said Nyathi.
Opposition MP and ex-education minister David Coltart, who regularly cycles in Matobo park, brings some humour to the debate saying "I must say Rhodes had an incredible eye for real estate".
Exiting the park, is a roadside market selling T-shirts, woven baskets and carved animals to tourists.
A little further is a village with a few houses.
Micah Sibanda, 82, stands barefoot, leaning on a walking stick, overlooking a few cows.
Rhodes's grave is "important" to the villagers because it attracts visitors who in turn buy crafts "and we get some money to send our kids to school, …get food and clothes.
After all, Sibanda said, the white visitors are also coming "to pay respects to their own ancestor." – AFP
Chinese-funded power plant expansion project in Zimbabwe set for commissioning
BY XINHUA
Zimbabwean Energy and Power Development Minister Soda Zhemu said here on Monday that prolonged power cuts are "now a thing of the past" in Zimbabwe following the completion of Hwange Thermal Power Station Unit 7 and 8 expansion project.
Chinese firm Sinohydro undertook the project, adding 600 MW to Hwange Thermal Power Station, the country's largest coal-fired power plant.
The project will be commissioned by President Emmerson Mnangagwa on Thursday.
Zhemu said at a press conference that recent media reports predicting a return to prolonged power cuts after August were false, as Zimbabwe is now guaranteed adequate power supplies in the short-to-medium term.
He said Unit 7 is already feeding into the grid after the successful completion of tests in June and is now commercially available for operation. Unit 8 is also undergoing a similar test and is expected to be available commercially by August or September this year.
"So there is no way that we are going back to the past where we used to experience long hours of load shedding," Zhemu added.
Five die in Binga traffic accident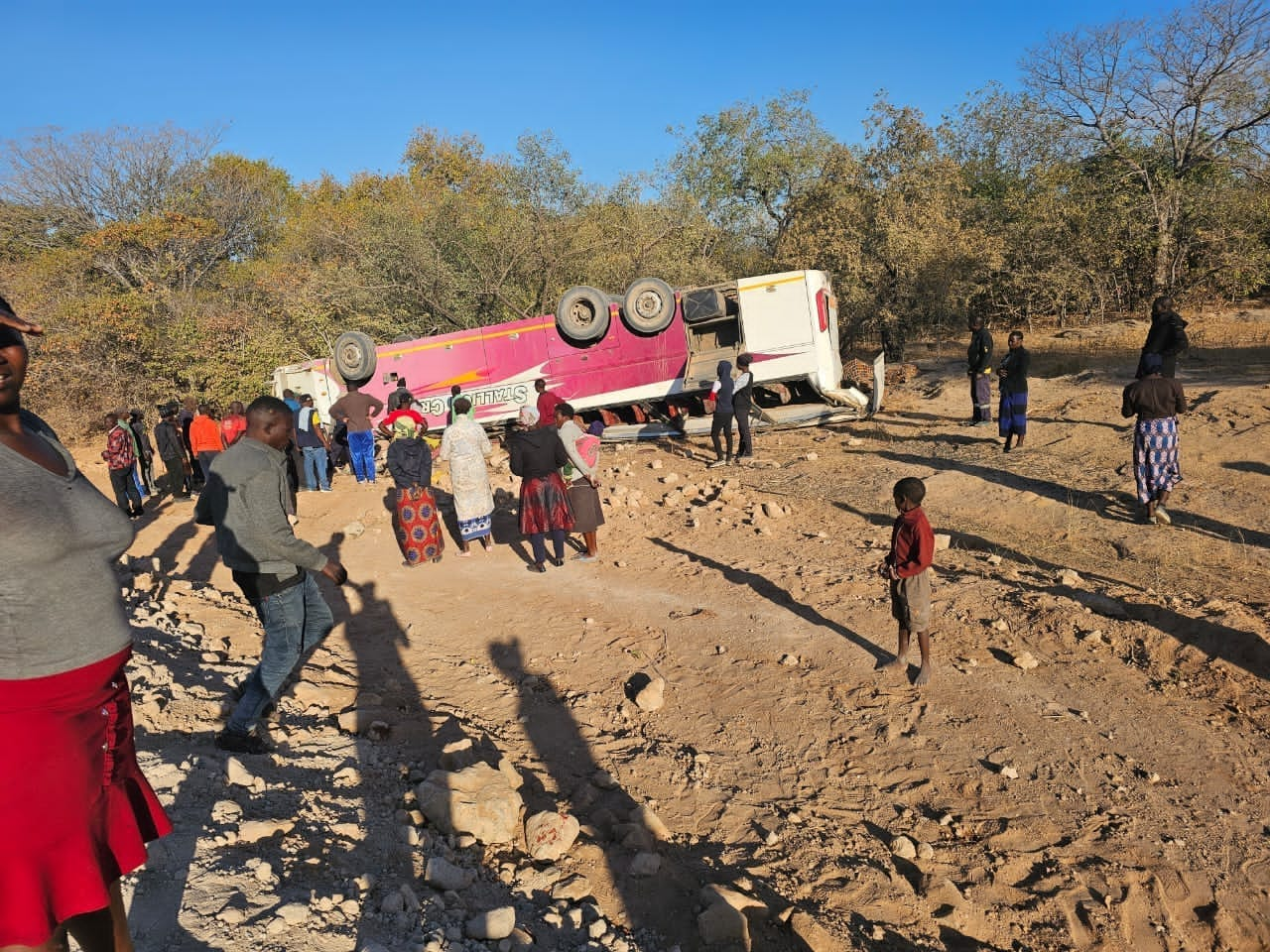 BY NOKUTHABA DLAMINI
A Stallion Cruise bus overturned in Binga on Sunday morning killing five passengers on board, police have revealed.
According to witnesses, the bus which was travelling to Bulawayo was reportedly speeding when the accident happened.
National police spokesman Assistant Commissioner Paul Nyathi said the bus overturned and landed on its roof in the Sikalenge area between Siabuwa and Binga centre.
"The ZRP confirms a fatal road traffic accident which occurred on 16/07/23 in the morning near Masumo Bridge, Samende area, Binga in which a Stallion Cruise bus travelling from Siabuwa to Binga overturned," Nyathi said.
"The ZRP confirms that five people were killed whilst the number of injured is yet to be ascertained."
The bus reportedly veered off the road at a sharp curve near the Masumu River bridge at around 7AM.
The accident comes barely a week after the same bus caught fire in Mutare on July 11 and all passengers escaped unharmed.
Zimbabwe declares its own load shedding over, but locals are sceptical
BY AFP
Zimbabwe's government on Tuesday announced a sudden end of blackouts that have crippled businesses and left millions of households without electricity for up to 19 hours a day.
The information ministry said a cabinet meeting had "noted with satisfaction" that the power utility "has announced the end to load shedding as a result of the interventions implemented" by the government.
The statement did not give details of the steps taken to end the load shedding.
The southern African country has for years been reeling under severe power shortages.
They worsened late last year when the main electricity supply, a hydro plant at the giant Kariba Dam in the north, suffered very low water levels caused by recurring droughts.
In March the power utility company said it had launched a new 300MW coal-fired unit with Chinese finance in a bid to ease repeated power outages.
But Zimbabweans greeted the news of the end of outages with scepticism, as some said they were sitting in the dark as the announcement was made.
One Zimbabwean @sammie541 tweeted "funny (be)cause we actually don't have…(electricity) now", adding her Harare neighbourhood had been without power since Monday.
Other Zimbabweans questioned on Twitter if the announcement was not strategically timed ahead of national elections due next month.
The country goes to the polls on August 23 to elect a president and legislature.
Eighty-year-old President Emmerson Mnangagwa, who replaced strongman ruler Robert Mugabe in 2017 after a military-led coup, is seeking re-election.
But he faces a disaffected population that is battling hyperinflation, poverty and high unemployment.
Official figures placed inflation at 175.8% in June, up from 86.5% in May, but Johns Hopkins University professor of applied economics Steve Hanke believes real inflation in Zimbabwe is more than 1 000%.