Victoria Falls' seven year-old chess champion conquers Zimbabwe
BY NOTHANDO DUBE
Seven year-old Andile Cornelius Mpofu from Victoria Falls chess player is on top of the world after he came second at the just ended Olympiad Chess Tournament held in Harare.
The tournament held on July 30 saw Mpofu being crowned the second best player in Zimbabwe in the under eight category, which saw 354 players participating.
Mpofu is a Grade 2 pupil at Jacaranda Montessori Primary in Victoria Falls and is part of the Ally Chess Academy, a brain child of 18 year-old coach Alpha Mathe (18).
He began his chess journey at the age of four when his coach, Mathe, started him with theory for two years before he had a feel of the board.
The Olympiad Chest Tournament was his third tournament.
Mpofu first competed in a national tournament in November 2021 when he was part of the players at the Zimbabwe Chess Confederation championships in Matabeleland North Province where he was the youngest player and he came top.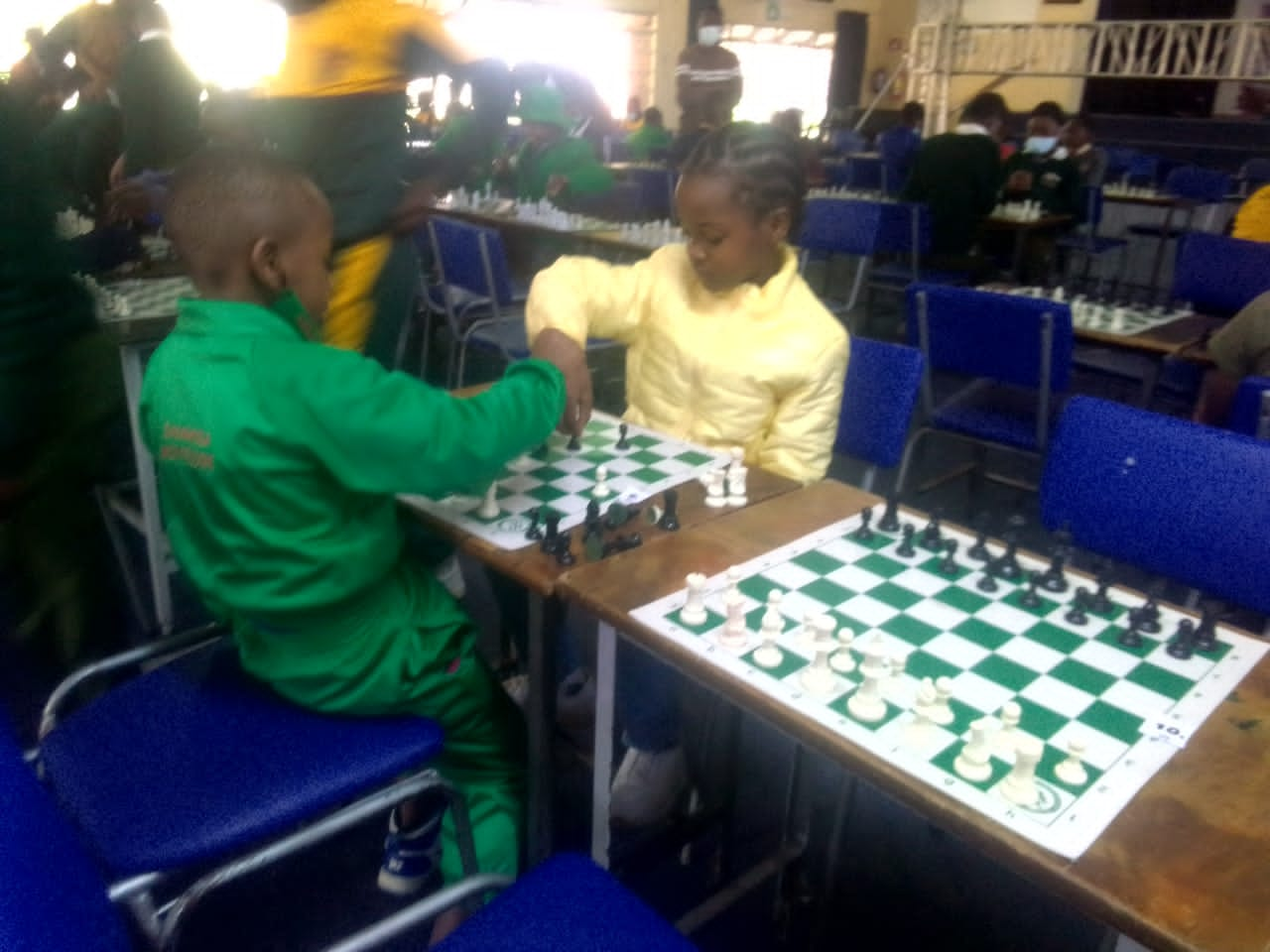 Andile Cornelius Mpofu (in green) in action
His second tournament was the most recent Umdala Wethu Inaugural 6th edition tournament ,which was held at Hwange's Thomas Coulter Primary on  July 25 where he also came first and walked away with prize money of US$ 30 in the under nine category.
The victory motivated his coach to register him for the Harare Olympiad Chest Tournament T to give him exposure, which meant five days of preparation after the Hwange event.
The Harare Olympiad Chess Academy tournament was held at Gateway High School
"After registering at Ally Chess Academy we were told to wait for round one which started at 10AM," Mathe narrated their journey to victory.
"I was nervous because every school that was in attendance was from Harare and just the two of us were from Matabeleland North and what made it more complicated was that those schools brought eight to 10 children per age group.
"Round one pairing was brought forth and Andile sat on the white side against Chikondo Kieth from Hartmann Primary School.
"He started his first move with the simple e4 opening and l could see fear in his eyes because these were new faces to him and eventually he lost his knight in the middle of the game as he was losing focus.
"However, owing to a lot of theory that l had taught him coupled with tactical patterns  he brought in a discovered attack eyeing down the opponent's Queen and after capturing the queen  he gained momentum and got his first win."
"The second round was announced shortly after and Andile was put against Mapetura Omar of Runyararo Primary School in Harare and the game became more intense where he lost his queen for two castles, but it brought in another win."
Round three was against a player from Jaireh Junior School where the game ended in a stalemate as both players agreed on a draw because of of time limitations.
They only played four rounds.
Mpofu's last round was against a rival from Haig Park Primary School and the opening was the London System, Mathe's favourite and he quickly won that game making it 3½ points.
Following the win, Mpofu was crowded by the Olympiad team which announced him as second best chess player in Zimbabwe in under eight.
His coach Mathe is a teenage chess coach from Mkhosana.
He started teaching children chess when he was 15.
He is currently coaching 12 children.
Of the 12, eight are girls.
Mathe said in order to nature the talent, his academy needs financial support.
 "As a chess family, we haven't got sponsors yet but we are in need of them to support us in this journey, "he told VicFallsLive.
"As for Andile after the third tournament, he motivates me to say that in the near future I see him as the face of Victoria Falls, Matabeleland North and representing Zimbabwe in international tournaments and this has motivated others too in our academy.
"My vision is to open a school of chess, which will teach and promote the sport and provide employment to youths."
 About Chess
Chess is a game that promotes logical and creative thinking.
It involves forming patterns and predicting and foreseeing similar patterns.
It is a good educational tool for schools as it helps develop creativity and it is a confidence builder.
Econet Victoria Falls Marathon 2023 roars into life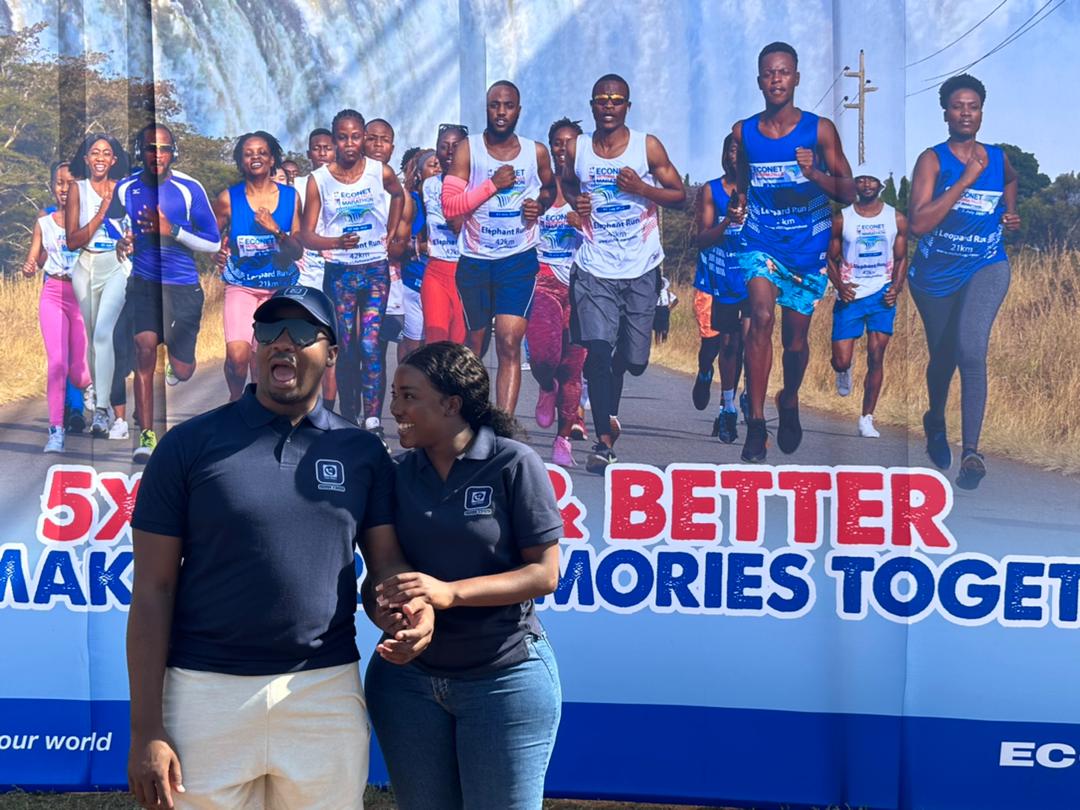 BY OWN CORRESPONDENT
The 15th edition of the Econet Victoria Falls Marathon is set to roar into life today in the scenic tourism destination of Victoria Falls.
Organisers say the marathon, now widely recognized at the number one marathon in Africa, has attracted over 5 000 runners and tourists to the event this year.
Earlier on, Econet Group chief executive officer Douglas Mboweni welcomed all local and international runners to the event, and wished all participants the best in their races.
"As the headline sponsor, we proudly welcome you this great event, and wish you all the very best during your run and as you take time to enjoy this special and scenic resort of Victoria Falls with friends and family," said Mboweni.
"We have been working closely with the race's technical organisers, the  local authorities, tourism players, emergency services and many other stakeholders, and I am confident that we will host a successful event," he added.
Mboweni noted that the Econet Victoria Marathon promotes physical, mental and emotional wellness and also contributes to the economy of the country, especially in the travel and tourism industry.
"The Econet Victoria Falls Marathon generates significant interest in Zimbabwe as a tourist destination, and that is something we are proud contribute to," he said.
The marathon attracted over 4 500 runners the last year 40 countries.
Organisers expect it to attract visitors from over 50 countries this year.
"The economic benefits that this event brings – both at local and macro level – is something we are pleased to be associated with, and wish to continue being a part of," the Econet Group CEO said.
Participants to the marathon have travelled from as far afield as the Americas, Europe, Australia and the rest of Africa.
In addition to the main 42 kilometre marathon event, there are various categories for different fitness levels, including a half-marathon (21km), the popular 7.5km family fun run, and a 10.5km half
Luton promoted to Premier League after shootout victory against Coventry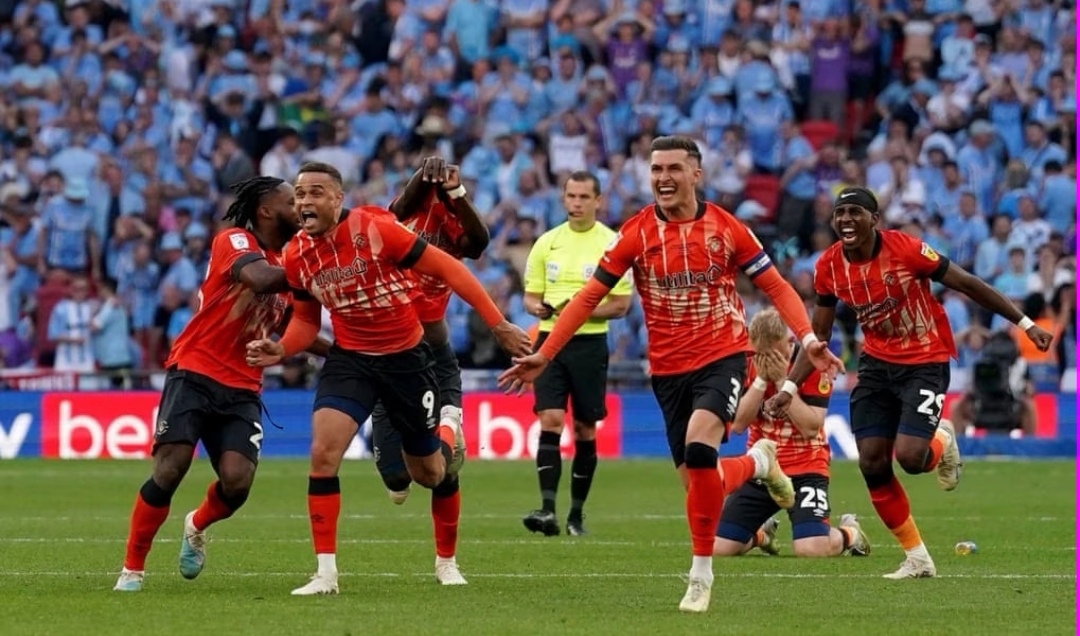 BY BEN FISHER
This time Rob Edwards could celebrate. The Luton manager had hared off down the touchline with four minutes of extra time to go to celebrate what he thought was the winning goal in front of the Luton supporters, eating up 45 yards of Wembley turf, only to retreat to his technical area ashen-faced after glancing up at the big screen confirming Joseph Taylor's strike, which would have been his first for the club, had been disallowed for handball. Jonathan Panzo, on cold as a substitute, dawdled on the ball and Taylor, a 20-year-old on his sixth appearance, nicked it from the Coventry defender, but surged through on goal with the help of his right hand.
Edwards covered his face in embarrassment but an agonising penalty shootout followed and Fankaty Dabo missed the crucial spot-kick as Luton won promotion to the Premier League at Coventry's expense, winning 6-5 on penalties. Up in the stands, there were tears of joy for Luton's chief executive, among many at the club who have been on their journey from non-league until this point. Until Dabo's miss, the penalties had been immaculate. Dabo was inconsolable.
Mark Robins, in a Coventry polo shirt, smiled wryly into the camera as the teams lined up before kick-off. This stadium was a picture, one end a shade of sky blue, the other a blanket of orange. Rob Edwards, hands on hips, swivelled to survey the scene one last time before the referee, Michael Oliver, got things under way. Luton had two first-half goals disallowed, the first inside five minutes with Gabriel Osho ruled offside after squeezing the ball in against a post; a determined Tom Lockyer had powered a header towards goal but what would have been a scruffy opener was chalked off. On 41 minutes Luton had the ball in the net once more but Elijah Adebayo was penalised for handball after Callum Doyle's panicked clearance smacked him on the arm. Luton could have been out of sight.
There were eight minutes of first-half stoppage time, much of which was because of a freakish incident. Lockyer appeared to collapse when back-pedalling to read an early Coventry attack. Lockyer received five minutes of treatment and was carried off on a stretcher wearing an oxygen mask. Luton later confirmed the Wales defender was taken to hospital for further tests. Luton's supporters shielded their eyes from the sun and Edwards pulled his concerned players away from Lockyer to give them an impromptu on-pitch team talk. Pelly Ruddock Mpanzu, whose first game for Luton was in non-league 10 years ago, took the armband. Both teams were unchanged from their last match
The incident did not disrupt Luton's flow and they scored on 23 minutes. Fifteen yards or so from the Luton goalline Alfie Doughty, the Hattters' left wing-back, sent a long ball upfield towards Adebayo. Kyle McFadzean was one-on-one with the striker and Adebayo's twists and turns led the Coventry centre-back a merry dance. Clark's run was not tracked and after Adebayo chopped inside one last time he located his teammate on the edge of Coventry's 18-yard box. The Luton midfielder took a brilliant first touch with his right boot and lashed in with his left with his next touch.
Luton's centre-forwards, Carlton Morris and Adebayo, caused Coventry's three-man central defence no end of problems. Coventry were rattled and Luke McNally shanked a routine pass out to his right straight out for a throw-in on halfway. Morris bullied Doyle, the defender on loan from Manchester City, and his knockdown laid the ball on neatly for Mpanzu but his shot was tame and comfortably gathered by Ben Wilson in the Coventry goal. Coventry were frozen for much of the first half and did not fashion a meaningful attack until minutes before the interval. The bustling Gustavo Hamer met Jake Bidwell's hanging cross at the back post but sent his shot over.Coventry roused before half-time but nevertheless it was no surprise Robins changed shape. Matt Godden, a striker, replaced Jamie Allen, the midfielder who had failed to bring Viktor Gyökeres into the game. Liam Kelly, the Coventry captain and only player in the starting lineups to play in this fixture when they were in League Two five years ago, skied a shot after a neat move on the edge of the box. The Arsenal loanee Brooke Norton-Cuffy went on a rampaging run in the first half and his willing was a positive for Coventry to cling on to. Ten minutes into the second half Norton-Cuffy sent a devilish cross in from the right but Amari'i Bell was on hand to clear.
Coventry were a different beast now and levelled on 66 minutes after Gyokeres and Hamer dovetailed to devastating effect. Gyokeres gladly took a bump from Osho to help Coventry retain possession inside their own half and then was fed in down the left channel. He drove forward and calmly spied the advancing Hamer to his right. Hamer side-footed the ball in first time and pandemonium followed in one half of the ground. McFadzean endeavoured to have a quiet word with Robins pitchside. The Coventry fans made sure that was a tricky task.
No sooner were the Coventry supporters swooning over Hamer than the midfielder was forced off with injury after landing awkwardly. Hamer attempted to carry on but was grounded and then replaced by Kasey Palmer, a substitute when Huddersfield won promotion here on penalties six years ago. Hamer's afternoon ended with an ice pack strapped around his right ankle and Palmer back on the bench, with Robins substituting the substitute in extra time.
It seemed the biggest talking point of added time arrived when Clark was deemed to have dived after Wilson rushed from his goal. Up in the stands Howard Webb, the head of the PGMOL, bit his nails. That was nothing compared with the intoxicating drama that would follow. SOURCE: THE GUARDIAN
Victoria Falls hosts chess championship games
BY NOTHANDO DUBE 
Chess, the newly embraced game in Zimbabwean Schools has taken Matabeleland North Province by storm, with many schools taking it up.
The brain game has gained popularity with players from Early Childhood  Development to Secondary Schools.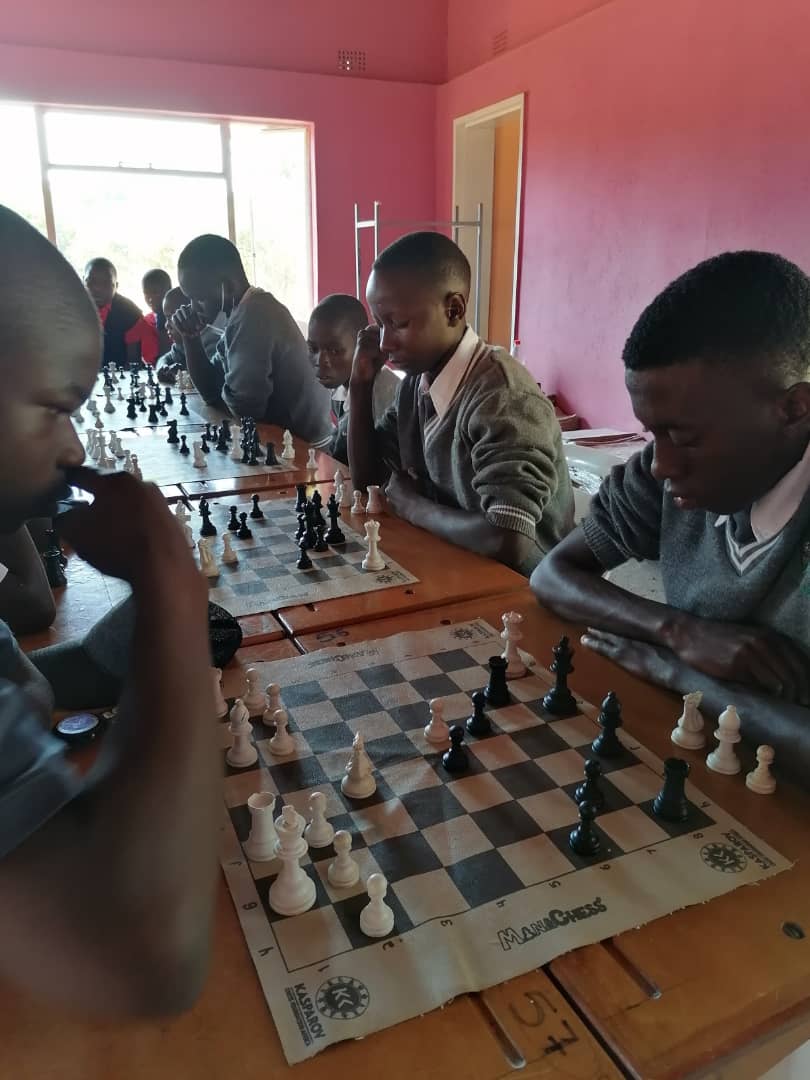 This year, the Zimbabwe Chess Federation has introduced a National Chess League to be played across the provinces throughout the country, under the Crystal Candy National Schools league banner.
 The first League games took  place this Saturday and the second will be played on June 24 where each school will field one team each, made up of ten players, five males and five females. 
In Matabeleland North,  Mosi-oa-Tunya Hihh School is host the primary schools while Grace Mission Secondary takes care of  the  secondary schools.
Eight primary schools have set themselves for the battle meant to decided on the  two teams who will proceed to the second league games in June. 
The participating primary schools are Chinotimba, Mother Touch, Baobab, Happy Hearts, Kings and Grace Mission.
 A total of eighty players will make up the primary schools competitors while five  schools will make up the secondary schools competitors
The league fixtures for secondary school are made up of David Livingstone, Grace Mission, Higher Learning Centre, EATC and Matetsi.
 The age groups for primary will be Under 10 Junior and Under 14 Seniors, whilst secondary school learners will play under age groups under 16 and Under 20.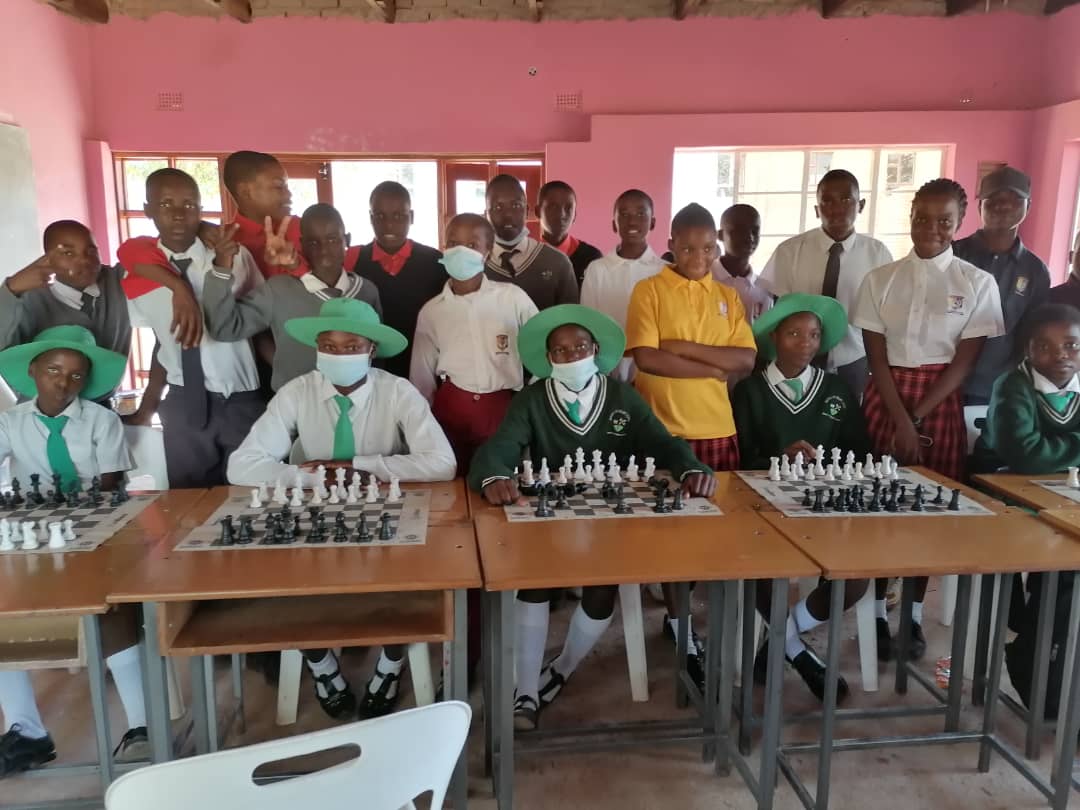 Last term, on March 23 and and 24, a total of 203 secondary school chess players gathered at Lupane's Mabhikwa High school for  Provincial Chess Tournament, making it the highest number so far in the history of Provincial games. 
Chess is game of the brain which teaches players to balance their emotions and also to make informed decisions. The calculative nature of its moves improve learners' mathematical skills.