Victoria Falls' rising music star Mcezo dreams big
BY LIFESTYLE REPORTER
Upcoming Victoria Falls artist Mcezo, who fronts the Gasela The Great Music (GTGM) band, says he is ready to take the music industry by storm with his various love tracks.
Born Chelesani Mhlanga, but popularly known as Mcezo, GTGM is a 27-year-old singer who grew up in the streets of Chinotimba in Victoria Falls until he found his calling into gospel music before shifting into love songs.
"My music journey began early in 2005 when l realised my passion for music and l joined a gospel choir named Gospel Messengers," Mcezo said.
"That's where l mastered the art of acapella music."
Mcezo and the Gospel Messengers record their songs  at Moonlight Studios in Bulawayo, but the tracks are yet to be released.
He said after the recordings, he joined and left various groups until last year in March where he decided to form his own band that he named GTGM.
"GTGM is all about love," Mcezo said, describing his band.
"I write and record love songs. This l came about after l met someone, who became very special to me, and unlocked the talent that l had been hesitant to put to use.
"My music speaks true feelings and situations that people can go through in their relationships and the objective is to make the audience know that love is a good thing and that, although it might face some challenges, it often prevails."
Mcezo has been assisted by local producer DJ Nyder, who helped him to record and release his first of the three songs launched last year.
He says he has also been helped by artists such as Raaz, formerly known as Rasboom, and the duo has worked on a couple of songs together.
"Since March, I have released three songs, which followers can find on my YouTube page 'Gasela The Great Music' and currently I am working on Amapiano project, which also consists of several love songs that we will drop in March working with DJ Nyder," Mcezo said.
He his songs have been played largely at events such as weddings and he looks forward to more opportunities.
Gilmore Tee makes it to the Forty under 40 Africa list
BY OWN CORRESPONDENT
Global Citizen, Curator, Forbes 30 Alumni and Media Practitioner – Gilmore Tee made the Forty under 40 Africa List for 2023, alongside some outstanding personalities such as BBc's Nyasha Michelle, South Africa's Yershen Pillay, Vumile Msweli and Algeria's Toumiat Lakhdar.
Gilmore is known for his works with Paper Bag Africa which houses the PAN African lifestyle and cross-networking event – The PiChani, European Film Festival Zimbabwe, I Wear My Culture and eMoyeni Digital Storytelling.
The 33-year-old is known for his work in the creative industry and brands such as Jameson, Fastjet, Food Lovers Market, GQ South Africa and Glamour Magazine.
Earlier this year the organisers of the Forty under 40 Africa initiative, Xodus Communications Limited, shortlisted 126 nominees from 24 African countries. The initiative is aimed at recognizing and celebrating emerging leaders under the age of 40 who demonstrate or impact personally and/ or professionally through their exceptional leadership.
The personalities nominated this year cut across countries such as; South Africa, Egypt, Zimbabwe, Uganda, Nigeria, Kenya, Ghana, Tanzania, Cameroon, South Sudan, Morocco, Benin, Mauritius, Algeria, Swaziland, Sierra Leone, Ethiopia, Rwanda, Algeria, Botswana, Tunisia, Eswatini, Lesotho and Gambia.
At the event which was held on the March 25 at the Leonardo Hotel in Sandton City, South Africa, Gilmore was announced as a winner and part of the 40 lists, alongside other 39 outstanding practitioners from across the African continent.
Across Zimbabwe, British scones are the taste of home
HARARE – A sweet doughy treat from Britain has become a beloved part of Zimbabwe's national cuisine, where despite the country's colonial past, mothers and chefs alike now claim the pastry as their own.
The scone, which Brits normally enjoy with afternoon tea, is ubiquitous in Harare, the southern African country's capital.
A breakfast favourite in these parts, it can be found everywhere from high-end eateries to the market stalls of impoverished townships.
"We love scones. They are not British, they are ours, our local scones," Nyari Mashayamombe, a rights activist, says as she leaves an upmarket restaurant in Harare's Belgravia district, its garden dotted with open umbrellas
Dense yet airy, Zimbabwean scones are the result of the intercultural mix that came with colonisation, says Mashayamombe, a red-haired 42-year-old who is also a singer and media personality.
In "fancy places like here… a beautiful scone goes as high as six bucks," she said, referring to the American dollars that have become Zimbabwe's parallel and preferred currency.
"It's worth it."
A few kilometres away at a market in Harare's oldest township of Mbare, scones are impossible to find after midday.
"We sold them all this morning. They move quickly," one vendor says.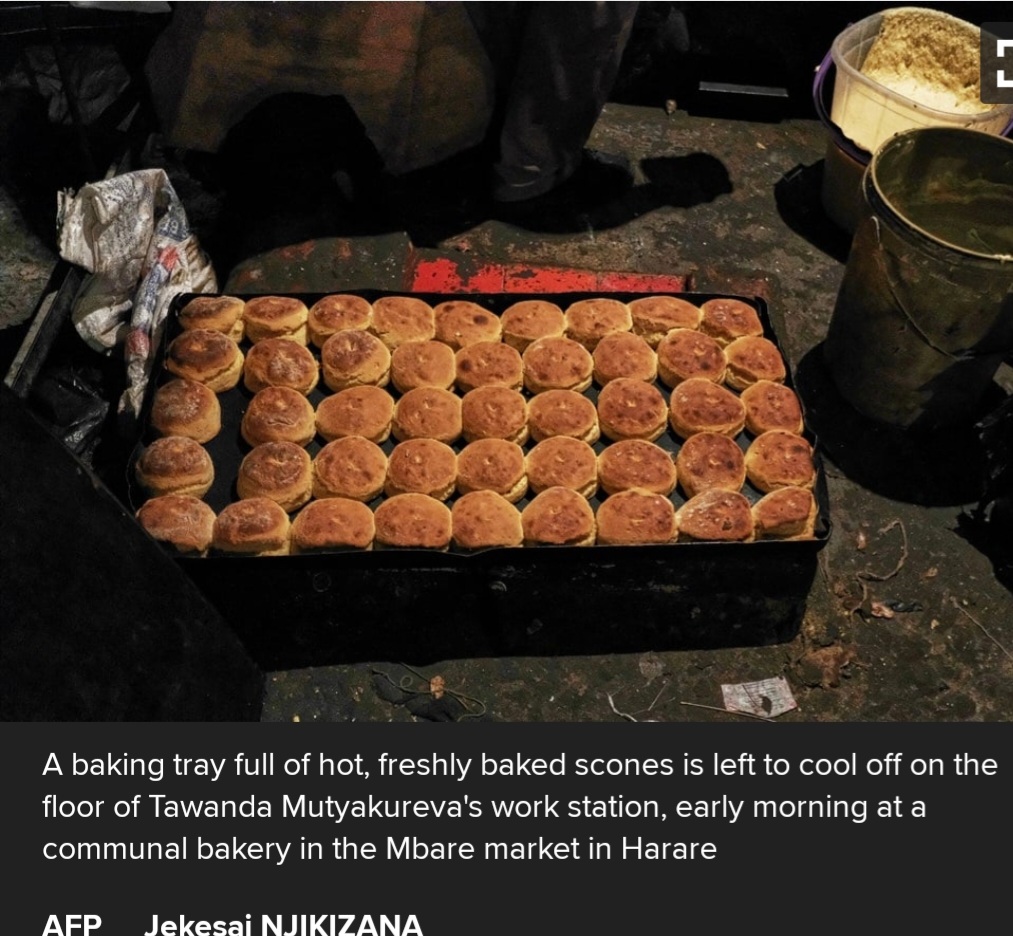 The main communal bakery in Mbare, a bustling working-class district, opens at dawn.
Tawanda Mutyakureva, 26, arrives at around five in the morning to his work station, measuring two square metres, where he has to bend over to spread the dough on a knee-height countertop.
Every day he cranks out around 200 scones in an overheated room with cinder-block walls, lit by two bulbs hanging from a wire.
Brandishing a cookie cutter, he works quickly to whip out one batch after another, with each scone selling for 25 American cents.
In the hot, humid atmosphere redolent of yeast, his wife – with their baby strapped to her back – helps him with buttering the pastries and clearing plates.
Resellers come in to buy 10 or 20 pieces that will be sold at small grocery stores.
Memory Mutero, 46, was at the bakery to buy bread, since she makes her own scones at home.
"I make scones for my three kids. It takes about 45 minutes," she tells AFP.
Her ingredients are simple: flour, salt, yeast, sugar, butter and milk.
But at the Bottom Drawer, an upscale tearoom in Harare, cook Veronica Makonese is unimpressed after tasting a scone brought back from the township.
"There is no milk in those, they used water!" the 46-year-old claims.
A white kerchief on her head, Makonese says she makes her own buttermilk for her scones, to control temperature and acidity levels, and uses only real butter to ensure the proper taste and softness.
Her boss, Sarah Macmillan, a 53-year-old Zimbabwean, says she longs for the scones she would eat as a child.
Back then, two shops in the centre of Harare, now closed, competed for the crown of best scone in the country, and Macmillan wanted her tearoom to make some that are "just as good".
Macmillan says the secret of the little cake's enduring success, in a country struggling with endemic poverty, is simple: "It's very filling and affordable." – AFP
South African rapper AKA gunned to death
BY CHRIZELDA KEKANA
Rapper AKA, real name Kiernan Forbes, has died.
TshisaLIVE confirmed that the 35-year-old rapper was shot dead outside a popular restaurant on Florida Rd in Durban.
Police confirmed that a 35-year-old male and another unidentified male had been shot dead on Friday.
Speaking to TimesLIVE, ALS paramedic Garrith Jamieson explained that just after 10.15pm this evening they responded to a shooting incident where two men sustained multiple gunshot wounds.
"On arrival, paramedics met total chaos and a scene where two men, believed to be in their late 30s, sustained multiple gunshot wounds. Paramedics assisted the men and unfortunately the first male had sustained multiple gun shot wounds and showed no signs of life and was declared deceased at the scene."
He said a second male was found in critical condition and died despite advanced life support intervention due to extensive injuries.
It remains unclear what the motive for the shooting was. SAPS and Metro were on scene and closed the road to assist with the investigation.
AKA is among SA's best rappers and has produced and written many hit songs including Fela In Versace, Baddest and others since he broke into the industry over a decade ago.
He shares a daughter, Kairo, with DJ Zinhle and was in a relationship with rapper Nadia Nakai. TimesLIVE