Inside Ntjengeti Sibanda's contribution to the Tribes: Staffordshire to Matabeleland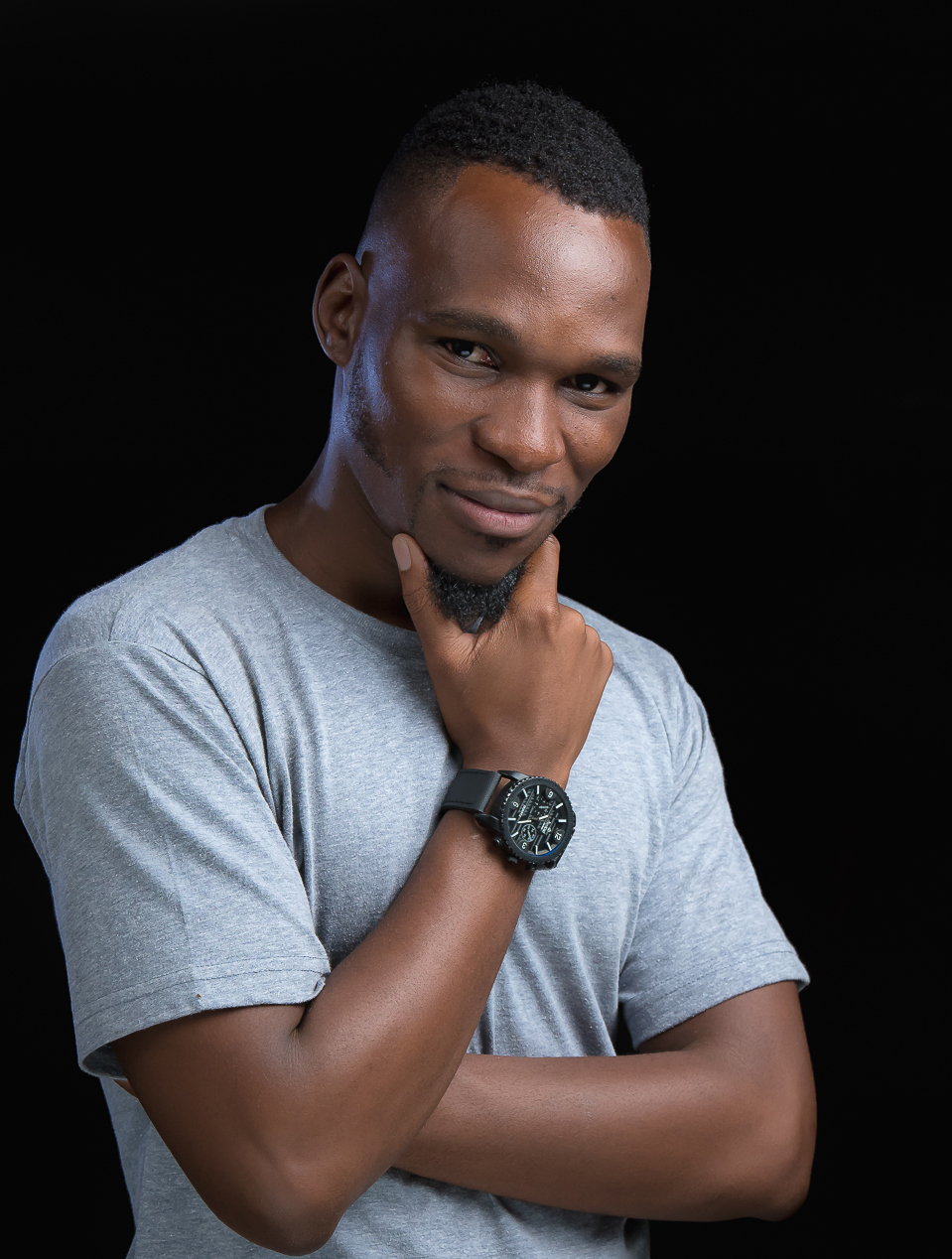 BY NOKUTHABA DLAMINI 
Meet Ntjengeti Sibanda, a photographer and filmmaker behind the Tribes: Staffordshire to Matabeleland. 
His documentary which he filmed sought to explore the lobola customs of the Ndebele people, from a diasporic lens and gives a hint of what the process has transformed into in the current global society.
Sibanda's dream of being a filmmaker began in 2012 when his brother bought him a camera as a luxurious gadget. 
He immediately fell in love with the digital art industry where he has found himself being contracted by various commission companies such as the Zambezi Magic and rubbing shoulders with cinematography producers such as Kwanzaa Collective UK and Appetite who partnered to launch a new month-long exhibition last month in Bulawayo 
VicFallsLive managing editor Nokuthaba Dlamini (N.D) set down with Sibanda, and below is the  outcome of the interview. 
(N.D) Please tell us briefly about yourself?
(N.S) My name is Ntjengeti Sibanda, a photographer and filmmaker based in Bulawayo, but originally from Tsholotsho. 
 I'm self taught and have been in the media productions space for the past seven years.
Most of my work has been in documenting events, content creation for social media marketing and a couple of Zambezi magic commissioned productions. 
(N.D) How can you describe your type of art? 
I'm more of a multidisciplinary artist, shooting both still and motion pictures and doing a bit of graphic designing as well. So I can say my type of art is digital art more than anything as I have never had a chance to shoot on film, which is something that I've been keen to experiment on for quite some time. 
(N. D) When did you realise that you can be create and when would you say marked the beginning of your arts career?
(N.S) It was back in 2012, when a brother of mine who is based in South Africa got us a very special gift, a cool Nikon DSLR camera, a D3100. 
Being able to point a camera, shoot an image and immediately see how it'll come out was somehow a super fascinating thing to me as it was my first time to experience it. 
The fact that the very same camera could shoot detailed, high quality videos that were way better than the television sets, really blew my mind.
I can safely say that's when the journey of discovery began, I fought so hard to have access to the internet to research more about this cool little gadget that my brother had bought for me. 
(N.D) Can you tell us about your recent achievements, 
(N. S) To this very date, I can say my biggest achievement is the establishment of Nikkor Lane Photo+Cinema, a media productions company that I co-own with my brother who bought me the gift that sparked my interest in photography and filmmaking.
There are also a couple of major highlights of my career thus far, from being part of a Zambezi Magic commissioned production as a cinematographer, creating marketing content for some of the biggest brands in Zimbabwe and of course being a part of this exciting exhibition and cultural exchange program with UK based artists and  arts organizations like Kwanzaa Collective and Appetite. 
(N. D) What targets have you set for yourself in this competition? 
(N.S) Well to be more elaborate the Tribes: Staffordshire to Matabeleland exhibition isn't a competition, but rather a call to artists living in Matabeleland to contribute to the establishment of visibility and identity for their cultures and who they are. 
The idea came into mind after a disappointing experience where I was looking for reference images for a film idea I'm developing  at the moment. 
I was interested in the Ndebele culture, particularly their way of dressing, food, dance and shelters.
The images I found online were disappointing and figured we could get something going to establish a program and space where all artists interested in contributing to the visibility of their own culture could have their work hosted and exhibited to the world. 
Through this cultural exchange program with Kwanza, we had work produced by Zimbabwean artists exhibited in Staffordshire, England. It was so cool to see our names and faces popping up in billboards all over Newcastle.
The same is happening this side in Bulawayo where our work alongside the UK based artists is being exhibited at the National Art Gallery in Bulawayo. 
My hope is to see the program grow in terms of sponsorship, diversity and the amount of content being created  each year.  
(N.D) What challenges do you face as an upcoming artist and based in big cities such as Bulawayo where there is a potentially bigger market and access to sponsors?
(N.S) I think the biggest challenges we face today as upcoming artists are mostly to do with lack of funding, collaboration, access to state of the art equipment and process flows that allow for production of good quality work.
Filmmaking is a very expensive craft and requires a lot of resources and collaboration in order to develop a good story and picture. A bit of more support from arts authorities, investors and production companies would go a long way in opening up opportunities for new and upcoming artists who may be having brilliant ideas  but no resources to bring them to life. 
It's also good to note that a couple of young creators in Bulawayo have worked so hard over the past few years and managed to acquire some fairly good filmmaking and photographic equipment that's currently servicing the creative industry in Bulawayo and their efforts are commendable. 
(N. D) What targets have you set yourself as an artist?
(N. S) I've once heard the statement "dream big, start small" and it's what I've stuck to up to this very day. The targets I've set for myself are insanely high, so high that sometimes I even doubt if I'll hit them, but the good part about it is the sense of purpose that keeps me grounded and focused on eventually making it happen. My biggest aspiration is to leave a body of work that's gonna serve to establish and celebrate our identity and culture as Africans and the medium of choice for me is imagery, both still and motion picture. 
(N. D) Where can people find your work and who is your inspiration?
(N. S) For the Tribes: Staffordshire to Matabeleland Exhibition, the work is being exhibited at The National Art Gallery Of Zimbabwe in Bulawayo till the 22nd of November.
More of my work can also be found on Facebook and Instagram:
Facebook: Ntjengeti Sibanda
Nikkor Lane Photo+Cinema
Instagram: @ntjengeti_sibanda
@nikkorlane_photo_cinema
I have so many filmmaking and photography icons that inspire me as an artist, but I will try share just a few at the top of my list and they include:
Peter Jackson, the Director of the Lord Of The Rings and the Hobbit Trilogies.
The late Andrew Lesnie who is the brains behind the cinematography of The Lord Of The Rings. 
Roger Deakins, An amazing photographer and  cinematographer behind Blade Runner 2049 and 1917.  
Sibanda has been assisted by  Zol and Liquid with free internet programs 
'Sigiya Ngolwethu' Nkayi author pens a Zimsec setbook novel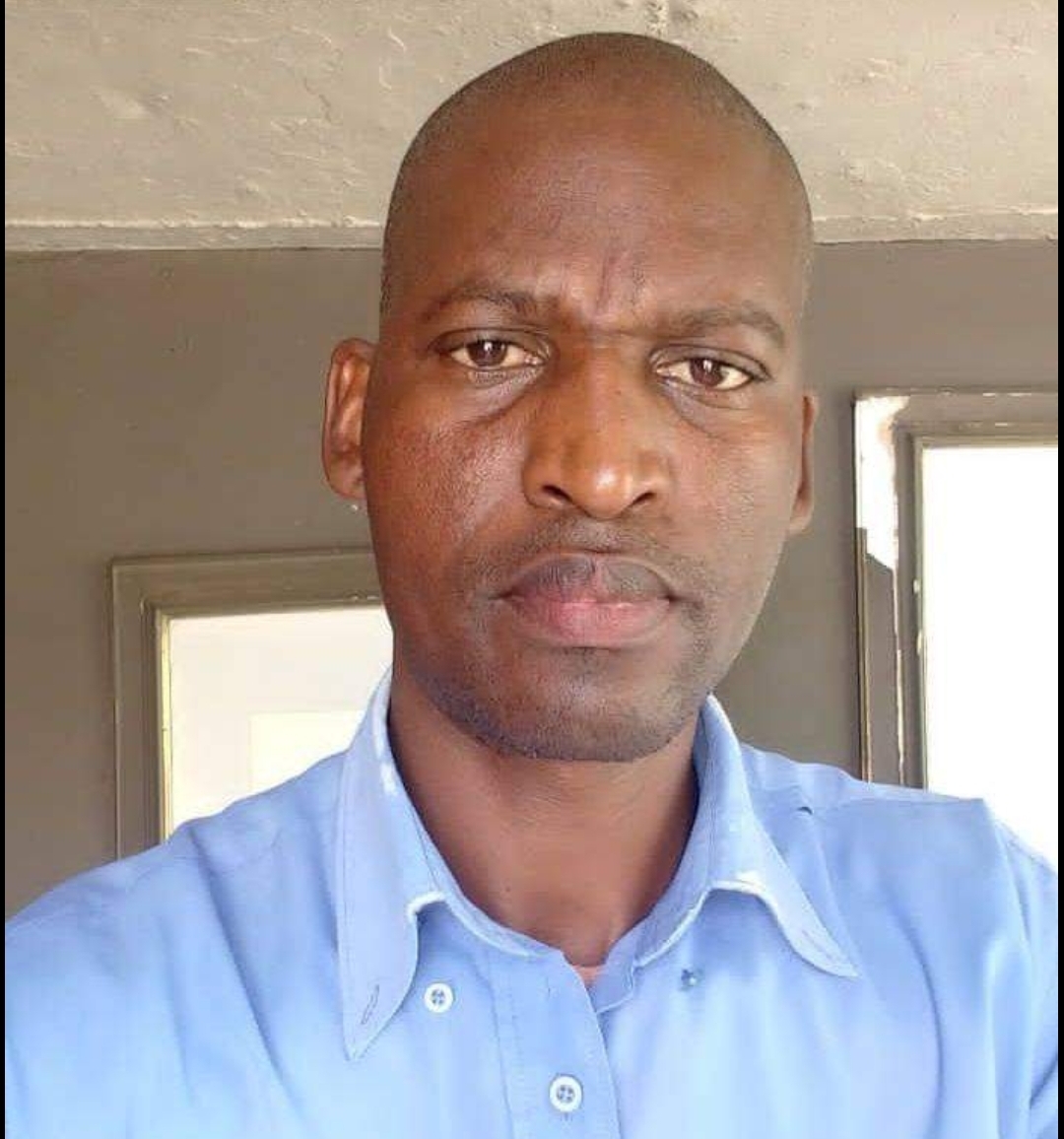 BY NOKUTHABA DLAMINI
A Nkayi man has set himself on a mission to revive the Ndebele language through storytelling which has seen one of his novels being selected as Zimbabwe Schools Examination Council (Zimsec) setbooks. 
Born in 1982, Zibusiso Lima says he developed passion for story telling while doing his education at Dimpamiwa Primary School and Hlangabeza High School in Nkayi, Matabeleland North Province where he used to score good marks in fiction writing.
He says he began exploring his talent in 1998 when he was doing his form three. 
"I am a writer who aims to revive the Ndebele language,"Lima said in an interview with VicFallsLive 
"I write fiction  based on what's happening  in the world around us today. 
"I used to score good marks in Ndebele compositions so this coupled with my passion for reading Ndebele novels by the time, compelled me to explore more about this industry."
Lima recently published his first book titled, 'Kodwa mama!' being recognised by the Zimsec as a literature prose set book for November 2024 to November 2026.
"Other than Kodwa mama!, I have co-authored anthologies of poetry titled Sigiya ngolwethu, Izwi lezimbongi and short stories titled Izigigaba zakwaNdongaziyaduma," Lima revealed. 
Lima says he drew his  inspiration from the late veteran author Ndabezinhle S. Sigogo and before his passing, he encouraged him to do more in preserving the Ndebele language. 
" I vividly remember the day I met him at his Tshabalala home in Bulawayo, he encouraged me to do more," Lima said. 
"Ngiyajabula ukubona intsha isukuma iqedisa umsebenzi esawuqalayo. Ibambeni kanjalo, kithi selingomtsha wendoda. (I am happy to see the younger generation taking up what we started, even if our time is up, it is up to you to you continue with the work) those were his last  his words."
Kodwa mama! brings a lesson about faithfulness and honesty, particularly required of women to their partners to avoid broken marriages. 
Lima says through his works, his wish is to inspire youths to utilize their  their leasure time doing something that is productive.
"For a living, I am employed by one of the companies in South Africa and doing most of my writing during my spare time,"
"Driven by the passion to revive our indigenous languages, it is my major aim to see more upcoming authors being assisted in realising their dream. In this regard i desire to own a publishing house which will play a major role in realising this dream." 
Lima's book will soon be found in Bulawayo and those intending to place orders can reach him on email at zibusisolima7@gmail.com and through phone on +263 77 685 3163/ +263713736072 for calls and +27731268684 for WhatsApp. 
Gqom artist Mandlenkosi 'Mampintsha' Maphumulo to be laid to rest on Friday
BY NONKULULEKO HLOPE
The family of Gqom artist Mandlenkosi Maphumulo, popularly known as Mampintsha, says he will be laid to rest on Friday.
The 40-year-old Maphumulo died from a stroke in a Durban hospital at the weekend.
The family of the late Mandlenkosi Maphumulo says they have accepted his death.
Maphumulo suffered a second stroke while he was in a Durban hospital.
Maphumulo's father-in-law, Mbongeni Simelane, says the family was with Mampintsha until the very end.
"Thank you for the support. Continue supporting us as we are preparing to lay him to rest,"he said.
"The funeral will be on Friday. The venue is yet to be confirmed. The memorial service will be held on Thursday at Bishop Dube's church eThekwini Community Church. All people are welcome to come and pay their last respects."
Family Spokesperson, Zandile Maphumulo, also updated the media on Maphumulo's wife, Bongekile "Babes Wodumo" Simelane.
"We are a Christ-grounded family and we pray for everything and Babes as well, "Zandile said.
" And Mampintsha, we are the family that supports one another. The Simelane family and the Maphumulo family are one family. So, they are doing well even though she is well because of our support as a family. Remember, anyone if you have lost a loved one the first day was not easy."
Musicians also paid their tributes to the late Gqom star.
Gospel singer, Jumbu Nyangiwe Mzi Mkhwanazi, better known as Danger, is the final surviving member of the group, Big Nuz.
"I'm not good right now because Mampintsha was my brother from Yoeville to here in Durban. I'm not feeling well right now. I can't even speak. I am not coping. I am not feeling well because I lost R-Mashesha, now it is Mampintsha. It is not good.
I'll miss everything about him, dance, music and food, everything about him. We met several times with Mampintsha to perform. He was fun to be with. There is so much we are going to miss about his unique voice."
Maphumulo's memorial service is expected to be held in Durban on Thursday-SABCNews
Big Nuz member Mampintsha has died
BY TSHISALIVE
Mampintsha, gqom musician and husband of Babes Wodumo, has died.
The 40-year-old star died on Saturday morning. 
West Ink Records manager Sbu Ncube confirmed  the news to TshisaLIVE.
In a statement, the artist's management said details of his passing cannot be shared with the public and that communication about funeral and memorial services would be announced in due course.Record label Afrotainment released an official statement on Wednesday confirming speculation that the 40-year-old, whose real name is, Mandla Maphumulo, had been admitted to King Edward Hospital in Durban.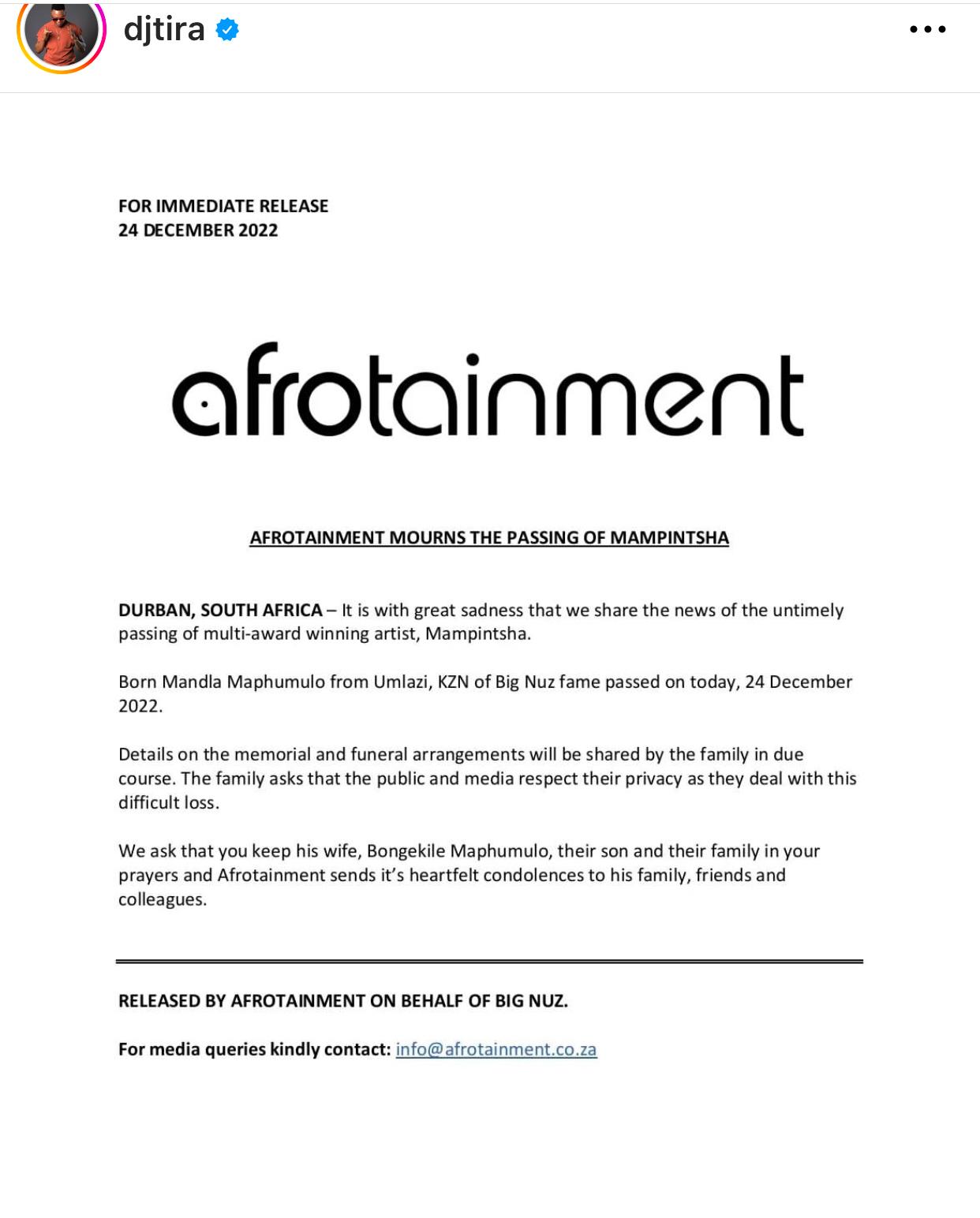 This after the star, who gained fame as part of musical group Big Nuz, suffered a minor stroke. It added the musician was under the supervision of doctors.
Mampintsha and Babes, real name Bongekile Simelane, have a child, known to fans as Sponge.
The pair tied the knot a year ago and their wedding was screened in a Showmax special, in addition to the reality TV show Uthando Lodumo.