Hwange youth makes strides in music industry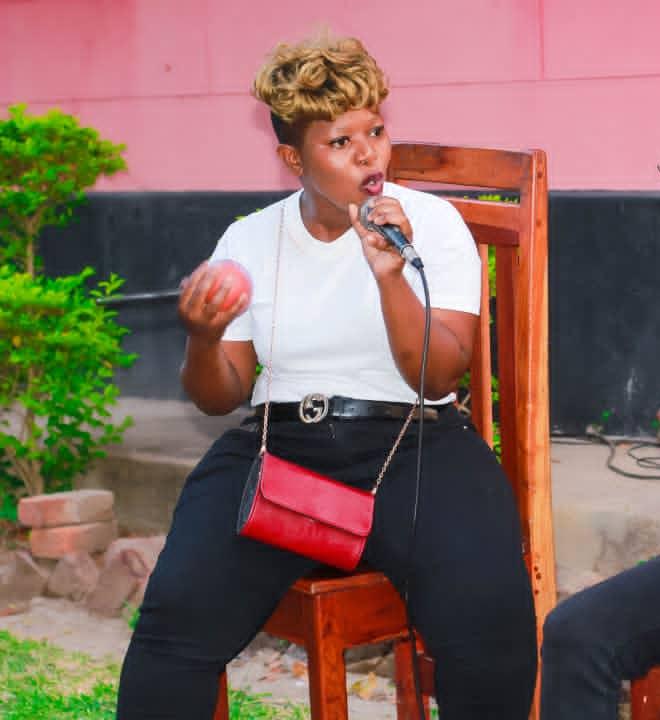 BY TICHAONA MATARUSE
While Hwange is known for mining activities, with many young people believing it is the most popular career that they can venture into, the story is different for artist Rachel Njomboro popularily known as Rashyn who recently launched three gospel songs and a music live session aims at empowering youths such that they discover their talents and desist from drugs and substance abuse. 
Tichaona Mataruse (TM) had a chance to interact with Rachel Njomboro (RN) sharing her experiences as the artist, her aspiration and challenges in the industry among other issue and this is what she had to say:
TM: Please tell us briefly about yourself.
RN: I'm Rachel Nyasha Njomboro aka Rashyn, that is my stage name. I'm a vocalist, rapper, instrument player and a songwriter.
TM: How can you describe your type of art?
RN: I do mixed types of art. I always don't want to limit myself to one genre but always want to try a lot of new stuff. I don't limit my mind and my creativity but I always think outside the box to make fun.
TM: When would you say marked the beginning of your arts career?
RN: In the year 2002, when I was in grade 2; that's when I realized that I wanted to do music. Mostly at school my favorite time was music time and I would win talent shows that my teacher used to do. Then around 2019 that was when I thought I should put my whole mind into music.
TM: Can you tell us about your recent achievements?
RN: I recently won the season 10 of Starbite 2022, scooping second place representing Hwange in Matabeleland North Province. I also became the first female to represent Hwange/ Matabeleland 'North Province in the finals. I also have single tracks that I released in 2021 namely Awesome God, Shonga and No one like him.
TM: What challenges do you face as an upcoming artist?
RN: I have been negatively judged and descriminated. I may be a woman, but I can do much better than some men who are also in the same industry like me. I have also been  sidelined when there are gigs and functions and sometimes I don't get to be  given the spotlight to showcase my talent. 
 I'm also financially crippled as l don't have any sponsors so far.
TM: What targets have you set yourself as an artist?
RN: I have a song coming out soon which is a love song. I want to be a producer, open a small school where I can nurture talent and teach children music from a tender age.
TM: Where can people find your work?
RN: They can go to my TikTok account rashynjombs/rashyn, on Facebook Rachel Nyashawashe Njobs and my pace Rashyn music.  On YouTube, they subscribe to Rashyn.
TM: Who is your inspiration?
RN: My inspiration is a woman who believed in me and supported me when most seem to have negative perceptions of my work. She kept on pushing me and told me to remain focused and have a positive mentality by proving them wrong that I am better than what they think and that's my mum.
TM: Besides art, what else do you do to earn a living?
RN: I'm a businesswoman, I sell clothes, do baking and cater for functions and events. I also sell baked goods to keep my life moving and balanced.
'Sigiya Ngolwethu' Nkayi author pens a Zimsec setbook novel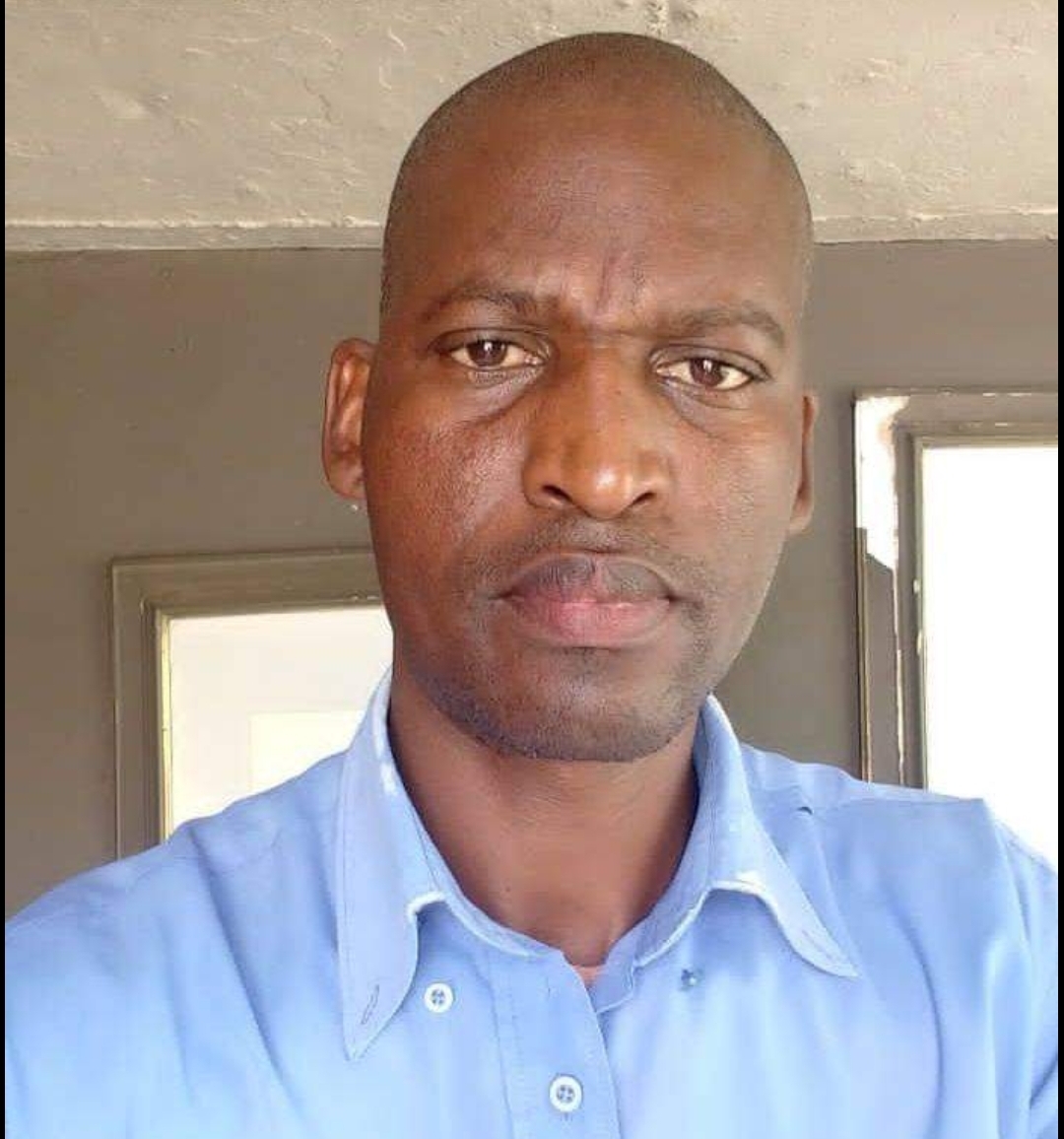 BY NOKUTHABA DLAMINI
A Nkayi man has set himself on a mission to revive the Ndebele language through storytelling which has seen one of his novels being selected as Zimbabwe Schools Examination Council (Zimsec) setbooks. 
Born in 1982, Zibusiso Lima says he developed passion for story telling while doing his education at Dimpamiwa Primary School and Hlangabeza High School in Nkayi, Matabeleland North Province where he used to score good marks in fiction writing.
He says he began exploring his talent in 1998 when he was doing his form three. 
"I am a writer who aims to revive the Ndebele language,"Lima said in an interview with VicFallsLive 
"I write fiction  based on what's happening  in the world around us today. 
"I used to score good marks in Ndebele compositions so this coupled with my passion for reading Ndebele novels by the time, compelled me to explore more about this industry."
Lima recently published his first book titled, 'Kodwa mama!' being recognised by the Zimsec as a literature prose set book for November 2024 to November 2026.
"Other than Kodwa mama!, I have co-authored anthologies of poetry titled Sigiya ngolwethu, Izwi lezimbongi and short stories titled Izigigaba zakwaNdongaziyaduma," Lima revealed. 
Lima says he drew his  inspiration from the late veteran author Ndabezinhle S. Sigogo and before his passing, he encouraged him to do more in preserving the Ndebele language. 
" I vividly remember the day I met him at his Tshabalala home in Bulawayo, he encouraged me to do more," Lima said. 
"Ngiyajabula ukubona intsha isukuma iqedisa umsebenzi esawuqalayo. Ibambeni kanjalo, kithi selingomtsha wendoda. (I am happy to see the younger generation taking up what we started, even if our time is up, it is up to you to you continue with the work) those were his last  his words."
Kodwa mama! brings a lesson about faithfulness and honesty, particularly required of women to their partners to avoid broken marriages. 
Lima says through his works, his wish is to inspire youths to utilize their  their leasure time doing something that is productive.
"For a living, I am employed by one of the companies in South Africa and doing most of my writing during my spare time,"
"Driven by the passion to revive our indigenous languages, it is my major aim to see more upcoming authors being assisted in realising their dream. In this regard i desire to own a publishing house which will play a major role in realising this dream." 
Lima's book will soon be found in Bulawayo and those intending to place orders can reach him on email at zibusisolima7@gmail.com and through phone on +263 77 685 3163/ +263713736072 for calls and +27731268684 for WhatsApp. 
Gqom artist Mandlenkosi 'Mampintsha' Maphumulo to be laid to rest on Friday
BY NONKULULEKO HLOPE
The family of Gqom artist Mandlenkosi Maphumulo, popularly known as Mampintsha, says he will be laid to rest on Friday.
The 40-year-old Maphumulo died from a stroke in a Durban hospital at the weekend.
The family of the late Mandlenkosi Maphumulo says they have accepted his death.
Maphumulo suffered a second stroke while he was in a Durban hospital.
Maphumulo's father-in-law, Mbongeni Simelane, says the family was with Mampintsha until the very end.
"Thank you for the support. Continue supporting us as we are preparing to lay him to rest,"he said.
"The funeral will be on Friday. The venue is yet to be confirmed. The memorial service will be held on Thursday at Bishop Dube's church eThekwini Community Church. All people are welcome to come and pay their last respects."
Family Spokesperson, Zandile Maphumulo, also updated the media on Maphumulo's wife, Bongekile "Babes Wodumo" Simelane.
"We are a Christ-grounded family and we pray for everything and Babes as well, "Zandile said.
" And Mampintsha, we are the family that supports one another. The Simelane family and the Maphumulo family are one family. So, they are doing well even though she is well because of our support as a family. Remember, anyone if you have lost a loved one the first day was not easy."
Musicians also paid their tributes to the late Gqom star.
Gospel singer, Jumbu Nyangiwe Mzi Mkhwanazi, better known as Danger, is the final surviving member of the group, Big Nuz.
"I'm not good right now because Mampintsha was my brother from Yoeville to here in Durban. I'm not feeling well right now. I can't even speak. I am not coping. I am not feeling well because I lost R-Mashesha, now it is Mampintsha. It is not good.
I'll miss everything about him, dance, music and food, everything about him. We met several times with Mampintsha to perform. He was fun to be with. There is so much we are going to miss about his unique voice."
Maphumulo's memorial service is expected to be held in Durban on Thursday-SABCNews
Big Nuz member Mampintsha has died
BY TSHISALIVE
Mampintsha, gqom musician and husband of Babes Wodumo, has died.
The 40-year-old star died on Saturday morning. 
West Ink Records manager Sbu Ncube confirmed  the news to TshisaLIVE.
In a statement, the artist's management said details of his passing cannot be shared with the public and that communication about funeral and memorial services would be announced in due course.Record label Afrotainment released an official statement on Wednesday confirming speculation that the 40-year-old, whose real name is, Mandla Maphumulo, had been admitted to King Edward Hospital in Durban.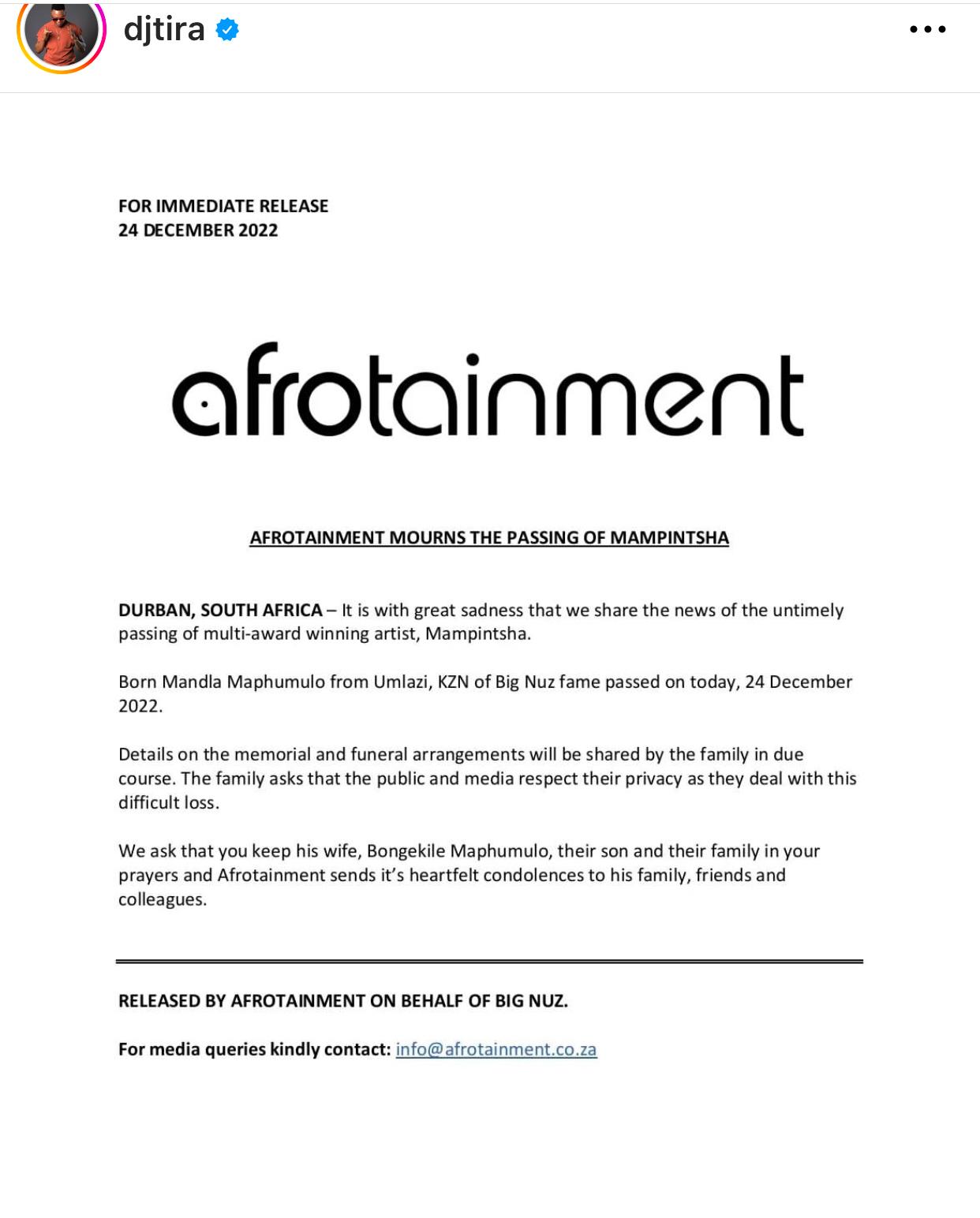 This after the star, who gained fame as part of musical group Big Nuz, suffered a minor stroke. It added the musician was under the supervision of doctors.
Mampintsha and Babes, real name Bongekile Simelane, have a child, known to fans as Sponge.
The pair tied the knot a year ago and their wedding was screened in a Showmax special, in addition to the reality TV show Uthando Lodumo.