Highlanders brace for Hwange test in league clash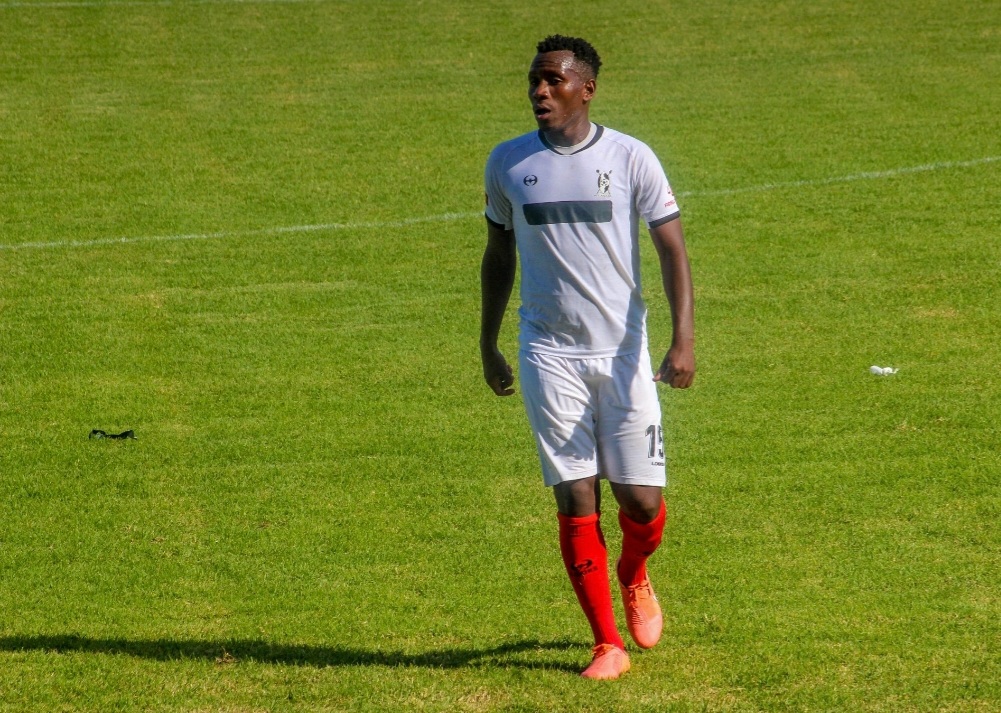 BULAWAYO – Highlanders will host new debutants Hwange FC at Barbourfields Stadium on Sunday as they seek to consolidate their good start to the 2023 Castle Premier Soccer League soccer season.
The match is scheduled to kick off at 3 pm.
Bosso goes into the match having registered their second away win of the season by beating Yadah FC at the National Sports Stadium.
Bosso found the target through double scorer Calvin Chigonero who opened the account 70 minutes into play and added another nine minutes later.
Speaking at a weekly conference held at the Highlanders offices, technical manager  Baltemar Brito said the preparations were going well and the boys are ready for the task ahead.
"The boys are ready to face Hwange FC on Sunday, but we know that Hwange is a strong team and they are currently doing well" Brito said.
Bosso has played five league matches and they are a point behind log leaders Caps United FC.
Hwange also started the season well, with their top goal scorer Brighton Makopa leading the top chart of the top goal scorers in the Castle Lager Premier Soccer League after six games.
Hwange currently seats in position five with 10 points after playing six games.
The match on Sunday is lined up to be a blockbuster with the two sides having last played an official match in 2019 before Hwange was relegated to the Zifa Southern Region Soccer League Division One.
Bosso will use their new kit for the first time this season when they square off with Chipangano at eMagumeni. – highlandersfc.co.zw
Luton promoted to Premier League after shootout victory against Coventry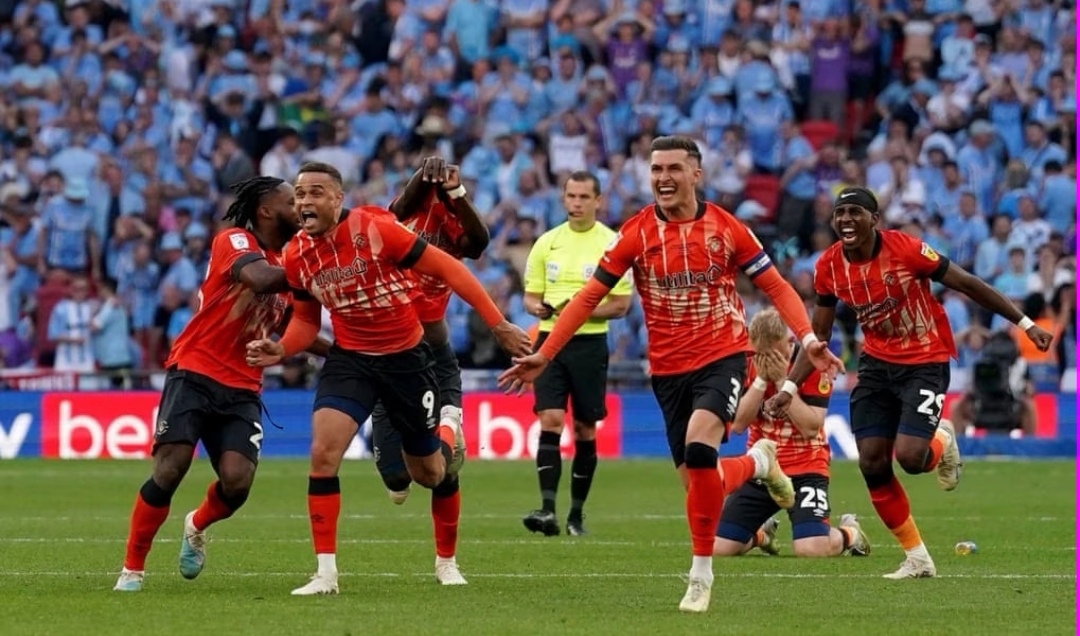 BY BEN FISHER
This time Rob Edwards could celebrate. The Luton manager had hared off down the touchline with four minutes of extra time to go to celebrate what he thought was the winning goal in front of the Luton supporters, eating up 45 yards of Wembley turf, only to retreat to his technical area ashen-faced after glancing up at the big screen confirming Joseph Taylor's strike, which would have been his first for the club, had been disallowed for handball. Jonathan Panzo, on cold as a substitute, dawdled on the ball and Taylor, a 20-year-old on his sixth appearance, nicked it from the Coventry defender, but surged through on goal with the help of his right hand.
Edwards covered his face in embarrassment but an agonising penalty shootout followed and Fankaty Dabo missed the crucial spot-kick as Luton won promotion to the Premier League at Coventry's expense, winning 6-5 on penalties. Up in the stands, there were tears of joy for Luton's chief executive, among many at the club who have been on their journey from non-league until this point. Until Dabo's miss, the penalties had been immaculate. Dabo was inconsolable.
Mark Robins, in a Coventry polo shirt, smiled wryly into the camera as the teams lined up before kick-off. This stadium was a picture, one end a shade of sky blue, the other a blanket of orange. Rob Edwards, hands on hips, swivelled to survey the scene one last time before the referee, Michael Oliver, got things under way. Luton had two first-half goals disallowed, the first inside five minutes with Gabriel Osho ruled offside after squeezing the ball in against a post; a determined Tom Lockyer had powered a header towards goal but what would have been a scruffy opener was chalked off. On 41 minutes Luton had the ball in the net once more but Elijah Adebayo was penalised for handball after Callum Doyle's panicked clearance smacked him on the arm. Luton could have been out of sight.
There were eight minutes of first-half stoppage time, much of which was because of a freakish incident. Lockyer appeared to collapse when back-pedalling to read an early Coventry attack. Lockyer received five minutes of treatment and was carried off on a stretcher wearing an oxygen mask. Luton later confirmed the Wales defender was taken to hospital for further tests. Luton's supporters shielded their eyes from the sun and Edwards pulled his concerned players away from Lockyer to give them an impromptu on-pitch team talk. Pelly Ruddock Mpanzu, whose first game for Luton was in non-league 10 years ago, took the armband. Both teams were unchanged from their last match
The incident did not disrupt Luton's flow and they scored on 23 minutes. Fifteen yards or so from the Luton goalline Alfie Doughty, the Hattters' left wing-back, sent a long ball upfield towards Adebayo. Kyle McFadzean was one-on-one with the striker and Adebayo's twists and turns led the Coventry centre-back a merry dance. Clark's run was not tracked and after Adebayo chopped inside one last time he located his teammate on the edge of Coventry's 18-yard box. The Luton midfielder took a brilliant first touch with his right boot and lashed in with his left with his next touch.
Luton's centre-forwards, Carlton Morris and Adebayo, caused Coventry's three-man central defence no end of problems. Coventry were rattled and Luke McNally shanked a routine pass out to his right straight out for a throw-in on halfway. Morris bullied Doyle, the defender on loan from Manchester City, and his knockdown laid the ball on neatly for Mpanzu but his shot was tame and comfortably gathered by Ben Wilson in the Coventry goal. Coventry were frozen for much of the first half and did not fashion a meaningful attack until minutes before the interval. The bustling Gustavo Hamer met Jake Bidwell's hanging cross at the back post but sent his shot over.Coventry roused before half-time but nevertheless it was no surprise Robins changed shape. Matt Godden, a striker, replaced Jamie Allen, the midfielder who had failed to bring Viktor Gyökeres into the game. Liam Kelly, the Coventry captain and only player in the starting lineups to play in this fixture when they were in League Two five years ago, skied a shot after a neat move on the edge of the box. The Arsenal loanee Brooke Norton-Cuffy went on a rampaging run in the first half and his willing was a positive for Coventry to cling on to. Ten minutes into the second half Norton-Cuffy sent a devilish cross in from the right but Amari'i Bell was on hand to clear.
Coventry were a different beast now and levelled on 66 minutes after Gyokeres and Hamer dovetailed to devastating effect. Gyokeres gladly took a bump from Osho to help Coventry retain possession inside their own half and then was fed in down the left channel. He drove forward and calmly spied the advancing Hamer to his right. Hamer side-footed the ball in first time and pandemonium followed in one half of the ground. McFadzean endeavoured to have a quiet word with Robins pitchside. The Coventry fans made sure that was a tricky task.
No sooner were the Coventry supporters swooning over Hamer than the midfielder was forced off with injury after landing awkwardly. Hamer attempted to carry on but was grounded and then replaced by Kasey Palmer, a substitute when Huddersfield won promotion here on penalties six years ago. Hamer's afternoon ended with an ice pack strapped around his right ankle and Palmer back on the bench, with Robins substituting the substitute in extra time.
It seemed the biggest talking point of added time arrived when Clark was deemed to have dived after Wilson rushed from his goal. Up in the stands Howard Webb, the head of the PGMOL, bit his nails. That was nothing compared with the intoxicating drama that would follow. SOURCE: THE GUARDIAN
Victoria Falls hosts chess championship games
BY NOTHANDO DUBE 
Chess, the newly embraced game in Zimbabwean Schools has taken Matabeleland North Province by storm, with many schools taking it up.
The brain game has gained popularity with players from Early Childhood  Development to Secondary Schools.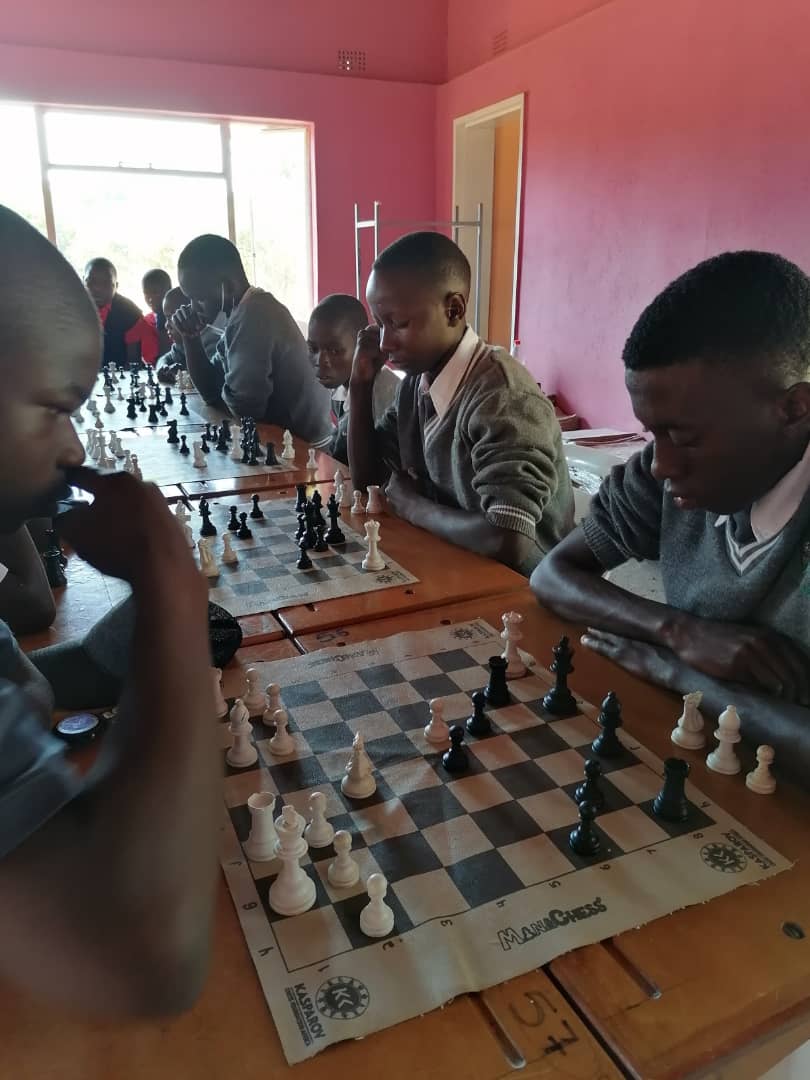 This year, the Zimbabwe Chess Federation has introduced a National Chess League to be played across the provinces throughout the country, under the Crystal Candy National Schools league banner.
 The first League games took  place this Saturday and the second will be played on June 24 where each school will field one team each, made up of ten players, five males and five females. 
In Matabeleland North,  Mosi-oa-Tunya Hihh School is host the primary schools while Grace Mission Secondary takes care of  the  secondary schools.
Eight primary schools have set themselves for the battle meant to decided on the  two teams who will proceed to the second league games in June. 
The participating primary schools are Chinotimba, Mother Touch, Baobab, Happy Hearts, Kings and Grace Mission.
 A total of eighty players will make up the primary schools competitors while five  schools will make up the secondary schools competitors
The league fixtures for secondary school are made up of David Livingstone, Grace Mission, Higher Learning Centre, EATC and Matetsi.
 The age groups for primary will be Under 10 Junior and Under 14 Seniors, whilst secondary school learners will play under age groups under 16 and Under 20.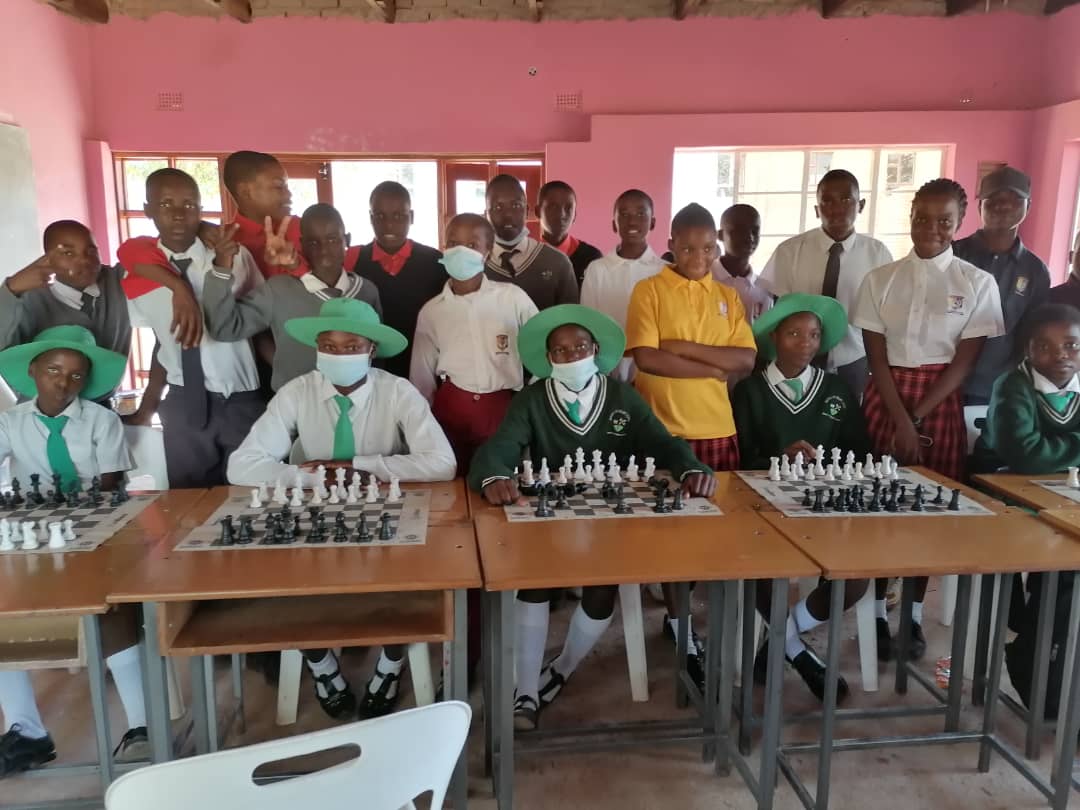 Last term, on March 23 and and 24, a total of 203 secondary school chess players gathered at Lupane's Mabhikwa High school for  Provincial Chess Tournament, making it the highest number so far in the history of Provincial games. 
Chess is game of the brain which teaches players to balance their emotions and also to make informed decisions. The calculative nature of its moves improve learners' mathematical skills. 
Victoria Falls based lawfirm donates football kits to Division Two teams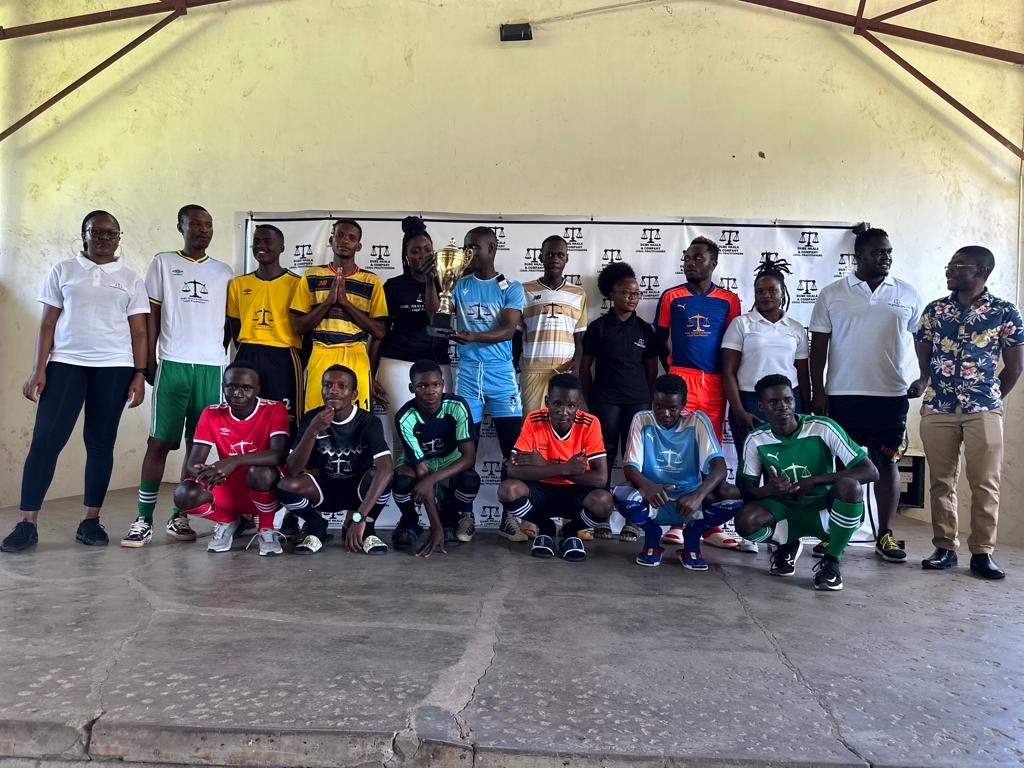 BY NOKUTHABA DLAMINI 
A Victoria Falls based law firm has donated football kits to twelve Division Two soccer players in Hwange West district in an effort to fight drugs and substance abuse among youths in the communities. 
According to the law firm's director Thulani Nkala, of Dube Nkala & Company Legal Practitioners, the donation aims to promote a healthy society where teenagers can engage in sports even after school. 
Division Two falls under the Zimbabwe Football Association and it comes after Division One which is also below the premier league.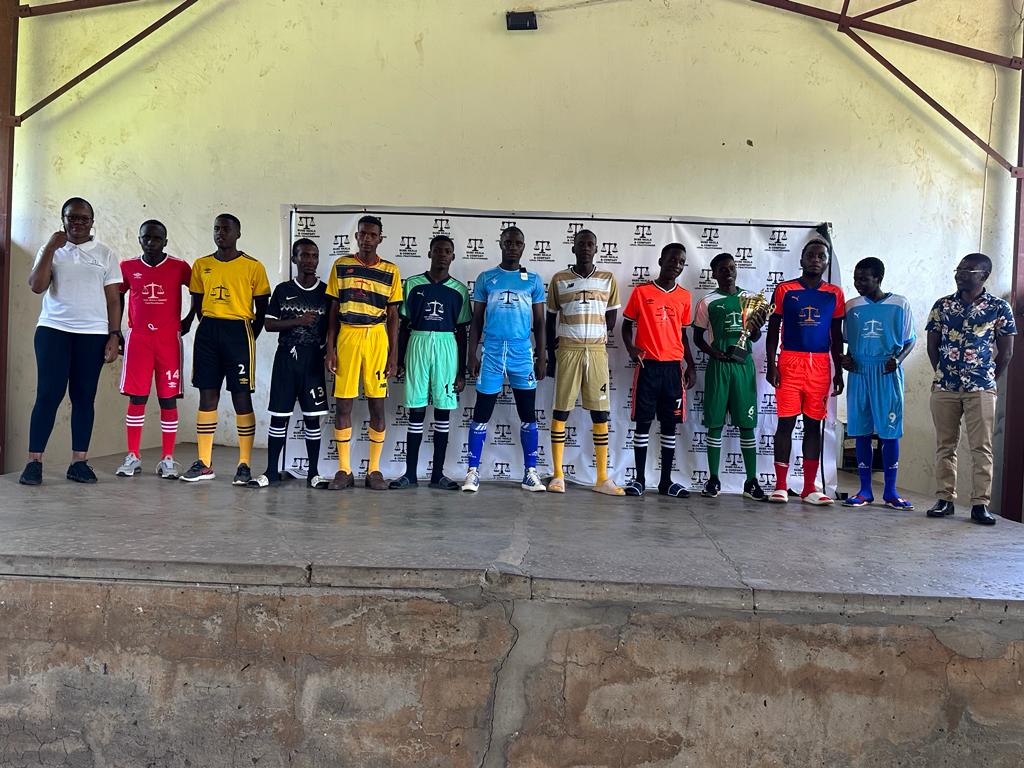 "As you are all aware that drugs are causing problems in our town, we felt that we can make a difference to counter this by donating some football kits and other equipment for our youths to use as they play," Nkala said. 
"We hope that this will be an ongoing partnership, but for now we will only be sponsoring for this upcoming season which is about to start and we shall renew as the next seasons approach on condition that we have mutual understanding which is based on respect because we will not want a situation where teams fight each one another."
He said apart from the kits and trophy, the teams will play for a prize money at the end of the season.
Zimbabwe Football Association (ZIFA) Matabeleland North provincial acting chairman Clevious Ncube said the gesture will go a long way in nurturing young talents in the Division Two league, whom most of them are school going children and teenagers.
Prosper Neshavi, provincial ZIFA board member, lamented lack of interest in football sponsorship even at national level.
He said this has been part of the reasons why the country has been kicked out of the Federation Internationale  Football Association (FIFA). 
FIFA President Giovanni Infantino last year said the association had to suspend Zimbabwe and Kenya for government interference in the activities of the football associations. 
"They know what needs to be done for them to be readmitted or for the suspension to be lifted. "Infantino said last year. 
Meanwhile, as part of efforts to introduce sports tourism in Victoria Falls, tourism operators and other sports officials have joined hands to form a committee that will spearhead the allocation of land by the Victoria Falls City Council for sporting activities such as the football, tennis, boxing and rugby among other sporting disciples. 
This was revealed by the committee chairperson Mthabisi Ncube who lamented lack of sporting facilities in the city. 
He revealed that through their negotiations with the council, a certain portion of land has been set aside for the project. 
Their end goal is to see the town hosting local and international teams, which will inturn boost the country's tourism GDP. 
"As we say that we are the tourism capital of Zimbabwe and possibly the better capital of Africa and we fail to have a 10 000 seater stadium," he said. 
"We can not fail to host training matches such as the rugby, football where teams such as the Kaizer Chiefs Football Club can decide to come to Victoria Falls as they prepare ahead of the season, so their coming will help us a lot because all the businesses from accomodation to the salons and vegetable vendors will benefit from their presence, but it cannot happen when we do not have the facilities. 
"Our vision is to have a complex where we can host international games, international meetings for cricket, rugby, tennis. We want to be like what Capetown (South Africa) does where they have no free weekend in arts and sporting activities."