Fear grips undocumented Zimbabwean workers in South Africa
JOHANNESBURG -Zimbabwean domestic migrant worker Precious clocked in late for work, launched into her duties for a white South African family as if nothing happened, yet hours earlier she had been arrested for being in the country without papers.
South Africa — the continent's most industrialised country — is buckling under a wave of illegal migration triggered by economic woes in its neighbours.
Many come from Malawi, Lesotho, but the majority are from Zimbabwe.
Lately police have scaled up crime-busting stop-and-search operations, including weeding out undocumented migrants.
One such early morning blitz was launched this week in Springs, a district at the eastern end of the largest city of Johannesburg.
Several dozen police officers mounted a check point on a narrow road, stopped cars and buses, meticulously searching boots and ordering occupants out, demanding identification documents.
Grabbed by the waist or arm, one-by-one they were led to the side of the road to a queue stretching out in front of immigration officers.
"These are weekly operations," provincial police chief Elias Mawela, told AFP.
"When it's confirmed they are illegal in the country they'll be taken in and later on they'll be taken to court… and back to their countries of origin".
But in some raids, police officers solicit bribes to release the migrants.
The day Precious was arrested at a minibus taxi rank in downtown Johannesburg, she was one of 30 people bundled into a police van.
She was asked to pay 1,000 rands on the spot — equivalent to her weekly wages — or risk being taken to the police station for eventual deportation.
Precious immediately texted her employer warning she would be late and frantically called friends and associates to raise the bribe money.
'Scared'
"I was scared," said the single mother of two.
"It's not good being a foreigner these days," said Precious, 36, folding a pair a velvet pants she was ironing.
Official data lists an estimated 3.8 million migrants in South Africa, a figure considered a gross understatement.#photo2
Foreigners, especially those from the rest of Africa, are targets of xenophobic resentment and accused of taking jobs in a country where at least one in every three people is unemployed.
Zimbabwe has a long history of immigration into South Africa, dating back to the 19th century when the gold rush saw mining companies hiring labour across the borders.
In 2009 Pretoria granted four-year work visas to around 250,000 Zimbabweans fleeing economic and political turmoil at home. The permits have since then been repeatedly renewed, but authorities have vowed they will not be extended beyond June 2023.
But many more Zimbabweans have continued to pour into South Africa illegally through porous borders in search of greener pastures.
The huge influx of foreigners has irked many South Africans who accuse them of taking their jobs and placing undue pressure on public facilities.
Recently an anti-immigration group of activists picketed outside a public hospital west of Pretoria — blocking patients they suspected were foreigners, accusing them of putting the public health sector under strain.
Their action followed a viral video of provincial health minister berating a Zimbabwean patient, accusing her of seeking free treatment at a government hospital at the expense of South Africans.
Domestic worker Precious recalls giving birth to her now 11-year-old son at a public hospital in Zimbabwe.
"There is nothing there, not even water to wash the baby when he's born. No painkillers," she said.
Asked about some of his bribe-taking officers in a country dogged with high crime levels and endemic corruption, police commissioner Mawela urged anyone who is asked for a bribe "to bring it to our attention so we can investigate it".
"We can't just take it lightly these accusations".   – AFP
Zimbabwe to more than double spending in 2023
BY GODFREY MARAWANYIKA AND RAY NDLOVU
Zimbabwe provided the first details of how a new mineral royalty policy will be enforced, as the country considers more than doubling spending in 2023 to help revive an economy that exited a recession last year.
The royalty policy that came into effect in October compels miners to pay half of their royalties in minerals and the rest in cash. The plan presented by Zimbabwean Finance Minister Mthuli Ncube on Thursday breaks the payment down to half in mineral form, 40% in local currency and 10% in foreign-currency cash.
Although traditionally, royalties are remitted in cash, it is pertinent that the current formulae be reviewed in line with government policy to preserve value and mitigate against revenue loss," said Ncube.
The southern African nation has vast mineral resources including gold, diamonds and coal deposits. It has the world's third-largest known platinum deposits after neighboring South Africa and Russia. Miners say they will comply with the new policy.
Ncube projects total expenditure will more than double to 4.2 trillion Zimbabwe dollars ($6.5 billion) in the 2023 budget.
The bulk of the funds will be spent on social services and infrastructure projects, with a key focus on the mining, energy and agricultural sectors to stimulate economic growth, he said in a budget presentation to lawmakers at the new Chinese-built Parliament in Mount Hampden, 23 kilometers (14 miles) north of the capital, Harare.
Economic growth globally is being crimped by tightening financial conditions as central bankers including Zimbabwe's try to temper high inflation, adding to the damage from the war in Ukraine and China's slowdown.
Zimbabwe's benchmark interest rate is at 200%, while annual inflation is at 269%.
The IMF last month cut its forecast for global growth next year to 2.7%, from 2.9% and sees Zimbabwe's economy expanding at 2.8%.
Other highlights
Ncube expects Z$3.9 trillion in revenue.
Plans to increase value-added tax to 15% from 14.5% from Jan 1
Allocates Z$76 billion  toward next year's general elections, in which President Emmerson Mnangagwa is seeking re-election
Budget deficit to GDP is forecast at 1.5%
To plug the funding gap, the government plans a bond issuance on the Victoria Falls Stock Exchange
Offers tax relief measures including cutting an electronic tax levied on US dollar transactions to 2% from 4%-Bloomberg 
Zinwa pre-paid water system weighs heavily on Hwange residents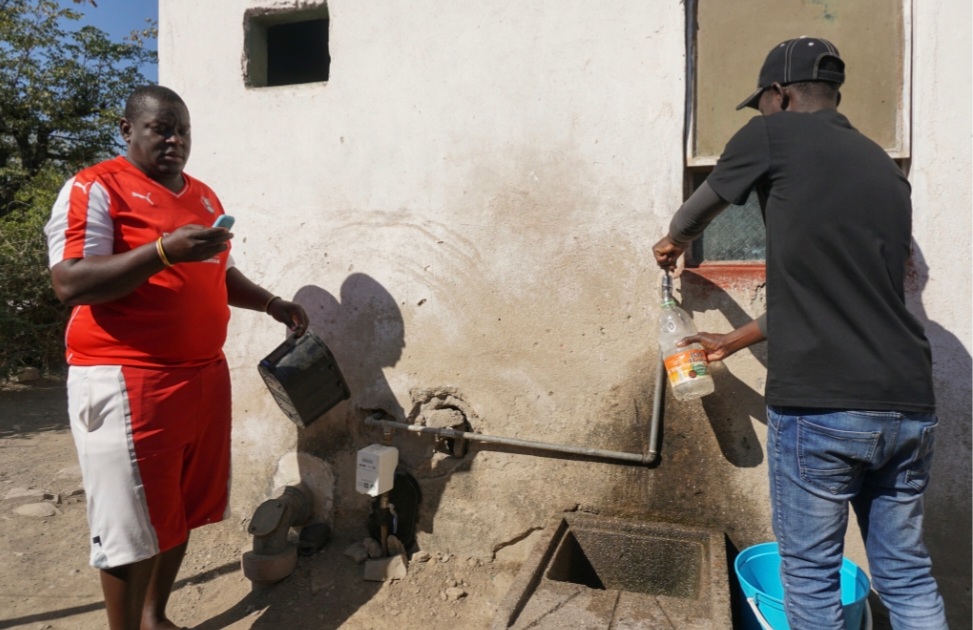 BY FORTUNE MOYO
When Dr Tulani Maposa's tenants wash their dishes or clothes at a tap outside his house, chances are that he's secretly watching them.
Sometimes when residents take showers, he listens through the walls to make sure they don't stay in too long.
Keeping a close eye on tenants' water practices may sound like an invasion of privacy.
But Maposa swears it's not his choice. "I am forced to monitor how tenants are using water so that it lasts for the month," says the family man and medical doctor for a local football team.
Maposa owns a three-bedroom house in Empumalanga, a suburb of Hwange, a coal mining town in western Zimbabwe.
He occupies part of the house with his wife and three children, and rents out two bedrooms to two other families.
Maposa and his tenants share common areas like the kitchen and bathrooms.
A new and controversial change in the way residents like Maposa are billed for water has met stiff resistance from consumers and their advocates, who say it hurts those who can't afford to pay for water in advance.
The Zimbabwe National Water Authority, popularly known as Zinwa began installing new meters last year that require customers to prepay for the water they use.
But landlords like Maposa say the new meters have tremendously increased their bills, forcing them to take drastic, and at times invasive, measures to ensure their tenants don't waste water.
efore the authority introduced prepaid water meters, residents paid their water bills after usage, at the end of the month.
The new system requires customers to go online and pay for a code that allots them "tokens" of water.
When the tokens run out, the meter automatically shuts off the flow of water until the consumer buys more.
Maposa says his monthly bill, which used to average around 2,000 Zimbabwean dollars (ZWL) ($3.89) before a prepaid meter was installed at his property in March, has shot up 65% to 3,300 ZWL ($6.42) for the 30 cubic meters (almost 8,000 gallons) of water the three households on his property use.
"It is such an unfair system," he says.
During times of network connectivity failure, which are common and can last up to four days, Maposa says it's impossible for even people who have money to buy more water when they run out.
He's concerned that could turn into a health crisis, especially now that people are trying to avoid contracting the coronavirus.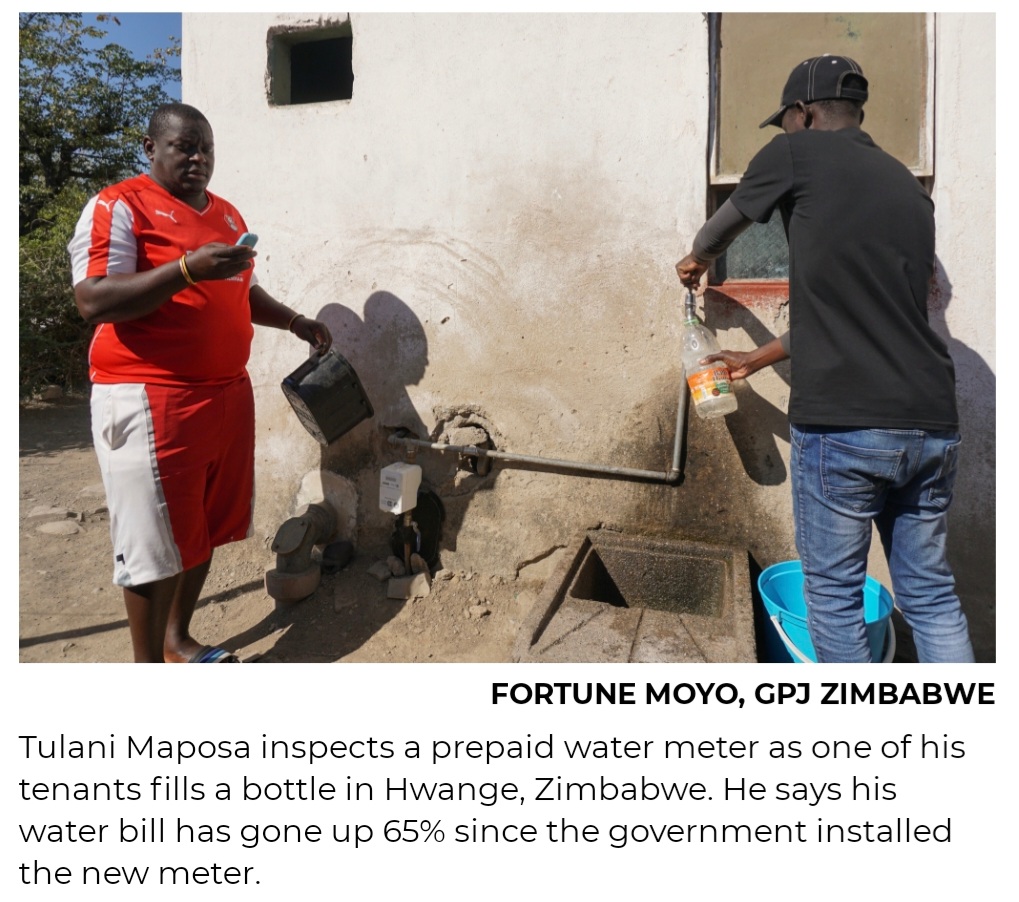 Clifford Nkabinde, who works as a freelance accountant for various organizations, says his water bill has increased nearly 60 percent since April, when the water authority installed a prepaid water meter at the family house in Empumalanga, where he lives with his parents.
"When I don't get any work for a particular time, life becomes tough," Nkabinde says.
"My parents are my responsibility; and with the introduction of these meters, life has become more difficult as I also take care of food, electricity, water and other necessities."
Nongovernmental organizations also accuse the water authority of using the prepaid meters as a way to privatize water, which they say is an infringement on the human right to water.
"Prepaid meters ensure that access to water is only guaranteed to those who can pay," says Joy Mabenge, national chairperson of the Zimbabwe Coalition on Debt and Development, a social and economic justice organization.
"This is akin to privatization and commodification of water."
But Marjorie Munyonga, a spokesperson for the water authority, denies that the agency is trying to privatize water.
She says the upgrades to prepaid water meters were necessary because the gadgets are an emerging innovation to help with water resource management.
"It does not in any way limit anyone's right to water," she says. "In fact, prepaid meters are giving consumers greater control of their water-use patterns, which was not the case with the old metering system."
Munyonga denies that the new meters have made water more expensive for consumers, saying the agency uses exactly the same pricing tariffs for the new meters as it did the old.
She says there are new pricing tiers designed to encourage conservation of water, which might explain why some are paying more.
For example, a customer who uses under 10 cubic meters (2,641 gallons) of water is charged 173.59 ZWL ($0.33) for each cubic meter (264 gallons), compared to 300.89 ZWL ($0.59) per cubic meter between 21 and 30, she says.
"The narrative that prepaid water is more expensive is a result of misconceptions emanating from the fact that when the water authority introduced prepaid meters, the postpaid and prepaid systems were integrated in a way that allows clients to pay off their debts wherever they purchase prepaid tokens," Munyonga says.
Many urban water supply agencies in African countries such as Namibia, Zambia, South Africa, Uganda, Kenya and others have adopted prepaid water meters to improve collection of payments.
Despite the development, controversy surrounds the system as some see it infringing on people's right to water.
Local residents such as Nomthandazo Masuku say individual cities should create backup water supply systems to kick in when residents run out of water and can't afford to buy more from the water authority, or when they have no network connectivity.
The mother of two says she and other residents are pushing the Hwange Local Board, the town council, to drill boreholes for residents as an alternative water source.
"When the water token is running low, we are forced to use the bush to relieve ourselves because we need to save water for other uses," she says.
"It is more difficult when you have children."
Dumisani Nsingo, the public relations officer for the Hwange Local Board, says the local council is looking into the issue of drilling boreholes in its area of jurisdiction as a contingent measure in the event of water disconnections.
"We included the drilling of eight boreholes at selected areas in our budget this year," Nsingo says.
Other residents want the water authority to stop installing the new meters and return their old ones. In February, about a month before Maposa's meter was installed, he and a dozen other residents took the agency to the High Court in Bulawayo.
A judge agreed with the residents that installation of prepaid meters without consent of the consumers was "unlawful, unreasonable and unfair."
The judge ordered the agency to stop installation of meters, remove those it had already installed, and replace them with the old ones.
But Maposa says the water agency defied the court order and continued to install new prepaid meters, including at his home.
Munyonga, the water agency official, says it would have been impractical to stop the programme because 2,843 prepaid water meters had been installed in Hwange, representing 96 percent of clients.
"The rollout of the meters is going ahead well, not only in Hwange, but in other parts of the country," Munyonga says.
Justice Alfred Mavedzenge, a constitutional scholar and legal adviser at the Africa Regional Programme of the International Commission of Jurists, says the court order was a temporary relief order, which doesn't stop the agency from installing prepaid meters.
As long as the matter has not been finalised, it can continue installing the meters, he says.
"Personally, however, I believe it is unlawful for Zinwa to install the prepaid meters without consulting the residents," Mavedzenge says.
"Maposa and company in the meantime can appeal this interim order."
But Maposa says he and other residents have no intention to go back to court and ask the judge to force the water agency to obey the order.
Instead, they have decided to request local authorities to engage the agency on their behalf to see how they can come up with a system that works for both parties.
Until then, Maposa says he must continue to monitor his tenants' use of water.
He doesn't like to because it's exhausting and he doesn't feel good about having to spy on his tenants. He laments his loss of humanity — that sense of care that makes communities share resources — and attributes it to the prepaid meters.
"In the event one has no money to buy water, it is difficult to ask for water from your neighbour because they also buy the water," Maposa says.
"Before prepaid meters, as neighbours we would share water and at the end of the month, when the bill came, we would split the cost. Now that is not possible."
So far, Maposa's tenants don't seem to mind him monitoring their water use.
As he speaks about how uncomfortable it makes him, one of his tenants walks by and overhears the conversation.
The tenant declines to give his name or to be interviewed at length, but he says he understands why his landlord has to be vigilant.
"It's tricky," he says, "but I guess he has to do that so that we are all accountable." – Global Press Journal
Fortune Moyo is a Global Press Journal reporter based in Victoria Falls, Zimbabwe.
Skyrocketing fuel prices drain Victoria Falls taxi industry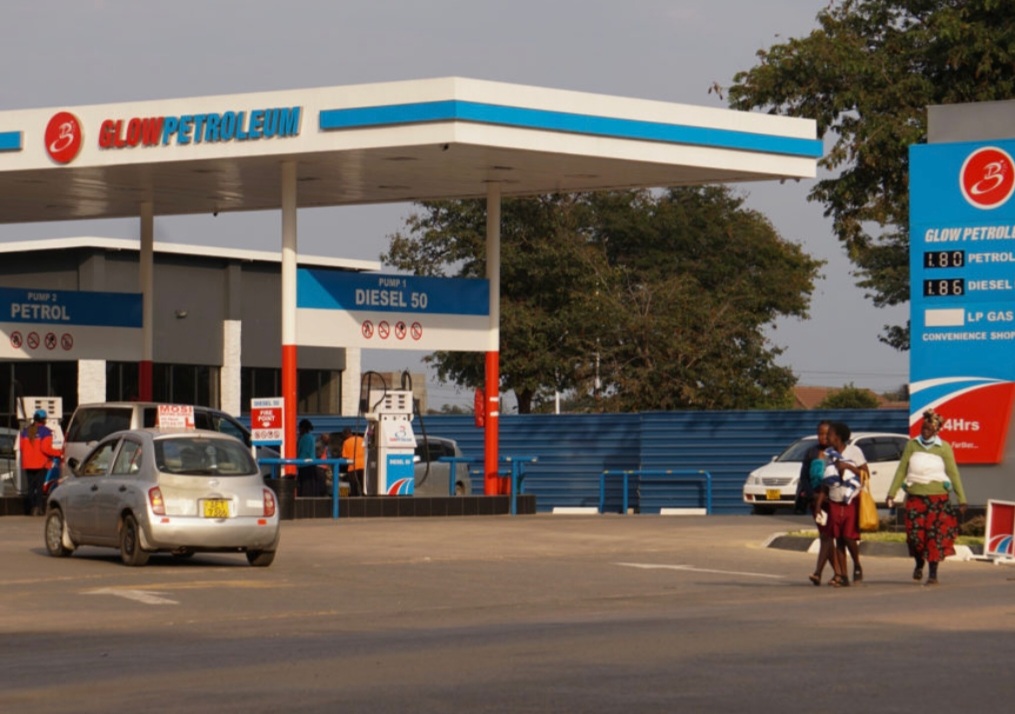 BY FORTUNE MOYO
Taxi driver Tawanda Gunde recalls the difficult decision he had to make during the coronavirus pandemic to sell one of the three taxis he used to rent out.
While the worry of a reduced income overwhelmed him, he was comforted by the belief that his circumstances would improve again.
But Gunde's situation didn't improve, and earlier this year he was forced to sell a second taxi so he could support his family.
Today he tries to make ends meet running his one remaining car, has removed his two sons from private school, and is considering other means of income.
For taxi drivers, making any kind of living has become increasingly difficult when, on the back of a pandemic, the price of fuel keeps rising.
The spiralling situation is forcing many to leave the industry.
In July, Zimbabwe had the second-highest fuel price in Africa, second to Central African Republic, with the price of a litre of petrol in the landlocked country at US$1.88 (over US$7 per gallon).
That's compared to 46 cents (US$1.74 per gallon) in February, just before Russia's invasion of Ukraine, which affected oil supplies out of Russia and forced fuel prices up.
In Zimbabwe, the situation is made worse by the country's use of the United States dollar as well as its local currency.
The Zimbabwean dollar was introduced in 1980 to mark the country's independence from the United Kingdom and to replace the Rhodesian dollar.
It remained in place until 2009 when it collapsed due to hyperinflation, a devastating and rare financial occurrence which devalues a country's currency.
Hyperinflation — driven by declines in exports, political corruption and a weak economy — rendered the Zimbabwean dollar so worthless that a 100-trillion-dollar bill was printed in 2009.
That same year, a multi-currency system was adopted which included the US dollar, Euro, UK pound and South African rand to restore some local currency stability.
In 2019, the country returned to a primarily Zimbabwean dollar system.
But despite treasury moves to enforce the single currency system — at one point outlawing the use of the US dollar and other foreign currencies — the US dollar remained an integral part of the country's currency, offering stability while the Zimbabwean dollar continued to lose value.
Now, with inflation hitting a staggering 256.9% in July, the normally reliable U.S. dollar also faces inflationary pressures, exacerbating the situation.
"The Russia-Ukraine war has affected global economies and Zimbabwe has not been spared, as the war is also affecting the US dollar in Zimbabwe," says Felix Chari, a business and economics lecturer at Bindura University of Science Education.
"Inflation continues to increase, and this is affecting the U.S. dollar, which has often been stable over the years. The local currency is bound to continue losing as the year continues."
While keeping currency relatively stable, Zimbabwe's multi-currency system has proved a headache for business owners who are expected to offer prices in two currencies for their customers.
Taxi driver Taurai Dube, who some days only earns half of what he used to before the hike in fuel prices, says he has to check the rates of both currencies each morning so he can set his prices before he starts driving his executive taxi, a higher-end mode of transport.
"I allow my clients to pay me in the US dollar and in the local currency at the day's prevailing exchange rate," Dube says.
The father of three has had to increase his fare prices after business started to slow in March.
Customers who want to pay in the local currency lose out as a US$10 trip would cost them the equivalent of US$11 to US$13 when paying with Zimbabwean dollars due to its daily drop in value.
If they do pay with local currency, Dube then can't use the cash to buy fuel as it's only sold in US dollars.
"Most of my local clients can no longer afford my charges and they opt for the cheaper local shuttle taxis," Dube says.
"I now survive on tourist clients."
Some residents have been completely priced out of using taxis and opt to walk to their destinations.
As a small tourist town only recently granted city status, there are no local buses serving Victoria Falls.
Sanelisiwe Mkhwananzi, a supermarket worker, used to get to and from work by taxi at a cost of US$1 each way.
Now the price has doubled, and her monthly pay can't cover it.
"It takes me about 30 minutes to walk from home to work if I use shortcuts, meaning I cut through bushes and not use the main roads," Mkhwananzi says.
"But the challenge with the shortcuts is that when it gets dark, they are dangerous as there are wild animals and even thieves at times."
At the supermarket where Mkhwananzi works and others like it, the hike in fuel prices also means transporting goods has become more expensive.
Oswald Kasi, the owner of a mini supermarket in the township of Mkhosana, in Victoria Falls, gets most of his stock from Bulawayo, a city more than 400 kilometers (249 miles) southeast of his store.
"When fuel prices go up, I am also forced to increase the prices of my goods so that I am able to make a profit," Kasi says.
Country leaders hope a decision to drop the levy on diesel and reduce the levy on petrol — in a bid to stop the price of fuel from exceeding US$2 per liter (about US$7.50 per gallon) — will help the situation.
Chari, the economics lecturer, agrees with the move, but says despite such attempts "Zimbabwe remains expensive when compared to neighbouring countries such as South Africa and Botswana."
Meanwhile, the country's often complicated multi-currency system looks set to stay for a while. Mthuli Ncube, minister of Finance and Economic Development, announced in his latest financial statement released in June that the use of the Zimbabwean dollar alongside the US dollar would remain in place for the next five years. Attempts to reach the ministry for comment were unsuccessful.
For Gunde and taxi drivers like him, change needs to happen fast. He no longer has a backup taxi to sell should the dire economic situation continue.
"It was a hard blow I had to take," he says of his decision to sell the two taxis.
While he lives in hope that one day he will have a more secure business, his daily thoughts are consumed with worries of whether he has enough money to support his wife and two children.
"I tried buying and selling clothes to supplement my income but I didn't get the results I needed," Gunde says.
"Driving a taxi is the only business I know." – Global Press Journal