African smallholder farmers count the cost of fertilizer price spike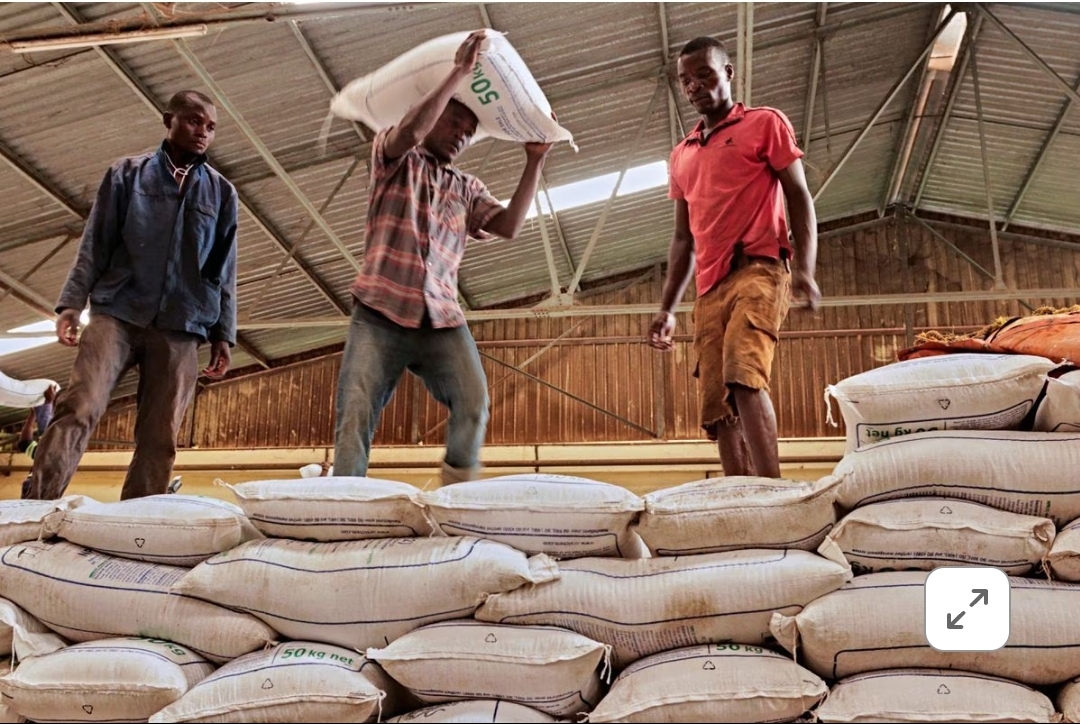 BY NELSON BANYA, NYASHA CHINGONO
Helplessly watching her maize turn yellow as she waited for free fertilizer from the government, Zimbabwean farmer Marian Kanenungo had nothing but makeshift compost from an anthill to help save her crop – and she had low hopes of that.
Kanenungo, a smallholder farmer in Mudzi, 230 km north-west of the capital Harare, is one of many who struggled to buy fertilizer during the 2022/23 planting season after prices spiked following Russia's invasion of Ukraine.
"If I buy fertilizer, it means my grandchildren will not go to school. I had to use anthill soil and compost as manure but, as you know, that will not yield much," said 50-year-old Kanenungo.
Sanctions on entities within major fertiliser exporter Russia after the invasion of Ukraine and a jump in the price of gas, key in the manufacture of nitrogen products, have pushed up prices of crop nutrients globally in the last year.
Fertilizer prices in Zimbabwe have risen by nearly 30% in that period, with a 50 kilogramme bag of basal fertilizer currently costing an average $45 and a bag of top dressing fertilizer about $60, Prince Kuipa, operations director the Zimbabwe Farmers Union, told Reuters.
The union, which represents most of the country's farmers, said high fertilizer prices could impact crop output despite favourable rains in the maize-growing region. "The number of (fertiliser) bags that farmers can buy has been badly affected," Kuipa said.
The Zimbabwean government has a long-running input support scheme to help with costs like fertilizer. It increased the number of smallholder farmers covered by the scheme by 25% to 2.89 million during the 2022/23 season, hoping to help more households cope with rising food inflation.
But with global prices high it has struggled to provide fertilizer to farmers, leaving many smallholders facing a poor harvest.
These include Emilia David, a 27-year-old mother of three. "To save my crops, I had to apply decomposing tree leaves. I know this is old fashioned, but there is nothing I can do. My children need to eat," she said.
FOOD INSECURITY
The Food and Agriculture Organisation has named Zimbabwe, Malawi and Angola as countries in the southern African region facing food insecurity due to reduced fertilizer use.
In Malawi, maize output is seen falling 4% this year, after the government's Affordable Inputs Programme (AIP) struggled to keep up with price increases, agriculture minister Sam Kawale said.
Fertilizer prices in Malawi have more than doubled in the past year, with a 50 kg bag retailing at 75,000 kwacha ($72.71), putting pressure on the government's 109 billion kwacha budget for the input support programme.
"The cost of the programme (AIP) almost tripled," Kawale said while receiving a 20,000 tonne consignment of fertilizer donated by Russia's Uralchem-Uralkali on March 6.
Malawi was one of the first African countries to receive the donated fertilizer through the World Food Programme, part of 260,000 tonnes of the Russian firm's fertilizer stuck in several European ports.
But for Zione Maulidi, a 45-year-old Malawian smallholder farmer who received some of the donated Russian fertilizer, help came too late.
"This fertilizer we have received will not help us," said Maulidi, surveying her stunted crop. "The period for applying it is over and the maize crop has failed."
($1 = 1,039.5000 kwacha).
Mopane worms spark much-needed economic activity in Zimbabwe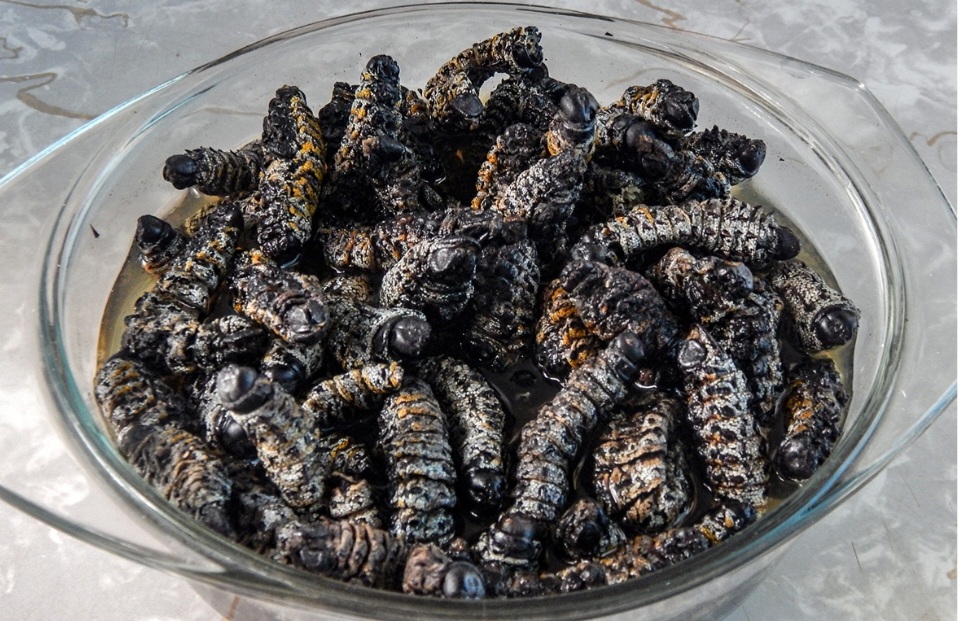 BY FARAI SHAWN MATIASHE
Primrose Dube owes the existence of her newly built family house in Gwanda, Matabeleland South, to a caterpillar.
The mopane worm, may be quite large as caterpillars go – it can grow up to 80mm long – but it is still a very small creature to have such a big impact on a country.
In Zimbabwe, it has sparked much-needed economic activity in a poverty-stricken nation and, offered a valuable source of protein.
But now its success as a commodity has become an environmental threat.
The cigar-sized caterpillars, known as amacimbi  in the local isiNdebele language, are the larval form of the Gonimbrasia belina species of emperor moths.
They eat the leaves of mopane trees and in Zimbabwe are usually found in southern parts of the country such as Gwanda, which lies about 130km south-east of Bulawayo, the country's second city.
"I started harvesting amacimbi in 2018," Ms Dube, 54, told i.
"In a good season, I harvest about 15 buckets, each weighing 20kg.
"We sell some in the capital Harare and to truck drivers who are en route to neighbouring South Africa."
Gwanda's location along the highway that connects Zambia, Zimbabwe and South Africa through the busy Beitbridge Border Post, makes it a prime spot for such business.
"We have built a family house with money from harvesting and selling amacimbi," the mother of six said.
"It is almost complete. We just have a few basics left, like floor tiles."
Mopane worms are harvested in summer after they hatch. A good rainy season means a yield.
People pick them from the trees, remove water from inside them and dry them in firewood ashes as a way of preserving them.
"We used to harvest from the trees, but we later discovered that when you pick those that are still hanging in the trees, there is too much labour involved in preparing them," said Ms Dube.
"So, these days we harvest those that are down the trees and ready to go back under the soil. These will be clean and big. That is first grade."
Statistics on income generated by the mopane trade in Zimbabwe are hard to come by, as it is highly informalised, but industry players estimate it at $500,000 (£400,000) a year.
During harvesting season, makeshift markets are created along the highway that leads to South Africa, where people trade the worms for cash and groceries.
Buyers come to areas such as Gwanda to buy the worms, but offer low prices there, forcing some locals to travel as far as Bulawayo and Harare to sell at a higher price.
In Gwanda, 20kg of mopane worms sell at about $20; in other parts of the country, the same 20kg fetch as much as $40.
However, environmentalists are now concerned that the trade is becoming a threat to biodiversity.
A recent rise in demand for the caterpillars has led people to come from as far away as Harare to cut down trees to harvest the caterpillars.
This not only leaves the land barren, it also threatens the livelihoods of locals.
Climate change has also affected the availability of the worms: experts believe caterpillars are declining in the region, due to rising temperatures.
Another local woman who is in the business of harvesting and selling the larvae, Nomsa Ncube, says they have been doing so for decades without harming the environment.
"When harvesting madora, we conserve our environment by not cutting down any trees," she says. "We pick only those hanging on branches we can reach and wait for those hanging on tall trees to come down so we can pick them. This is done to avoid cutting down trees."
The 43-year-old mother of three adds: "We also use only dry logs as firewood for the ashes we use to dry out the worms during the preservation process."
It is people from other places, says Ms Ncube, who cutting down the trees and burning the forest.
Indeed, mopane worm harvesting is a major contributor to the rate of deforestation in areas such as Gwanda, Beitbridge and Plumtree, according to Violet Makoto, from Zimbabwe's Forestry Commission.
A canning and processing facility has been established in the border town of Beitbridge, about 195km from Gwanda.
Women are using this amenity to prepare the worms for sale in supermarkets and for export, says Joram Gumbo, minister of state for presidential affairs in charge of implementation and monitoring, who recently toured the facility.
"Those women involved make a good living out of the project and supplement their husband's incomes," he told i. "They can improve their standards of living."
Ms Makoto says she is aware of what is at stake. "Local communities should be able to utilise their natural resources to improve their lives, and mopane worm harvesting and sale is a vibrant livelihood option.
"We, however, are seeking to create awareness through training programmes on the importance of following conservation principles, especially at harvest period, so that it becomes both ecologically and economically sustainable." – iNews
Buying banknotes to survive Zimbabwe's sky-high inflation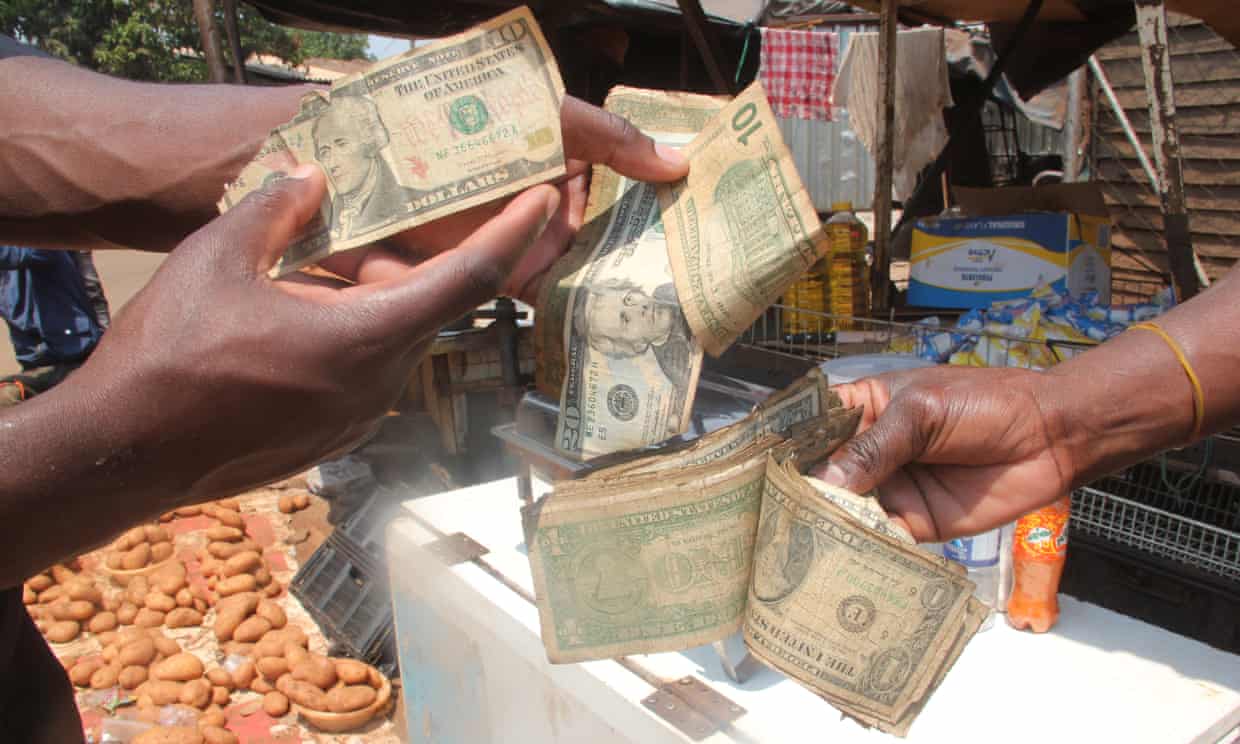 BY KB MPOFU
"Everyone finds selling on the streets the easiest way to survive, but you have to be creative."
Noel Ngwenya (44), from Chivi District of Masvingo Province spends his working days in downtown Bulawayo, the country's second largest city, with a loudhailer advertising a unique service.
He collects torn or soiled foreign currency notes that have been rejected by supermarkets and other traders – mostly US dollars or South African rand, which are both legal tender in Zimbabwe.
Ngwenya pays his clients 50 percent of the value of whichever note they bring – so they get US$1 for a torn US$2 note or 100 rand for a torn 200 rand note.
"Things are worse after Covid-19, it's like everyone is now on the road selling something since there is almost no formal employment in the industries," he says.
Zimbabwe's rate of inflation has been falling since August 2022 when it hit a staggering 285 percent.
However, in March this year it was still running at 87.6%, forcing Zimbabweans to find creative ways to survive.
A recent International Labour Organization Harare report says 76 percent of employment in Zimbabwe is now in the informal sector, in other words, selling goods or services without registering with the authorities.
The informal economy, massive bank charges and distrust of the banking sector mean Zimbabweans prefer to deal in cash or mobile money.
Ngwenya describes himself as an agent for middlemen who have contacts in the US, South Africa or local banks, where they exchange the torn or soiled cash for good notes.
They provide him with an operating float each time they pick up the torn notes and pay him a commission.
A married father-of-five,  Ngwenya supplements his unpredictable trade by selling fruit and roasted corn on the side.
"Things used to be good but these days business is slow," he says.
"Sometimes you can be lucky and have someone bring you a torn U$100, some days you have to make do with the US$1 and US$2 notes."
Decades of corruption and economic woes have led to the deterioration of the national and inner city road infrastructure.
This presents an opportunity for Mayibongwe Khumalo (25), from Cowdray Park, a sprawling suburb about 25km west of Bulawayo central business district.
He is one of many people who patch up potholes around the city in return for small change from grateful or sympathetic motorists.
"We fill up potholes because we see them inconveniencing drivers. I'm broke and I wish I could get money but I don't want to beg like a blind man," Khumalo explains.
"We have so many blind people in Bulawayo that motorists are no longer touched by their plight.
"I am an able-bodied person and no one is going to throw money at me.
"I believe by fixing the roads, those who see value in what I'm doing will give me something. On a good day, like today, I've made US$9 (£7) and 100 rand ($6; £4) and hundreds of Zimbabwe dollars (ZWL$).
"It means I won't go back home to my family empty-handed. My three children and wife are able to get by and tomorrow is another day."
Khumalo has worked as a minibus driver and a tout and occasionally dabbles in music as a backing dancer for a popular musician who performs tjibilika – fast-paced music influenced by Congolese rumba, accompanying songs about social issues.
Of Zimbabwe's estimated 5.2 million traders in the informal economy, 65 percent are women.
The government wants to formalise this growing sector of the economy as part of a national strategy to increase tax revenues.
It is clamping down on small businesses, sending law enforcement officers to inspect trading licences and fine those who are non-compliant.
Sukoluhle Christine Malima (36), runs a restaurant in an old caravan trailer at a public transport terminus in Bulawayo.
She says it's impossible to save enough money to register as a business, so she is often forced to pay US$4 fines.
"My plan is to raise money for my trading licence but the constant arrests and increased competition have made things harder.
"Each time you set aside some cash, the police come to check for licences and you have to pay the inevitable fine."
Malima sells Sadza, porridge made from maize "mealie meal" or millet, and a piece of chicken stew for $1 per plate to minibus drivers and other vendors.
"I buy a broiler chicken for US$6 and cut into 12 pieces which produces 12 plates of Sadza and chicken, giving me $12 per day. From there I deduct US$1 for mealie meal, US$1.50 for cooking oil and another $1.50 for tomatoes and onions, so my profit is around US$2 or US$1.50 per day, which I try and save for my licence. But then the police come again and I am back to square one."
Malima's frustrations are shared by Mercy Tafirenyika (51), who has been designing and sewing nurses' uniforms in Bulawayo's central business district since 1999.
She says competition is increasing as other people turn to tailoring to earn extra money.
The country's worsening power cuts are reducing the number of hours she can work and the cost of raw materials is increasing.
Tafirenyika operates out of a block of flats that has been converted into offices and shops for small businesses and sole traders.
She says her business is registered and tax compliant, but Bulawayo City Council has told her shop licences are not valid in a flat, and she can't afford to relocate.
"Earlier today, I was away at a funeral and the police picked up one of the ladies that I work with and demanded a ZWL$28,000 (US$28; £22) fine in lieu of the shop licence.
"What bothers me is that they do not co-operate.
"Last time they were here I asked them to tell me what licence exactly they wanted, but instead of answering me they became aggressive and took me to the police station where I paid another fine.
"I am not trying to disobey the law, I simply want clarity on the licence issue but no one seems to give us satisfactory answers."
Tafirenyika doesn't know what the future holds.
As the struggle to survive gets harder, driven by sky-high inflation, the cost-of-living crisis and widespread unemployment, many Zimbabweans are increasingly despairing.
As the popular saying on Zimbabwean social media puts it: "The Zimbabwean dream is to leave Zimbabwe." – BBC
Zimbabwe's aspiring female artists still 'frowned upon'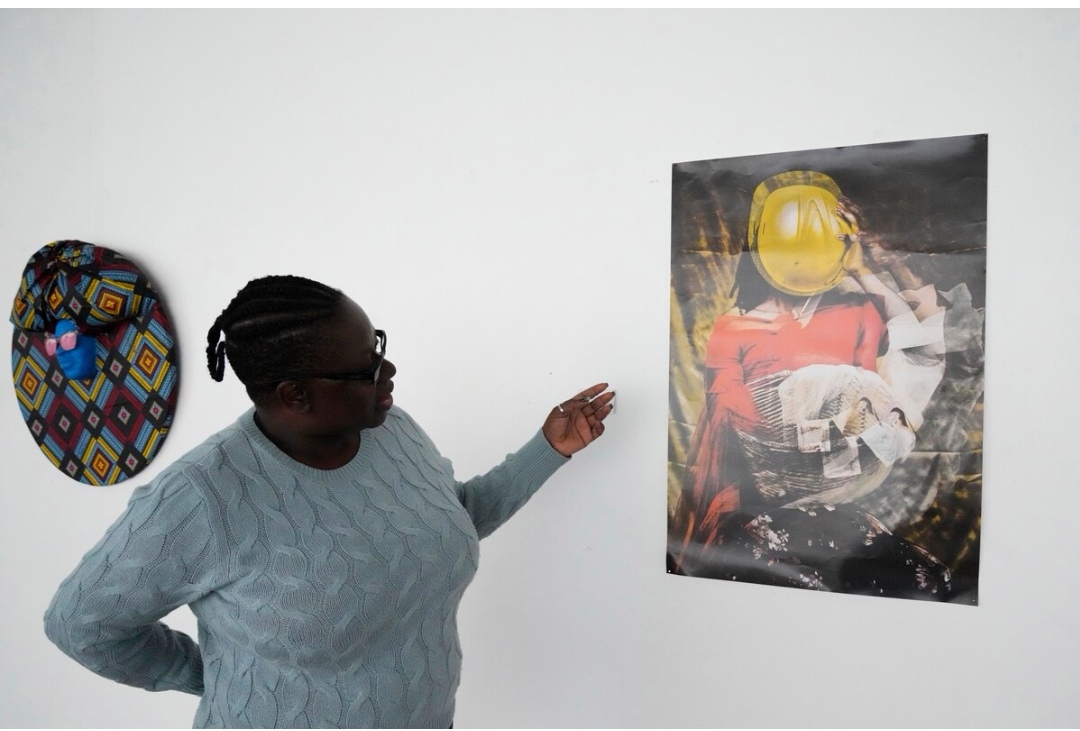 BY FARAI MUTSAKA
A self-portrait shows Nothando Chiwanga covering her face with a yellow miner's helmet while money spills over the edge of a traditional African reed basket she holds in her lap.
The artwork, a collage called "Immortal," challenges age-old gender roles in a strongly patriarchal country like Zimbabwe by juxtaposing a helmet from an overtly male-dominated job with a delicately woven basket commonly used by women at markets.
To art curator Fadzai Muchemwa, the piece speaks directly of a woman's struggle to break free of those traditional roles.
"To survive as a woman in Zimbabwe … one needs a hard hat," Muchemwa said as she gazed at the collage, which combines photography and paintwork in an intentionally blurred yet striking image.
Chiwanga's "Immortal" is one of 21 works by female artists that have been on show at the southern African country's national gallery since International Women's Day on March 8. The exhibition titled "We Should All Be Human" is a homage to women's ambitions and their victories, Muchemwa said.
There are paintings, photographs, textiles, sculptures and ceiling installations. They broach issues like migration, the economy and health, but also far more contentious subjects in Zimbabwe, such as a woman's reproductive rights. Some of the art seeks to provoke discussions around pregnancy and maternity leave.
"Immortal" calls for change and is an invitation for women to reinvent themselves, visual artist Chiwanga said.
Story continues below advertisement
"It's not often to find women doing such kind of work as mining," she said. "In Africa, women are mostly looked down upon. People just see the face or body but the work that you do can also represent your identity."
In her collage, the reed basket, the money, Chiwanga's satin skirt and her neatly manicured nails are manipulated with blurs of red, yellow, brown and black to showcase the complexities of women's lives in Zimbabwe, Chiwanga said.
She points out that women make up more than half of the country's population of 15 million but are still vastly underrepresented in higher education and formal employment.
More girls than boys complete elementary school in Zimbabwe but one in three women were married before they reached 18, according to the United Nations children's agency. UNICEF cited teenage pregnancy and early marriage as key factors preventing girls completing high school and pursuing careers.
Previously, girls could marry at age 16 in Zimbabwe while boys had to be 18. A Constitutional Court ruling led to law changes last year setting the legal age for marriage and sexual consent for both boys and girls at 18.
The 26-year-old Chiwanga is one of few young women to graduate from Zimbabwe's National School of Visual Arts and Design. She was one of 30 artists from 25 countries to have works included in the "Notes for Tomorrow" exhibition on the COVID-19 pandemic, which was shown in the United States, Canada, China and Turkey in 2021 and 2022. She also had a show last year in Nigeria.
The "We Should All Be Human" exhibit in Zimbabwe was designed to raise the profile of young female artists and to ecncourage them to keep making art amid persistent societal pressures to get married, have children and change their focus to a life of domestic chores."You see a promising student, two or three years down the line they are married and they are done with art," Muchemwa said. "In our society, married women are not expected to be artists. They are frowned upon, yet their male counterparts are celebrated."
"We are featured more as subjects and not as creators of art. It is a narrative that we need to change," she said.
Phineas Magwati, who teaches music and art at Zimbabwe's Midlands State University, goes further. A woman's decision to pursue a career in art often causes "conflict" in her family, he said.
That is reflected in Chiwanga's life: her mother is supportive of her art, but other family members badger her about getting married and finding a "proper job," she said.Much of her art is conceived in a rusty brown caravan in the expansive yard of her family home in the suburbs of the capital, Harare.
Sitting on a rugged old wooden bed, Chiwanga works on her latest piece, covering her face with a transparent white veil and moving a camera back and forth to catch the right angles of herself. The photographs are then set on matte paper and worked with color.
"I have faced a lot of challenges because as a woman you have to be married when you turn into your 20s," she said. "Even growing up you will be told a woman must aspire for marriage, you must not aspire to be great."
"But as an artist I have told myself that I really want to achieve, I need to be big. You mustn't force a woman to be in marriage before she can perfect herself," she said.