Siwela: A blind Lupane author, teacher determined to change the world
BY NOTHANDO DUBE
Mandlenkosi Siwela, a teacher at Jotsholo Secondary School in Lupane, Matabeleland North, is a personification of the mantra that disability is not inability.
Siwela, who became blind at the age of two after a freak accident, has not allowed his handicap to snuff out his dreams.
He said he became blind after his eyes were damaged after he fell from a rock and suffered head injuries.
Attempts to restore his eyesight were futile.
Siwela is now an author with a book that seeks to tackle myths about people living with disabilities.
Our reporter Nothando Dube (ND) caught up with Siwela (MS), who shared about his interesting journey as an author and educator.
Below are extracts from the interview.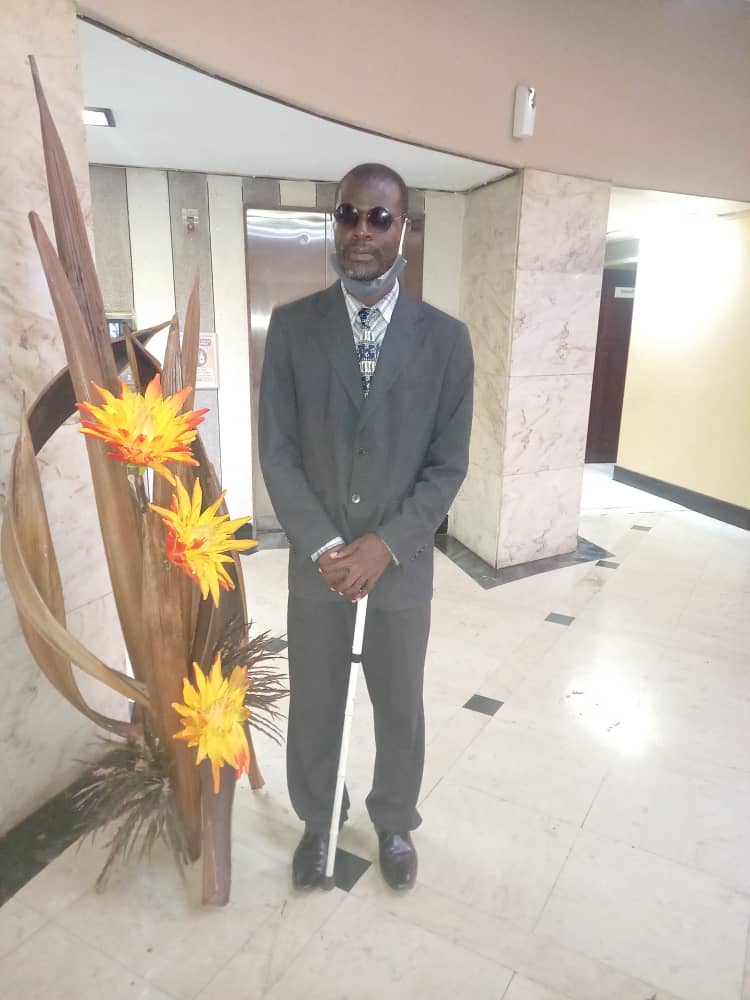 ND: Please tell us briefly, who is Mandlenkosi Siwela?
MS: Mandlenkosi Siwela was born in Mabale, Matabeleland North on the 11th of March in 1977.
He grew up in Mabale with a blindness condition, which was discovered at the age of two.
It is suspected that he fell from a high place and hit his head on a rock and this caused a fracture internal damage to the veins connected to the brain.
A cornea to the pupil where the image is made was damaged.
At the age of nine he got a breakthrough to go to school courtesy of the Council of the Blind that gave him an opportunity to get an education.
ND: How can you describe your type of art?
MS: Mandlenkosi Siwela is an upcoming artist .
It all started at school when I used to admire all events that were artistic.
I used to be good at reading literature, both Ndebele and English literature, including a variety of Shakespeare's writing.
It is then that I developed a quest for writing novels, but besides writing, I also like music and I was dreaming to be a DJ (disc jockey) one day or to be a broadcaster but then I changed my mind because I knew that I was not going to be accepted because for most of these employment opportunities it is are very difficult (if you are blind).
I do play piano and guitar, but I specialise on bass guitar where l lead while playing vocals.
I am planning very soon to release a jazz album because I am so interested in Afro-Jazz.
I am also presenting a wider profile of music from Mbaqanga reggae, country music and R&B.
ND: When did you realise you can write and what would you say marked the beginning of your arts career?
MS: My writing career started in school.
I was too creative when I was using my style and writing frame.
I was using a braille instrument that was used in writing.
From there I started using a normal typewriter, I started to admire it and it motivated me.
The impact and motivation that I gained through literature made me feel that I can be a writer.
We used to play with English words with my English Literature teacher, Ray Ngwenya, who would always give us a challenge to bring to class citations which were written by Shakespeare.
Every time he would say you would enter into class after citing at least a short quotation, I was so interested that even up to now, I still remember them.
This motivated me into the Shakespearean language that I decided to say in life I have to write.
Coming closer to my incident, what really was a push factor, were the situations that we experienced.
Disability issues start at the grassroots level, at home, and then they move into the academic field where we also have challenges, then into the employment sector.
These challenges that affect the disability community emanate from religious background, economic factor, from the social background, even to the political scenario we still have challenges so that is why it motivated me to write this book in Ndebele, " Labo Ngabantu" which I later translated it into English, " Still Part of Humanity" after doing translation at the University of Zimbabwe.
ND: Can you tell us about your recent achievements, awards, and pass rate?
MS: I haven't achieved much but look, I can say I have achieved much.
I am a graduate with Bachelor of Education degree from the University of Zimbabwe and I am a holder of a diploma from Hillside Teachers College.
I hold a certificate in computers from Bindura University and I also hold a certificate from Unicef under Good Governance and Leadership.
I also have an Orientation and Mobility Certificate from the National League of the Blind and l am also an election observer trained by the Zimbabwe Electoral Commission.
I have also gained a status from the Manchester Metropolitan University in the United Kingdom where the university has given me a partial scholarship, and hopefully I will get people to assist with air tickets and visas.
ND: What targets have you set for yourself?
MS: My target is very simple, it is to make sure that my message reaches all listeners , all viewers across the board, across all spheres so that the message would be carried because I am troubled about how disability issues are handled especially here in Zimbabwe and part of southern Africa.
I am targeting this message at all policy makers that we need to mingle with the political framework so that we are able to help our people.
ND: What challenges do you face as an artist and a teacher based outside big cities such as Harare and Bulawayo?
MS: The challenge that I am facing is the issue of marketing myself and the issue of getting sponsors who can understand my situation.
At school, we are lacking braille materials for readership because we used to depend upon donors for such materials.
The Council for the Blind and the Zimbabwe National League for the blind are failing to capacitate these movements because of the donor syndrome that we used to have so this is why in my book I am advocating for improvement..
I teach some students living skills for example playing a guitar and this helps to empower learners, who are not academically gifted.
ND: What targets have you set yourself as an artist?
MS: My target is just to spread the message across the globe for it to reach all corners so that we can be saved, because the issue of disability is a wider spectrum that should be taken seriously.
We need to make sure that we understand each other accordingly.
Also I have a target to make sure that policy makers understand this novel so that in case it gains status to be adopted as a set book for academic use, it can be of great use.
ND: Besides teaching and writing, what else do you do for a living?
MS: I normally travel to Harare to buy concentrates to make vaseline, cobra and also drinks.
I also teach youths how to play a keyboard.