Dragons, Ajax, L-City steal the show as games resume
BY BHEKIMPILO WEZA
Mvuthu Soccer League's Dragons, Ajax, and L- City were the top performers during the 16th round of fixtures played over the weekend after they collected maximum points.
The league compromising teams from rural wards surrounding the City of Victoria Falls resumed at the weekend after a long break due to the Covid-19 pandemic.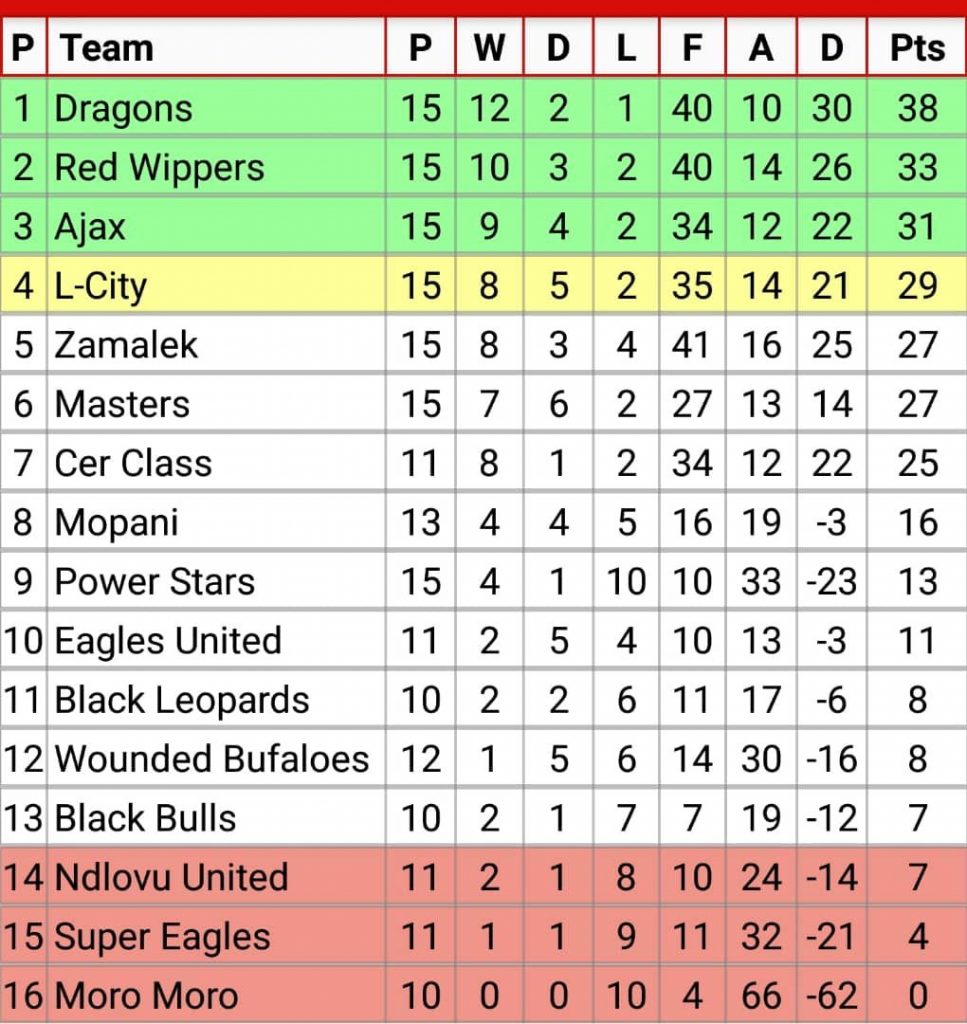 The Ajax match between Zamalek on Sunday attracted many people from the Mvuthu community.
It started with Zamalek almost stealing the show against the contenders for the log's top spot in the fifth minute when Thinkwell Weza received a brilliant pass from Johna Ncube only to hit it wide of goal.
Two minutes later Zamalek were back again to haunt Ajax, this time with Derick Dube who broke loose but his shot went over the bar.
Zamalek, who were missing three key players at the centre back got cracked in the 17th minute when Ajax got their first corner kick that was delivered by Phathisa Nyathi and headed by Obrien Moyo.
Moyo's ball took a deflection from the Alimarked Weza to beat Hosea Ndebele, the visiting team's goalkeeper.
In the second half Zamalek immediately brought in Naboth Ncube for Njabulo Ncube to add more attackers, but the move backfired as Ajax got their second in the 79th minute.
Zamalek failed to clear their lines and allowed Ajax to squeeze the ball past a cluster of the opposition's defenders to give them a clear 2- 0 lead.
Analysing the standout performance, Ajax coach Dumisani Moyo said he was pleased with the outcome.
" l can't believe it," he said. "l am happy with the boys, and we are looking forward to winning this league."
Zamalek claimed that the thin squad contributed to their defeat.
"It was a bad day in the office, we were missing our key defenders and strikers," Zamalek coach Alexander Weza said.
"My reserves never gave us what we wanted but it's a game of football, three painful points dropped but we have to accept it and move on."
In a Saturday match, Dragons stretched their lead after arm twisting second from bottom club Black Bulls.
In other matches, Power Stars were easily beaten by Masters from Chidobe in a match where Crispen Tembo scored a brace with Contastino Mapfumo getting the other goal.
In Lupinyo, Wounded Buffalo remained at 12 points after suffering defeat in the hands of L- City who beat them by two goals to one.
The other fixture was cancelled after the defending league champions, Red Wipers' sponsor lost his mother.
The team had been scheduled to lock horns with the Eagles on Saturday.