Key takeaways from Mthuli Ncube's play-it-safe budget review
Finance minister Mthuli Ncube played it safe in his mid-term budget review statement on Thursday, making no major policy decisions and saying he may not need additional funding for his 2021 budget.
After many previous policy shocks, the best part about a largely uneventful budget statement was exactly that; it was uneventful. There were no major announcements on taxation, the currency, or any measures likely to shake tables immediately.
"There is need to stay the course. There are no policy changes; I believe the existing policies are achieving the desired results are still adequate," Ncube said. If any big budget changes are to made, those would come in the 2022 budget, he said.
Here is a summary of some of the main takeaways from Ncube's statement:
Economic Growth: More ambitious target set
Ncube's prediction of 7.4% growth for 2021 was already ambitious, so much that even President Emmerson Mnangagwa thought it must be revised downwards. But Ncube is even more confident. He now sees the economy growing by 7.8%, higher than his initial expectation of 7.4%.
His predictions are far higher than the IMF's projection of 6% and the World Bank's 3.9% forecast. They also contrast sentiment from major local companies, many of which are tempering their confidence of a rebound with caution over the likely impact of COVID-19.
Why is Ncube so confident? He cites "rainfall season, higher international commodity prices, stable macroeconomic environment and a managed COVID-19 pandemic."
Ncube says agriculture will this year grow faster than expected. It will grow by 34%, higher than the initially predicted 11%. He bases this on output from key farm segments, such as maize production.
The finance minister is also counting on the base effect of GDP contraction in 2020, when the economy shrank by 4%. For 2022, Ncube expects the economy to expand by 5.4%
He sees year-on-year inflation slowing down to between 22% and 35% by December 2021.
Vaccine procurement: More spending needed
Ncube said COVID-19 vaccines that have been bought so far have been purchased "utilising the savings from last year, in the main."
But, to achieve Zimbabwe's target of 60% of the population, the vaccination campaign will require "mobilisation of additional resources for the procurement of more vaccines, over and above the US$100m resource envelope."
Ncube laid out what he has spent so far on the programme. To date, 11.8m doses and 7.2m syringes have been purchased using US$93.2 million.
No extra budget needed, for now
Ncube has stayed away from asking for more money from Parliament. Unless there is a major shock, he says, there will be no need for a supplementary budget this year.
He said: "In the outlook to December 2021, expenditure target of ZWL$421.6 billion will be maintained assuming continued containment of expenditures, save for exigencies managed through reallocations, where necessary."
So far this year, the Government has managed to live within its means. The government raised an estimated Z$198.2 billion in revenues between January and June and spent Z$197.6 billion.
Diaspora's support for economy keeps growing
During the first six months of the year, Zimbabweans living abroad sent home a total of US$746.9 million. Over the same time last year, they sent US$288.7 million. Remittances are projected to reach US$1.3 billion by year end, Ncube said.
The contribution of Diaspora remittances to the economy is growing.
"Diaspora remittances and other transfers, which constitute the secondary income account, are projected to continue driving the current account balance as was the case in 2020. Personal transfers from Zimbabweans in the Diaspora are expected to remain steady and resilient as the economies in key source markets recover from the Covid-19 induced slow-down, allowing them invest in assets back home."
Sold: Gold refinery
In December, Ncube announced that the government was privatising Fidelity Printers and Refineries. This is the company that refines and exports gold. Gold producers would control 60% of Fidelity, with central bank keeping 40%.
Ncube has now announced that this deal is now done. Ten miners have agreed to buy the 60% for US$49 million. This will be the first time that the refinery will be in private hands since it was established in 1988.
While Ncube did not name the ten miners, a structure announced last year said participation would be based on average gold sales over the previous three years. This means among the potential will be the biggest gold producers, such as Kuvimba's Freda Rebecca, which is now the number one producer, as well as Caledonia Mining, which runs Blanket, and RioZim. – newZwire
Chinese-funded power plant expansion project in Zimbabwe set for commissioning
BY XINHUA
Zimbabwean Energy and Power Development Minister Soda Zhemu said here on Monday that prolonged power cuts are "now a thing of the past" in Zimbabwe following the completion of Hwange Thermal Power Station Unit 7 and 8 expansion project.
Chinese firm Sinohydro undertook the project, adding 600 MW to Hwange Thermal Power Station, the country's largest coal-fired power plant.
The project will be commissioned by President Emmerson Mnangagwa on Thursday.
Zhemu said at a press conference that recent media reports predicting a return to prolonged power cuts after August were false, as Zimbabwe is now guaranteed adequate power supplies in the short-to-medium term.
He said Unit 7 is already feeding into the grid after the successful completion of tests in June and is now commercially available for operation. Unit 8 is also undergoing a similar test and is expected to be available commercially by August or September this year.
"So there is no way that we are going back to the past where we used to experience long hours of load shedding," Zhemu added.
Five die in Binga traffic accident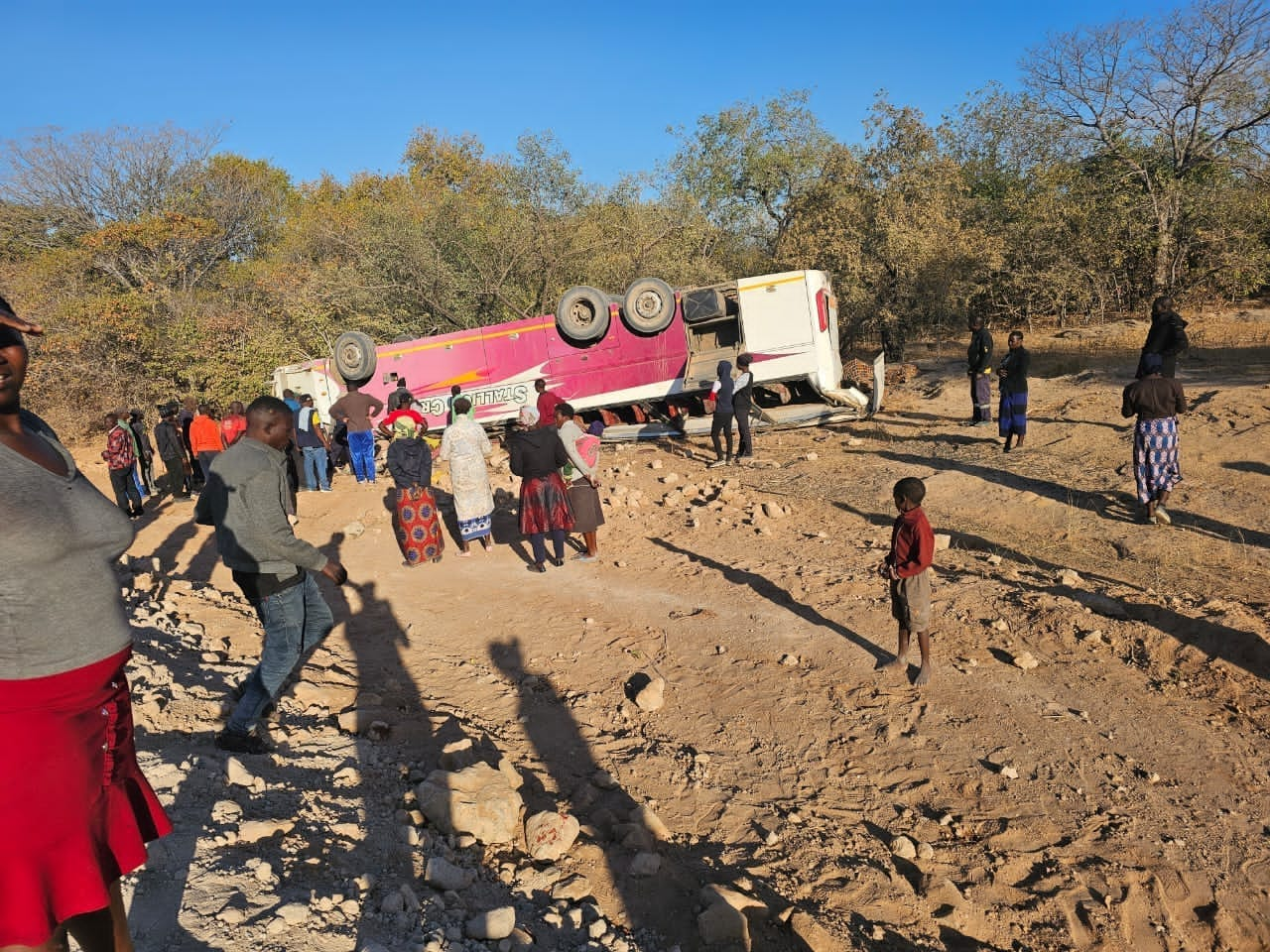 BY NOKUTHABA DLAMINI
A Stallion Cruise bus overturned in Binga on Sunday morning killing five passengers on board, police have revealed.
According to witnesses, the bus which was travelling to Bulawayo was reportedly speeding when the accident happened.
National police spokesman Assistant Commissioner Paul Nyathi said the bus overturned and landed on its roof in the Sikalenge area between Siabuwa and Binga centre.
"The ZRP confirms a fatal road traffic accident which occurred on 16/07/23 in the morning near Masumo Bridge, Samende area, Binga in which a Stallion Cruise bus travelling from Siabuwa to Binga overturned," Nyathi said.
"The ZRP confirms that five people were killed whilst the number of injured is yet to be ascertained."
The bus reportedly veered off the road at a sharp curve near the Masumu River bridge at around 7AM.
The accident comes barely a week after the same bus caught fire in Mutare on July 11 and all passengers escaped unharmed.
Zimbabwe declares its own load shedding over, but locals are sceptical
BY AFP
Zimbabwe's government on Tuesday announced a sudden end of blackouts that have crippled businesses and left millions of households without electricity for up to 19 hours a day.
The information ministry said a cabinet meeting had "noted with satisfaction" that the power utility "has announced the end to load shedding as a result of the interventions implemented" by the government.
The statement did not give details of the steps taken to end the load shedding.
The southern African country has for years been reeling under severe power shortages.
They worsened late last year when the main electricity supply, a hydro plant at the giant Kariba Dam in the north, suffered very low water levels caused by recurring droughts.
In March the power utility company said it had launched a new 300MW coal-fired unit with Chinese finance in a bid to ease repeated power outages.
But Zimbabweans greeted the news of the end of outages with scepticism, as some said they were sitting in the dark as the announcement was made.
One Zimbabwean @sammie541 tweeted "funny (be)cause we actually don't have…(electricity) now", adding her Harare neighbourhood had been without power since Monday.
Other Zimbabweans questioned on Twitter if the announcement was not strategically timed ahead of national elections due next month.
The country goes to the polls on August 23 to elect a president and legislature.
Eighty-year-old President Emmerson Mnangagwa, who replaced strongman ruler Robert Mugabe in 2017 after a military-led coup, is seeking re-election.
But he faces a disaffected population that is battling hyperinflation, poverty and high unemployment.
Official figures placed inflation at 175.8% in June, up from 86.5% in May, but Johns Hopkins University professor of applied economics Steve Hanke believes real inflation in Zimbabwe is more than 1 000%.