Key takeaways from Mthuli Ncube's play-it-safe budget review
Finance minister Mthuli Ncube played it safe in his mid-term budget review statement on Thursday, making no major policy decisions and saying he may not need additional funding for his 2021 budget.
After many previous policy shocks, the best part about a largely uneventful budget statement was exactly that; it was uneventful. There were no major announcements on taxation, the currency, or any measures likely to shake tables immediately.
"There is need to stay the course. There are no policy changes; I believe the existing policies are achieving the desired results are still adequate," Ncube said. If any big budget changes are to made, those would come in the 2022 budget, he said.
Here is a summary of some of the main takeaways from Ncube's statement:
Economic Growth: More ambitious target set
Ncube's prediction of 7.4% growth for 2021 was already ambitious, so much that even President Emmerson Mnangagwa thought it must be revised downwards. But Ncube is even more confident. He now sees the economy growing by 7.8%, higher than his initial expectation of 7.4%.
His predictions are far higher than the IMF's projection of 6% and the World Bank's 3.9% forecast. They also contrast sentiment from major local companies, many of which are tempering their confidence of a rebound with caution over the likely impact of COVID-19.
Why is Ncube so confident? He cites "rainfall season, higher international commodity prices, stable macroeconomic environment and a managed COVID-19 pandemic."
Ncube says agriculture will this year grow faster than expected. It will grow by 34%, higher than the initially predicted 11%. He bases this on output from key farm segments, such as maize production.
The finance minister is also counting on the base effect of GDP contraction in 2020, when the economy shrank by 4%. For 2022, Ncube expects the economy to expand by 5.4%
He sees year-on-year inflation slowing down to between 22% and 35% by December 2021.
Vaccine procurement: More spending needed
Ncube said COVID-19 vaccines that have been bought so far have been purchased "utilising the savings from last year, in the main."
But, to achieve Zimbabwe's target of 60% of the population, the vaccination campaign will require "mobilisation of additional resources for the procurement of more vaccines, over and above the US$100m resource envelope."
Ncube laid out what he has spent so far on the programme. To date, 11.8m doses and 7.2m syringes have been purchased using US$93.2 million.
No extra budget needed, for now
Ncube has stayed away from asking for more money from Parliament. Unless there is a major shock, he says, there will be no need for a supplementary budget this year.
He said: "In the outlook to December 2021, expenditure target of ZWL$421.6 billion will be maintained assuming continued containment of expenditures, save for exigencies managed through reallocations, where necessary."
So far this year, the Government has managed to live within its means. The government raised an estimated Z$198.2 billion in revenues between January and June and spent Z$197.6 billion.
Diaspora's support for economy keeps growing
During the first six months of the year, Zimbabweans living abroad sent home a total of US$746.9 million. Over the same time last year, they sent US$288.7 million. Remittances are projected to reach US$1.3 billion by year end, Ncube said.
The contribution of Diaspora remittances to the economy is growing.
"Diaspora remittances and other transfers, which constitute the secondary income account, are projected to continue driving the current account balance as was the case in 2020. Personal transfers from Zimbabweans in the Diaspora are expected to remain steady and resilient as the economies in key source markets recover from the Covid-19 induced slow-down, allowing them invest in assets back home."
Sold: Gold refinery
In December, Ncube announced that the government was privatising Fidelity Printers and Refineries. This is the company that refines and exports gold. Gold producers would control 60% of Fidelity, with central bank keeping 40%.
Ncube has now announced that this deal is now done. Ten miners have agreed to buy the 60% for US$49 million. This will be the first time that the refinery will be in private hands since it was established in 1988.
While Ncube did not name the ten miners, a structure announced last year said participation would be based on average gold sales over the previous three years. This means among the potential will be the biggest gold producers, such as Kuvimba's Freda Rebecca, which is now the number one producer, as well as Caledonia Mining, which runs Blanket, and RioZim. – newZwire
Binga by-elections called off: ZEC
BY STAFF REPORTER 
The Zimbabwe Electoral Commission (ZEC) has suspended the by-elections for wards 6, 8, 10, 15, and 23 of Binga Rural District Council in Matabeleland North Province which were scheduled for Saturday. 
ZEC chief elections officer Utloile Silaigwana made the announcement on Friday following a High Court order after  Collen Mudenda challenged the nomination of the five councillors who were recalled in October by the MDC-T party. 
"The Zimbabwe Electoral Commission would like to inform members of the public that the High Court has ordered the suspension of by-elections for wards 6, 8, 10, 15, and 23 of Binga Rural District Council scheduled for Saturday 03 December 2022," Silaigwana said. 
"This follows urgent chamber applications by Collen Mudenda who challenged the nominations of John Simunene Sikabotu, Kingson Mpofu, Mathias Mudenda, Joseph Mwembe, and Wilson Siampolomba on the grounds that they were disqualified from contesting as candidates in terms of Section 119 (2) (h) of the Electoral Act.
"The Section states that a person shall be disqualified from being nominated as a candidate on the nomination day or the day of an election when he or she is in default with the payment of any levy, rate, charge, or tax due and payable to the council concerned for more than 120 days."
Silaigwana said the High Court ordered that the Commission should not proceed with the by-elections for the five wards pending the hearing of thr cases which was postponed to  January 4, next year. 
He, however said  despite the Binga order, by-elections for ward 20 of Binga Rural District Council, wards 4, 5, and 18 of Gweru Municipality, and ward 28 of Mberengwa Rural District Council will go ahead ahead as scheduled on Saturday. 
Armed robber storms Victoria Falls bank, walks away with US$12K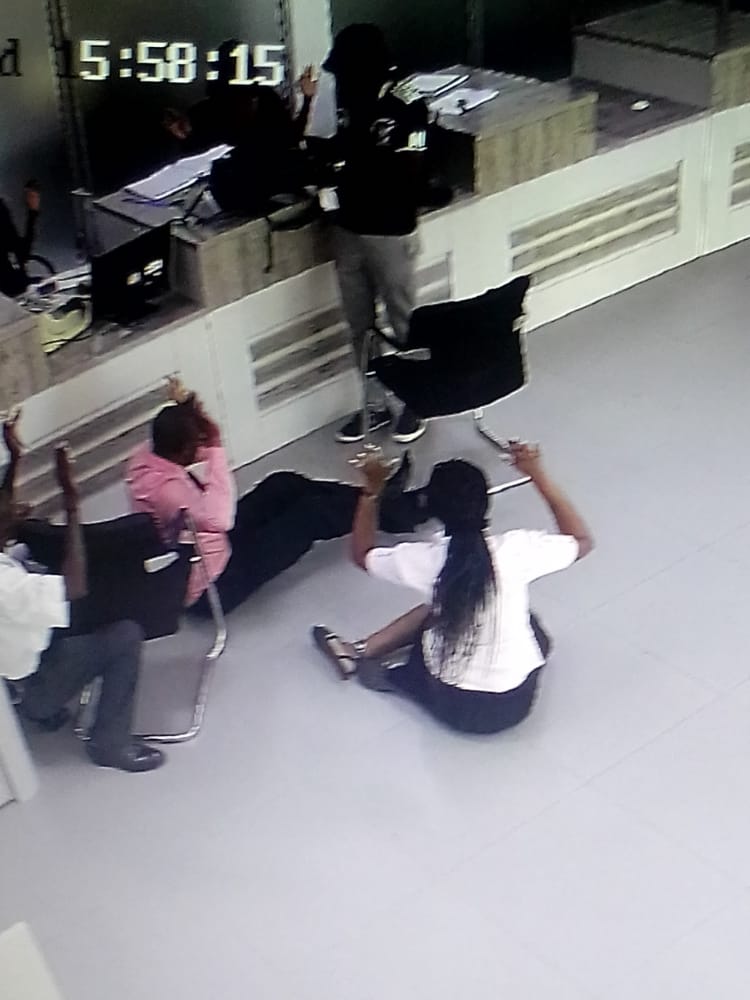 BY NOKUTHABA DLAMINI 
Zimbabwe Republic Police have revealed that the robber who held at ransom ZB bank workers on Wednesday after pretending to be applying for a bank loan got away with US$12 000 cash. 
The man dressed in black and white jersey, a hat and khaki as captured hours later through bank cameras pointing a shotgun towards workers while loading the money in his satchel that he was holding.
"The ZRP confirms that a robbery occurred at ZB Bank, Victoria Falls, on 30/11/22 at around 15.55 pm hours where an unknown suspect, armed with an unidentified pistol, posed as a genuine customer who wanted to enquire on the requirements to apply for a bank loan, "police said in a statement. 
"As the bank was about to close for the day, the suspect remained behind while other customers were leaving. After all the other customers had left, he produced a pistol and ordered the bank tellers to surrender cash in their tills. 
"The suspect stole US$12 000 before fleeing through the back exit door. Investigations are underway to account for the suspect."
According to sources, the man was seen walking away until he disappeared. 
Meanwhile, police said they were also investigating an armed robbery case which occurred at a college in Chitunguza's Seke residency on Monday, where three unknown suspects, armed with three unidentified pistols, attacked a security guard who was on duty at the premises and stole US$3 094 fuel coupons, US$8 076, and $43 100 cash after vandalising a safe. 
July Moyo pressures Victoria Falls City Council to give prime land to gold baron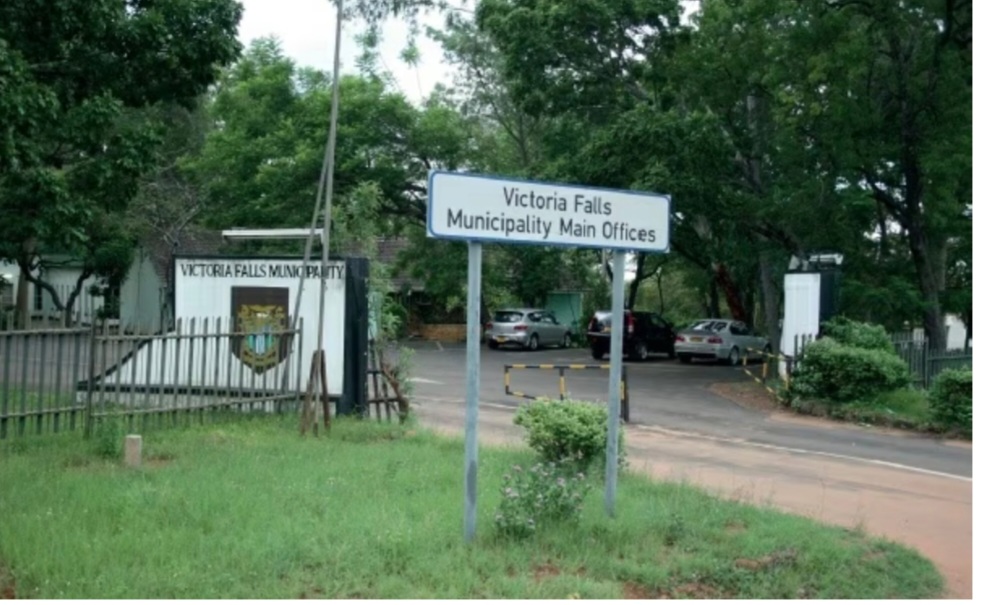 BRENNA MATENDERE
LOCAL Government minister July Moyo, who is entangled in Victoria Falls land scandals — with his ally mayor Somveli Dlamini currently out of jail on bail after he was arrested for a fraudulent land deal — is pressuring Zimbabwe's tourism mecca to give prime land next to the luxurious A'Zambezi River Lodge to a company owned by gold baron Pedzisayi "Scott" Sakupwanya BetterBrands Investments.a
This comes as Moyo, together with Arosume Property Development, have been reported to the Zimbabwe Anti-Corruption Commission (Zacc) for allegedly corruptly cancelling a title deed belonging to Borrowdale resident Taruvinga Hamura.
The dossier on Moyo's land activities was also sent to the Office of the President and Cabinet for President Emmerson Mnangagwa's attention, his deputy Constantino Chiwenga, police Commissioner-General Godwin Matanga, the National Prosecuting Authority and Judicial Service Commission.
 Moyo is pressing Victoria Falls city council to give the 7 000-square metres land to Sakupwanya's company using political pressure and in violation to good governance tenets.
The pressure borders on corruption as the minister should not be lobbying for land for private companies and individuals for personal gain.
The piece of land at stake borders A'Zambezi River Lodge, the Zambezi River and Victoria Falls Boat Club. A'Zambezi River Lodge is nestled on the banks of Africa's 4th longest river on the periphery of the Zambezi National Park. It occupies the finest location that gives its guests an ambiance of pristine wildlife, nature, riverine frontage and jetty site.
However, Moyo's wish has not been granted. Council has told BetterBrands that it is unable to avail the land because it was being leased by another company, Wild Horizons, which has paid its rentals in advance. Investigations show that Moyo travelled to Victoria Falls on 20 September in a bid to bring political pressure to bear on the city council, currently led by town clerk Ronny Dube in Dlamini's absence, to give the land to Sakupwanya's company for private development.
Dlamini is out on bail on corruption charges relating to a residential stand which he allegedly bought fraudulently. Sources said Moyo slept at The Palm River Hotel, formerly known as Palm River Lodge, a four-star luxury facility located on the banks of the Zambezi River, when he visited the resort city to make a case for BetterBrands before Dlamini was arrested.
Dlamini, who is close to the minister, was arrested on 6 October. BetterBrands deals in gold and jewellery, but has a diversified portfolio which includes transport, energy, security services and real estate.
What makes the situation more complicated is that the land is currently occupied by tourism operator Wild Horizon, which owns and operates whitewater rafting, Zambezi boat cruises, Chobe day trips, helicopter flights and other adventure activities.
It provides tours, transfers and activities in Victoria Falls, Livingstone and Chobe. Its properties include The Elephant Camp, one of the most luxurious lodges in Victoria Falls, Old Drift Lodge, a new luxury tented lodge on the banks of the Zambezi River not far from the waterfall and Imbabala Zambezi Safari Lodge on the border to Chobe.
"BetterBrands wants that land, so Moyo has been pressuring Victoria Falls city council to give the company the property. Moyo came to town on 20 September to push for the deal," a Local Government ministry official said.
"He slept at The Palm River Hotel and the following day he had meetings with Dlamini and Dube. After that, Moyo and Dlamini left, claiming to be going for a funeral without Dube. It later transpired that they had gone to mobilise war veterans and thugs to hound Dube out of office. Subsequently, the war veterans came to lock Dube out of his office. They even defied police who had told them that what they were doing was illegal.
"Three days before that, Dlamini had reported Dube to Zacc, accusing him of a number of alleged corrupt ac tivities regarding allocation of land and a deal with council for him to buy a car.
 "The same letter was used to illegally suspend Dube for a short while before he was reinstated by councillors."
 In an unexpected turn of events, when Zacc went on to investigate Dube — who was reported by the mayor — they actually found it was Dlamini instead with a case to answer, not the town clerk. On 27 September, Moyo moved to quickly appoint a team from his ministry to investigate Dube who has been a stumbling block to his land deals with Dlamini.
Moyo appointed the team to probe Dube on various charges ranging from unprocedural allocation of land, withdrawing council money without authority, misleading council and incompetence, but a preliminary report did not find the town clerk guilty of any criminal offence.
The probe team was chaired by the director of local authorities Mike Mazai and included director of local governance Tapera Mugoriya, chief financial officer Alpha Nhamo, a legal adviser only identified as C. Tshuma and Land Siansole Kabome, the district development coordinator of Binga.
Officials in the ministry said Moyo was so unhappy with the findings to an extent that he summoned the team for a meeting on 14 November and ordered them to rewrite the report, implicating Dube as he desperately wants him removed from his position.
 Moyo appointed the team following a chain of controversial activities and clashes between the mayor and the town clerk, including a demonstration by war veterans in Matabeleland North and members of the Victoria Falls Combined Residents' Association against Dube for alleged corruption in the sale of land.
Dlamini, Dube's opponent, had met war veterans ahead of the demonstration. The war veterans then locked Dube out of his office, demanding an investigation. The demonstration resulted in the police and Zacc descending on council while Moyo assembled a probe team to investigate allegations against the town clerk.
 In a spectacular boomerang, Zacc officials, however, arrested Dlamini for corruption after the investigation, while Dube was set free.
The ministry of Local Government however continued its probe, looking into five allegations: allocation of brewery stands to Jackleberry Investment without council authority; allocation of land in the dumpsite/landfill site and sewage pond area without council resolution; withdrawal of US$84 000 from a council account; misleading council in awarding the tender for sale of stand number 8300 to Zambezi Properties; and incompetence, dereliction of duty and failure to supervise staff.
The minister's investigation team produced a preliminary report which did not find Dube guilty, although it highlighted administrative lapses.
The report was submitted to the minister, but he was unhappy as it did not nail Dube. As a result, the minister ordered his investigation team to doctor the report to suit his design — finding Dube guilty — to remove him and pave way for his land deals-The Newshawks